You shall not see your brother's donkey or his ox fallen down by the way, and hide yourself from them. You shall surely help him to lift them up again. Deuteronomy 22:4
Deuteronomy 22-23
Various Laws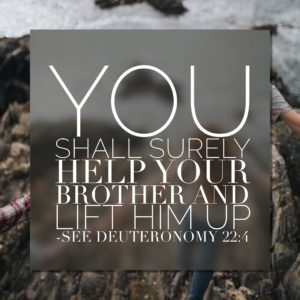 1 You shall not see your brother's ox or his sheep go astray and hide yourself from them. You shall surely bring them back to your brother. 2 If your brother is not near to you, or if you do not know him, then you shall bring it home to your house, and it shall be with you until your brother comes looking for it, and you shall restore it to him. 3 So you shall do with his donkey. So you shall do with his garment. So you shall do with every lost thing of your brother's, which he has lost, and you have found. You may not hide yourself. 4 You shall not see your brother's donkey or his ox fallen down by the way, and hide yourself from them. You shall surely help him to lift them up again.
5 A woman shall not wear men's clothing, nor shall a man put on women's clothing, for whoever does these things is an abomination to the Lord your God.
6 If you come across a bird's nest on the way, in any tree or on the ground, with young ones or eggs, and the hen sitting on the young or on the eggs, you shall not take the hen with the young. 7 You shall surely let the hen go, but the young you may take for yourself, that it may be well with you and that you may prolong your days.
8 When you build a new house, then you shall make a railing around your roof, so that you do not bring blood on your house if anyone falls from there.
9 You shall not sow your vineyard with two kinds of seed, lest all the fruit be defiled, the seed which you have sown and the increase of the vineyard. 10 You shall not plow with an ox and a donkey together. 11 You shall not wear clothes of wool and linen woven together.
12 You shall make yourselves fringes on the four corners of your cloak with which you cover yourself.
Marriage Violations
13 If any man takes a wife, goes in to her, and then hates her, 14 accusing her of shameful things, and giving her a bad name and says, "I took this woman, and when I came near to her, I didn't find in her the evidence of virginity," 15 then the young lady's father and mother shall take the physical evidence of the young lady's virginity and bring it to the elders of the city in the gate. 16 The young lady's father shall tell the elders, "I gave my daughter to this man as his wife, and he hates her. 17 And now, he has accused her of shameful things, saying, 'I didn't find in your daughter evidence of virginity,' and yet here is the physical evidence of my daughter's virginity." They shall spread the cloth before the elders of the city. 18 The elders of that city shall take the man and chastise him. 19 They shall fine him 100 shekels of silver and give them to the father of the young lady, because he has given a bad name to a virgin of Israel. She shall be his wife. He may not put her away all his days.
20 But if this accusation is true, that no physical evidence of her virginity was found in the young lady, 21 then they shall bring out the young lady to the door of her father's house, and the men of her city shall stone her to death, because she has done a disgraceful thing in Israel, to play the prostitute in her father's house. So you shall remove the evil from among you.
22 If a man is found lying with a woman married to another man, then they shall both die, the man who lay with the woman and the woman. So you shall remove the evil from Israel.
23 If there is a young lady who is a virgin pledged to be married to a husband, and a man finds her in the city and lies with her, 24 then you shall bring them both out to the gate of that city, and you shall stone them to death; the lady, because she did not cry, being in the city, and the man, because he has violated his neighbor's wife. So you shall remove the evil from among you.
25 But if the man finds the lady who is pledged to be married in the field, and the man forces her and lies with her, then only the man who lay with her shall die, 26 but to the lady you shall do nothing. There is in the lady no sin worthy of death, for as when a man rises against his neighbor and kills him, this matter is the same. 27 When he found her in the field, the lady who was pledged to be married cried, and there was no one to save her.
28 If a man finds a lady who is a virgin, who is not pledged to be married, grabs her and lies with her, and they are found, 29 then the man who lay with her shall give to the lady's father 50 shekels of silver. She shall be his wife because he has violated her. He may not put her away all his days.
30 A man shall not take his father's wife and shall not uncover his father's skirt.
Exclusion from the Congregation
1 He who is emasculated by crushing or cutting shall not enter into the Lord's assembly. 2 A person born of a forbidden union shall not enter into the Lord's assembly, even to the tenth generation shall no one of his enter into the Lord's assembly.
3 An Ammonite or a Moabite shall not enter into the Lord's assembly, even to the tenth generation shall no one belonging to them ever enter into the Lord's assembly, 4 because they did not meet you with bread and with water on the way when you came out of Egypt, and because they hired against you Balaam the son of Beor from Pethor of Mesopotamia, to curse you.
5 Nevertheless the Lord your God would not listen to Balaam, but the Lord your God turned the curse into a blessing to you, because the Lord your God loved you. 6 You shall not ever seek their peace nor their prosperity as long as you live. 7 You shall not abhor an Edomite, for he is your brother. You shall not abhor an Egyptian, because you lived as a foreigner in his land.
8 The children of the third generation who are born to them may enter into the Lord's assembly.
Uncleanness in the Camp
9 When you go out and camp against your enemies, then you shall keep yourselves from every evil thing. 10 If there is among you any man who is not clean because of that which happens to him by night, then he shall go outside of the camp. He shall not come within the camp; 11 but it shall be, when evening comes, he shall bathe himself in water. When the sun is down, he shall come within the camp. 12 You shall have a place also outside of the camp where you go relieve yourself.
13 You shall have a trowel among your weapons. It shall be, when you relieve yourself, you shall dig with it, and shall turn back and cover your excrement; 14 for the Lord your God walks in the midst of your camp, to deliver you, and to give up your enemies before you. Therefore your camp shall be holy, that he may not see an unclean thing in you, and turn away from you.
Miscellaneous Laws
15 You shall not deliver to his master a servant who has escaped from his master to you. 16 He shall dwell with you, among you, in the place which he shall choose within one of your gates, where it pleases him best. You shall not oppress him.
17 There shall be no prostitute among the daughters of Israel, nor shall there be a sodomite of the sons of Israel. 18 You shall not bring the hire of a prostitute, or the wages of a male prostitute, into the house of the Lord your God for any vow. Both of these are an abomination to the Lord your God.
19 You shall not lend on interest to your brother: interest of money, interest of food, interest of anything that is lent on interest. 20 You may charge a foreigner interest, but you shall not charge your brother interest, that the Lord your God may bless you in all that you put your hand to, in the land where you go in to possess it.
21 When you make a vow to the Lord your God, you shall not be slack in paying it, for the Lord your God will surely require it of you, and it would be sin in you. 22 But if you refrain from making a vow, it shall be no sin in you. 23 You shall observe and do that which has left your lips. Whatever you have vowed to the Lord your God as a free will offering, which you have promised with your mouth, you must do.
24 When you come into your neighbor's vineyard, then you may eat your fill of grapes at your own pleasure, but you shall not put any in your container.
25 When you come into your neighbor's standing grain, then you may pluck the ears with your hand, but you shall not use a sickle on your neighbor's standing grain.
Woe to the Unrepentant
13 "Woe to you, Chorazin! Woe to you, Bethsaida! For if the mighty works had been done in Tyre and Sidon which were done in you, they would have repented long ago, sitting in sackcloth and ashes. 14 But it will be more tolerable for Tyre and Sidon in the judgment than for you. 15 You, Capernaum, who are exalted to heaven, will be brought down to Hades. 16 Whoever listens to you, listens to me, and whoever rejects you rejects me. Whoever rejects me rejects him who sent me."
The Seventy-Two Return with Joy
17 The 70 returned with joy, saying, "Lord, even the demons are subject to us in your name!"
18 He said to them, "I saw Satan having fallen like lightning from heaven. 19 I give you authority to tread on serpents and scorpions and over all the power of the enemy. Nothing will in any way hurt you. 20 Nevertheless, do not rejoice in this, that the spirits are subject to you, but rejoice that your names are written in heaven."
Jesus' Prayer of Thanksgiving
21 In that same hour Jesus rejoiced in the Holy Spirit and said, "I thank you, O Father, Lord of heaven and earth, that you have hidden these things from the wise and understanding and revealed them to little children. Yes, Father, for so it was well-pleasing in your sight."
22 Turning to the disciples, he said, "All things have been delivered to me by my Father. No one knows who the Son is, except the Father, and who the Father is, except the Son, and he to whomever the Son desires to reveal him."
23 Turning to the disciples, he said privately, "Blessed are the eyes which see the things that you see, 24 for I tell you that many prophets and kings desired to see the things which you see, and did not see them, and to hear the things which you hear, and did not hear them."
The Parable of the Good Samaritan
25 A certain lawyer stood up and tested him, saying, "Teacher, what shall I do to inherit eternal life?"
26 He said to him, "What is written in the law? How do you read it?"
27 He answered, "You shall love the Lord your God with all your heart, with all your soul, with all your strength, and with all your mind, and love your neighbor as yourself."
28 He said to him, "You have answered correctly. Do this, and you will live."
29 But he, desiring to justify himself, asked Jesus, "Who is my neighbor?"
30 Jesus answered, "A certain man was going down from Jerusalem to Jericho, and he fell among robbers, who both stripped him and beat him, and departed, leaving him half dead. 31 By chance a certain priest was going down that way. When he saw him, he passed by on the other side. 32 In the same way a Levite also, when he came to the place and saw him, passed by on the other side. 33 But a certain Samaritan, as he traveled, came where he was. When he saw him, he was moved with compassion, 34 came to him, and bound up his wounds, pouring on oil and wine. He set him on his own animal, brought him to an inn, and took care of him. 35 The next day, when he departed, he took out two denarii, gave them to the host, and said to him, 'Take care of him. Whatever you spend beyond that, I will repay you when I return.' 36 Now which of these three do you think seemed to be a neighbor to him who fell among the robbers?"
37 He said, "He who showed mercy on him."
Then Jesus said to him, "Go and do likewise."
We Give Thanks, for Your Name is Near
For the Chief Musician. To the tune of "Do Not Destroy." A Psalm by Asaph. A song.
1 We give thanks to you, O God.
We give thanks, for your Name is near.
Men tell about your wondrous works.
2 When I choose the appointed time,
I will judge blamelessly.
3 The earth and all its inhabitants quake.
I firmly hold its pillars.
Selah.
4 I said to the arrogant, "Do not boast!"
I said to the wicked, "Do not lift up your own horn.
5 Do not lift up your horn on high.
Do not speak with your head held high."
6 For neither from the east, nor from the west,
nor yet from the south, comes exaltation.
7 But God is the judge.
He puts down one, and lifts up another.
8 For in the hand of the Lord, there is a cup,
full of foaming wine mixed with spices.
He pours it out.
Indeed the wicked of the earth drink
and drink it to its very dregs.
9 But I will declare this forever:
I will sing praises to the God of Jacob.
10 I will cut off all the horns of the wicked,
but the horns of the righteous shall be lifted up.
12 The wicked desires the plunder of evil men,
but the root of the righteous flourishes.
13 An evil man is trapped by sinfulness of lips,
but the righteous shall come out of trouble.
14 A man shall be satisfied with good by the fruit of his mouth.
The work of a man's hands shall be rewarded to him.
«       »