Let all that you do be done in love. 1 Corinthians 16:14
Job 16-19
Job 16
Job:  Poor Comforters are you
1 Then Job answered,
2 "I have heard many such things.
All of you are miserable comforters!
3 Is there an end to your empty words?
Or what provokes you that you answer?
4 I also could speak as you do.
If you were in my place,
I could string words together against you
and shake my head at you,
5 but I would use my mouth to strengthen you,
and my lips to bring you solace and relief.
6 If I speak, my grief is not lessened.
If I forbear, how am I eased?
7 But now, God, you have surely worn me out.
You have devastated my whole family.
8 You have shriveled me up. This is a witness against me.
My frailty rises up against me, testifying to my face.
9 He has crushed me in his wrath and persecuted me.
He has chewed on me with his teeth.
My adversary sharpens his eyes on me.
10 They gape at me with their mouths.
They have struck me on the cheek reproachfully.
They gather together against me.
11 God has delivered me to the ungodly
and casts me into the hands of the wicked.
12 I was at ease, and he shattered me.
Yes, he has taken me by the neck, and dashed me to pieces.
He has also set me up for his target.
13 His archers surround me.
He splits my insides apart without mercy.
He pours out my bile on the ground.
14 He breaks me over and over.
He runs at me like a giant.
15 I have sewn sackcloth on my skin,
and have buried my pride in the dust.
16 My face is red with weeping.
Deep darkness is on my eyelids.
17 Although there is no violence in my hands,
and my prayer is pure.
18 Earth, do not cover my blood.
Let my cry have no place to rest.
19 Even now, my witness is in heaven.
He who vouches for me is on high.
20 My friends scoff at me.
My eyes pour out tears to God.
21 O that man might plead with God,
like a man pleads for his neighbor!
22 For when a few years have passed,
I will go the way of no return.
Job 17
Job appeals from men to God
1 My spirit is broken.
My days are extinct,
and the grave is ready for me.
2 Surely there are mockers with me.
My eyes must dwell on their provocation.
3 Now give a pledge. Be collateral for me with yourself.
Who is there who will strike hands with me?
4 For you have hidden their heart from understanding,
Therefore you will not exalt them.
5 He who informs on his friends for his own gain,
the eyes of his children will fail.
6 But he has made an epithet of me to the people.
They spit in my face.
7 My eye also is weak from sorrow.
All my members are like a shadow.
8 Upright men are appalled at this.
The innocent are stirred up against the godless.
9 Yet the righteous will hold to his ways.
He who has clean hands will grow stronger and stronger.
10 But as for all of you, come back,
and I will not find a wise man among you.
11 My days are past.
My plans are broken,
as are the thoughts of my heart.
12 They change the night into day,
saying 'The light is near' in the presence of darkness.
13 If I look for Sheol as my house,
if I have spread my bed in the darkness,
14 if I have said to corruption, 'You are my father,'
to the worm, 'My mother' and 'My sister,'
15 where then is my hope?
As for my hope, who will see it?
16 Shall it go down with me to the gates of Sheol
or descend together into the dust?"
Job 18
Bildad: God punishes the wicked

1 Then Bildad the Shuhite answered,
2 "How long until your words come to an end?
Think about it and afterwards we will speak.
3 Why are we regarded as animals,
which have become unclean in your sight?
4 You who tear yourself up in your anger,
will the earth be forsaken for you?
Or will the rock be removed from its place?
5 Yes, the light of the wicked is put out.
The spark of his fire does not shine.
6 The light is dark in his tent.
His lamp above him is put out.
7 The steps of his strength is shortened.
His own counsel casts him down.
8 For he is cast into a net by his own feet,
and he wanders into its mesh.
9 A snare takes him by the heel.
A trap catches him.
10 A noose is hidden for him in the ground,
a trap for him on the path.
11 Terrors make him afraid on every side
and chase at his heels.
12 His strength is starved.
Calamity is ready at his side.
13 His skin is consumed.
The firstborn of death devours his limbs.
14 He is rooted out of the security of his tent.
He is brought to the king of terrors.
15 Nothing of his remains in his tent.
Burning sulfur is scattered on his home.
16 His roots beneath are dried up.
His branch is cut off above.
17 His memory perishes from the earth.
He has no name in the street.
18 He is driven from light into darkness,
and chased out of the world.
19 He has neither son nor grandson among his people,
nor any remaining where he lived.
20 Those who come after are appalled at his fate,
as those who went before were frightened.
21 Surely such are the homes of the unrighteous,
the place of him who does not know God."
Job 19
Job: My Redeemer Lives
1 Then Job answered,
2 How long will you torment me,
and crush me with words?
3 You have reproached me ten times.
You are not ashamed that you attack me.
4 If it is true that I have erred,
my error remains my own.
5 If indeed you would exalt yourselves over me
and regard my humiliation as proof against me,
6 know now that it is God who has wronged me
and has surrounded me with his net.
7 I cry out because of this wrong, but I am not heard.
I cry for help, but there is no justice.
8 He has walled up my way so that I cannot pass
and has set darkness in my paths.
9 He has stripped me of my glory,
and taken the crown from my head.
10 He has broken me down on every side, and I am gone.
He has plucked my hope up like a tree.
11 He has also ignited his wrath against me.
He counts me among his adversaries.
12 His troops come together,
build a siege ramp against me,
and encamp around my tent.
13 He has put my brothers far from me.
My acquaintances are wholly estranged from me.
14 My relatives have gone away.
My closest friends have forgotten me.
15 Those who dwell in my house and my maids
consider me a stranger.
I am an alien in their sight.
16 I call to my servant, and he gives me no answer.
With my mouth, I beg him.
17 My breath is offensive to my wife.
I am loathsome to the children of my own mother.
18 Even young children despise me.
If I rise, they speak against me.
19 All my closest friends abhor me.
They whom I loved have turned against me.
20 My bones stick to my skin and to my flesh.
I have escaped by the skin of my teeth.
21 Have pity on me. Have pity on me, you my friends,
for the hand of God has touched me.
22 Why do you persecute me as God,
and are not satisfied with my flesh?
23 Oh that my words were now written!
Oh that they were inscribed in a book!
24 O that they were engraved in the rock forever
with an iron pen and lead!
25 But as for me, I know that my Redeemer lives.
In the end, he will stand upon the earth.
26 After my skin is destroyed,
then I will see God in my flesh,
27 whom I–yes I–will see on my side.
My eyes will see, and not as a stranger.
My heart is consumed within me.
28 If you say, 'How we will persecute him!'
because the root of the matter is found in me,
29 be afraid of the sword,
for wrath brings the punishments of the sword,
that you may know there is a judgment."
1 Corinthians 16
The Collection for the Saints
1 Now concerning the collection for the saints, as I commanded the churches of Galatia, you do likewise. 2 On the first day of every week, let each one of you save, as he may prosper, that no collections are made when I come. 3 When I arrive, I will send whoever you approve with letters to carry your gracious gift to Jerusalem. 4 If it is appropriate for me to go also, they will go with me.
Paul's plans for travels
5 But I will come to you when I have passed through Macedonia, for I am passing through Macedonia. 6 But with you it may be that I will stay, or even winter, that you may send me on my journey wherever I go. 7 For I do not wish to see you now in passing, but I hope to stay a while with you, if the Lord permits. 8 But I will stay at Ephesus until Pentecost, 9 for a great and effective door has opened to me, and there are many adversaries.
Timothy Commended
10 Now if Timothy comes, see that he is with you without fear, for he does the work of the Lord, as I also do. 11 Therefore let no one despise him. But set him forward on his journey in peace, that he may come to me, for I expect him with the brothers.
12 Now concerning Apollos, the brother, I strongly urged him to come to you with the brothers, and it was not at all his desire to come now, but he will come when he has an opportunity.
Concluding exhortations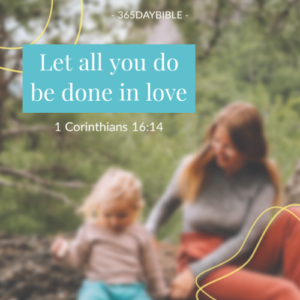 13 Watch! Stand firm in the faith! Be courageous! Be strong! 14 Let all that you do be done in love.
15 Now I beg you, brothers—you know the house of Stephanas, that it is the first fruits of Achaia, and that they have set themselves to serve the saints— 16 that you also be in subjection to such, and to everyone who helps in the work and labors. 17 I rejoice at the coming of Stephanas, Fortunatus, and Achaicus, for that which was lacking on your part, they supplied. 18 For they refreshed my spirit and yours. Therefore acknowledge those who are like that.
Paul's final greetings
19 The assemblies of Asia greet you. Aquila and Priscilla greet you much in the Lord, together with the assembly that is in their house. 20 All the brothers greet you. Greet one another with a holy kiss.
21 This greeting is by me, Paul, with my own hand. 22 If any man does not love the Lord Jesus Christ, let him be cursed. Come, Lord! 23 The grace of the Lord Jesus Christ be with you. 24 My love to all of you in Christ Jesus. Amen.
Psalm 40:1-10
I Waited Patiently for the Lord
For the Chief Musician. A Psalm by David.
1 I waited patiently for the Lord.
He turned to me and heard my cry.
2 He brought me up out of a horrible pit,
out of the miry clay.
He set my feet on a rock
and established my steps.
3 He has put a new song in my mouth,
a song of praise to our God.
Many shall see and fear
and put their trust in the Lord.
4 Blessed is the man
who trusts in the Lord
and does not turn to the proud
or resort to falsehood.
5 Many, O Lord, my God,
are the wonderful works which you have done.
Your thoughts toward us,
they cannot be declared back to you.
If I would declare and speak of them,
they would be more than can be numbered.
6 Sacrifice and offering you did not desire.
You have opened my ears.
You have not required
burnt offering and sin offering.
7 Then I said, "I have come.
It is written about me in the book in the scroll.
8 I delight to do your will, my God.
Yes, your law is within my heart."
9 I have preached righteousness in the great assembly.
I have not restrained my lips, O Lord. You know.
10 I did not hide your righteousness in my heart.
I have declared your faithfulness and your salvation.
I have not concealed your loving kindness and your truth
from the great assembly.
Proverbs 22:1
1 A good name is more desirable than great riches,
and loving favor is better than silver and gold.
«       »