My help comes from the Lord, who made heaven and earth. Psalm 121:2
Daniel 9
Daniel's Prayer for his People
1 In the first year of Darius the son of Ahasuerus, a descendant of the Medes, who was made king over the Chaldeans, 2 in the first year of his reign I, Daniel, understood from reading the books in which the word of the Lord came through the prophet Jeremiah, that the number of years for the desolation of Jerusalem to be accomplished was 70 years.
3 And I set my face to the Lord God, to seek by prayer and petitions, with fasting and sackcloth and ashes. 4 I prayed to the Lord my God and made my confession and said, "Oh, Lord, the great and awesome God, who keeps the covenant and loving kindness with those who love him and keep his commandments, 5 we have sinned and behaved wickedly and rebelled, turning aside from your precepts and from your ordinances. 6 We have not listened to your servants the prophets, who spoke in your name to our kings, our princes, and our fathers, and to all the people of the land.
7 Lord, righteousness belongs to you, but as it is, for us today, shame covers our faces, the men of Judah, the inhabitants of Jerusalem, and all Israel, near and far, throughout all of the countries where you have driven them, because of their transgressions against you. 8 Lord, to us, to our kings, our princes, and our fathers, belongs public shame, because we have sinned against you.
9 To the Lord our God belong compassion and forgiveness, for we have rebelled against him. 10 We have not obeyed the voice of the Lord our God, to walk in his laws, which he set before us through his servants the prophets.
11 All Israel has transgressed your law, turning away from your voice, in disobedience. Therefore the curse and the oath written in the law of Moses, the servant of the Lord, has been poured out on us, for we have sinned against him.
12 He has confirmed his words, which he spoke against us, and against our judges who judged us, by bringing on us a great disaster, for under the whole heavens, nothing has ever been done like what has been done to Jerusalem. 13 As it is written in the law of Moses, all this disaster has come on us. Yet we have not entreated the favor of the Lord our God, that we should turn from our iniquities and have discernment in your truth. 14 Therefore the Lord has reserved this disaster and brought it on us, for the Lord our God is righteous in everything that he does, and we have not obeyed his voice.
15 Now, O Lord our God, who has brought your people out of the land of Egypt with a mighty hand and have made yourself renown, as it is today, we have sinned. We have behaved wickedly. 16 Lord, according to all your righteousness, please, let your anger and your wrath be turned away from your city Jerusalem, your holy mountain, for because of our sins and fathers' sins, Jerusalem and your people have become a reproach to all who are around us.
17 Now therefore, our God, listen to the prayer of your servant, and to his petitions, and cause your face to shine on your sanctuary that is desolate, for the Lord's sake. 18 Now therefore, our God, incline your ear and hear and open your eyes and see the desolation of our city which bears your name, for we do not present our requests before you because of our righteousness, but because of your great mercy. 19 Lord, hear. Lord, forgive. Lord, listen and act. Do not delay, for your own sake, my God, because your city and your people are called by your name."
Gabriel's Prophecy of the 70 Weeks
20 While I was speaking and praying and confessing my sins and the sins of my people Israel and presenting my requests before the Lord my God on behalf of the holy mountain of my God, 21 yes, while I was still speaking in prayer, the man Gabriel, whom I had seen at the beginning of the visions, flew swiftly to me and touched me at about the time of the evening offering. 22 He instructed me and talked with me and said, "Daniel, I have now come to give you wisdom and understanding. 23 At the beginning of your petitions a command went out, and I have come to tell you what it is, for you are greatly beloved. Therefore consider the message and understand the vision.
24 Seventy weeks are decreed for your people and on your holy city, to end their disobedience, to put an end to sin, to make reconciliation for iniquity, to bring in everlasting righteousness, to seal up vision and prophecy, and to anoint the most holy place.
25 Know therefore and discern that from the time the command went out, to restore and rebuild Jerusalem until the Anointed One, the Prince, will be seven weeks and 62 weeks. It will be built again, with street and moat, in troubled times.
26 After the 62 weeks the Anointed One will be cut off and will have nothing. Then the people of the prince who is to come will destroy the city and the sanctuary. Its end will come by flood and war will be to the end. The desolation has been determined.
27 He will make a firm covenant with many for one week. In the middle of the week he will cause the sacrifice and the offering to cease. On the wing of abominations will come one who makes desolate and to the full end, which is determined, wrath will be poured out on the desolate."
1 John 2:18-29
Beware of Antichrists
18 Little children, these are the end times, and as you heard that the Antichrist is coming, even now many antichrists have arisen, by which we know that it is the final hour. 19 They went out from us, but they did not belong to us; for if they had belonged to us, they would have continued with us. But they left so that it might be revealed that none of them belong to us.
20 You have an anointing from the Holy One, and all of you have knowledge. 21 I have not written to you because you do not know the truth, but because you do know it, and because no lie comes from the truth. 22 Who is the liar but he who denies that Jesus is the Christ? This is the Antichrist, he who denies the Father and the Son. 23 Whoever denies the Son does not have the Father. He who confesses the Son has the Father also.
24 Therefore, as for you, let that remain in you which you heard from the beginning. If that which you heard from the beginning remains in you, you also will remain in the Son, and in the Father. 25 This is the promise which he promised us: eternal life. 26 These things I have written to you concerning those who would lead you astray. 27 As for you, the anointing which you received from him remains in you, and you do not need for anyone to teach you. But as his anointing teaches you concerning all things, and is true, and is not a lie, and just as he taught you, remain in him.
Continue in Him
28 Now, little children, remain in him, so that when he appears, we may have boldness and not be ashamed before him at his coming. 29 If you know that he is righteous, you know that everyone who practices righteousness has been born of him.
Psalm 121
A Song of Ascents.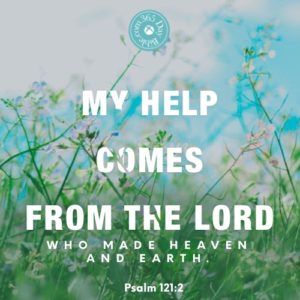 1 I will lift up my eyes to the hills.
Where does my help come from?
2 My help comes from the Lord,
who made heaven and earth.
3 He will not allow your foot to be moved.
He who keeps you will not slumber.
4 Indeed, he who keeps Israel
will neither slumber nor sleep.
5 The Lord is your keeper.
The Lord is your shade on your right hand.
6 The sun will not harm you by day,
nor the moon by night.
7 The Lord will keep you from all evil.
He will keep watch over your life.
8 The Lord will keep your going out and your coming in,
from this time forward, and forever more.
Proverbs 28:27-28
27 One who gives to the poor will not lack,
but one who closes his eyes will have many curses.
28 When the wicked rise, men hide themselves,
but when they perish, the righteous thrive.
«       »