Pray for the peace of Jerusalem. Those who love you will prosper. Psalm 122:6
Daniel 10
Daniel's Vision of a Mighty Man
1 In the third year of Cyrus king of Persia a message was revealed to Daniel, who was called Belteshazzar. The message of a great warfare was true. Daniel understood it. He had understanding of the vision.
2 In those days I, Daniel, was mourning for three whole weeks. 3 I ate no fine foods. No meat or wine came into my mouth. I did not anoint myself at all, until three entire weeks were fulfilled.
4 In the 24th day of the first month, as I was by the side of the great river, which is Hiddekel, 5 I looked up and there was a man clothed in linen, whose thighs were adorned with pure gold of Uphaz. 6 His body also was like the beryl, and his face like the appearance of lightning, and his eyes like flaming torches. His arms and his feet were like burnished bronze. The voice from his words was like the voice of a multitude.
7 I, Daniel, alone saw the vision, for the men who were with me did not see the vision, but a great terror fell on them, and they fled to hide themselves. 8 So I was left alone seeing this great vision. No strength remained in me, for my face grew deathly pale, and I had no strength. 9 Yet I heard the voice from his words. When I heard the voice from his words, then I fell into a deep sleep on my face, with my face toward the ground.
The Angel's Prophecy of Persia, Greece
10 A hand touched me, which set me on my knees and on the palms of my hands. 11 He said to me, "Daniel, you are a greatly beloved man. Understand the words that I am speaking to you and stand upright, for I have been sent to you, now."
When he had spoken this word to me, I stood trembling. 12 Then he said to me, "Do not be afraid, Daniel, for from the first day that you set your heart to understand and to humble yourself before your God, your words were heard. I have come for the sake of your words. 13 But the prince of the kingdom of Persia withstood me for 21 days, but Michael, one of the chief princes, came to help me because I remained there with the kings of Persia. 14 Now I have come to make you understand what will happen to your people in the latter days, for the vision refers to days to come."
15 When he had spoken these words to me, I set my face toward the ground and was mute. 16 One in the likeness of the sons of men touched my lips. Then I opened my mouth, and spoke and said to him who stood before me, "My lord, because of the vision my sorrows have overtaken me, and I have no strength. 17 For how can this servant of my lord talk with someone like you, my lord? For as for me, immediately there remained no strength in me. There was no breath left in me."
18 Then one like the appearance of a man touched me again and he strengthened me. 19 He said, "Greatly beloved man, do not be afraid. Peace be to you. Be strong. Yes, be strong."
When he spoke to me, I was strengthened and said, "Let my lord speak, for you have strengthened me."
20 Then he said, "Do you know why I have come to you? Now I will return to fight with the prince of Persia. When I go out, the prince of Greece will come. 21 But I will tell you that which is inscribed in the writing of truth. There is no one who stands with me against them, except Michael your prince.
1 John 3
Children of God
1 See how great a love the Father has given to us, that we should be called children of God! For this reason the world does not know us, because it did not know him. 2 Beloved, now we are children of God. It is not yet revealed what we will be, but we know that when he is revealed, we will be like him, for we will see him just as he is. 3 Everyone who has this hope set on him purifies himself, just as he is pure.
4 Everyone who sins also commits lawlessness. Sin is lawlessness. 5 You know that he was revealed to take away our sins, and no sin is in him. 6 Whoever remains in him does not sin. Whoever sins has not seen him and does not know him.
Love One Another
7 Little children, let no one lead you astray: he who does what is right is righteous, just as Christ is righteous. 8 He who sins is of the devil, for the devil has been sinning from the beginning. The Son of God was revealed for this purpose: that he might destroy the works of the devil.
9 Whoever is born of God does not practice sin, because his seed remains in him, and he cannot practice sinning, because he is born of God. 10 In this the children of God are revealed, and the children of the devil. Whoever does not practice righteousness is not of God, nor is he who does not love his brother.
11 For this is the message which you have heard from the beginning, that we should love one another, 12 unlike Cain, who was of the evil one, and killed his brother. Why did he kill him? Because his deeds were evil, and his brother's were righteous.
13 Do not be surprised, my brothers, if the world hates you. 14 We know that we have passed from death into life, because we love the brothers. He who does not love his brother remains in death. 15 Whoever hates his brother is a murderer, and you know that no murderer has eternal life remaining in him.
16 By this we know love, because he laid down his life for us. And we ought to lay down our lives for the brothers. 17 But whoever has the world's goods and sees his brother in need, then closes his heart of compassion against him, how does the love of God remain in him?
18 My little children, let us not love in word only, or with the tongue only, but in deed and truth. 19 And by this we know that we are of the truth and assure our conscience in his presence, 20 because if our conscience condemns us, God is greater than our conscience, and knows all things.
21 Beloved, if our consciences do not condemn us, we have boldness before God, 22 so whatever we ask, we receive from him, because we keep his commandments and do the things that are pleasing in his sight. 23 This is his commandment, that we should believe in the name of his Son, Jesus Christ, and love one another, just as he commanded. 24 He who keeps his commandments remains in him, and he in him. By this we know that he remains in us, by the Spirit which he gave us.
Psalm 122
Pray for the Peace of Jerusalem
A Song of Ascents. By David.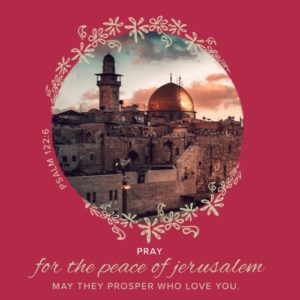 1 I was glad when they said to me,
"Let us go to the house of the Lord!"
2 Our feet are standing within your gates, Jerusalem,
3 Jerusalem, that is built as a city that is compact together,
4 where the tribes go up, the tribes of the Lord,
according to an ordinance for Israel,
to give thanks to the name of the Lord.
5 For there are set thrones for judgment,
the thrones of David's house.
6 Pray for the peace of Jerusalem.
Those who love you will prosper.
7 Peace be within your walls,
and prosperity within your palaces.
8 For the sake of my brothers and companions,
I will now say, "Peace be within you."
9 For the sake of the house of the Lord our God,
I will seek your good.
Proverbs 29:1
1 He who remains stiff-necked after frequent rebuke,
will be destroyed suddenly, with no remedy.
«       »