Pray for the peace of Jerusalem. Those who love you will prosper. Psalm 122:6
Daniel 11
The Overthrow of Persia
1 "As for me, in the first year of Darius the Mede, I stood up to confirm and strengthen him.
2 "Now I will show you the truth. Three more kings will rise up in Persia; and the fourth will be far richer than all of them. When he has grown strong through his riches, he will incite everyone against the realm of Greece. 3 A mighty king will arise, who will rule with great authority and do whatever he pleases. 4 When he has risen to power, his kingdom will be broken apart and divided to all four winds of the sky, but will not given to his descendants nor ruled with the authority with which he had ruled; for his kingdom will be uprooted, and given to others besides these.
The Kings of the South and the North
5 "The king of the south will become powerful. One of his princes will become more powerful than him, and in his dominion, he will reign with great power. 6 At the end of these years, they will join together; and the king of the south's daughter will come to the king of the north to make an agreement; but she will not retain her power, nor will he retain his. She will be given up, and those who came with her, and her father, and those who supported her during these times.
7 "But from the descendants of her lineage, one will arise to replace the king of the south. He will come with an army, and will enter into the fortress of the king of the north, and will take action against them, and will prevail. 8 He will also carry their gods captive into Egypt, with their molten images, and with their beautiful vessels of silver and gold. For years, he will refrain from attacking the king of the north. 9 He will come into the realm of the king of the south, but he will return to his own land. 10 His sons will assemble a great military force and will wage war, advancing, overflowing and passing through like a river. They will return and wage war, up to to his fortress.
11 "The king of the south will be moved with anger, and will come out and fight the king of the north. He will send out a great military force, but it will be conquered. 12 When the king of the south has captured the military force, his heart will be prideful, and he will cast down tens of thousands, but will not prevail. 13 The king of the north will return, and will send out a military force greater than the former. At the end of a period of years, he will advance with a large army, backed with great riches.
14 "During that time, many will rise up against the king of the south. Also, the violent among your people will establish a rebellion to fulfill the vision; but they will fail. 15 So the king of the north will build a military blockade, advance, and take the well-fortified city. The forces of the south won't stand, not even the special forces. They will not have the strength. 16 But the one who comes against him will do whatever he pleases, and no one will stop him. He will establish himself in the glorious land with the power to bring destruction. 17 He will be determined to come with the strength of his entire kingdom, aligning and implementing equitable conditions with him. He will give him a daughter in marriage, to corrupt from within; but she will stand neither with him or for him. 18 After this he will turn his attention to the islands, and will take many; but a commander will cause their reproach to cease, and moreover, he will cause his reproach to turn back on him. 19 Then he will turn his attention to the fortresses of his own land; and he will stumble and fall, and will not be found again.
20 "Then he will establish a tax collector to represent him and go throughout the kingdom in order to maintain its glory. Within a few days he will be destroyed but not in anger or in battle.
21 "In his place a contemptible person will rise up, to whom the honor of the kingdom had not been bestowed. But he will come in a time of security and will obtain the kingdom through deceit. 22 And overwhelming forces will be swept away and shattered before him, and will be broken. Yes, also the prince of the covenant. 23 After the treaty made with him he will work deceitfully; for he will rise up, and will become strong, with only a few people. 24 In a time of security he will come even on the richest places of the province. He will do that which his fathers have not done, nor his fathers' fathers. He will scatter among them plunder, spoil, and riches. Yes, he will devise his plans against the strongholds, but for a limited time.
25 "He will stir up his power and courage against the king of the south, with a great army; and the king of the south will wage war in battle with an exceedingly great and mighty army; but he won't withstand them; for they will devise plans against him. 26 Yes, the ones who eat from his royal table will destroy him, and his army will be swept away. Many will fall down slain. 27 As for both these kings, their hearts will be fixed on evil and they will speak lies at the table; but it will not succeed, for the end will still be at the appointed time. 28 Then he will return to own his land with great wealth. His heart will be against the holy covenant. He will take action before returning to his own land.
29 "He will return at the appointed time, and come into the south; but it will not be in the latter time as it was in the former. 30 For ships of Kittim will come against him. Therefore he will be grieved, and will return, will resent the holy covenant, and will take action. He will return, and show regard to those who forsake the holy covenant.
31 "His forces will rise on his behalf, and they will profane the sanctuary, even the fortress, and will take away the continual burnt offering. Then they will set up the abomination that brings desolatation. 32 Those who act wickedly toward the covenant, he will corrupt through flattery, but the people who know their God will be strong, and take action.
33 "Those who are wise among the people will instruct many; yet they will fall by the sword and by flame, by captivity and by plunder, for many days. 34 Now when they fall, some help will be given to them, but many will deceitfully align with them. 35 Some of those who are wise will fall, to refine and purify them, and to make them white, to the time of the end; because it is yet for the appointed time.
1 John 3:7-24
Love One Another
7 Little children, let no one lead you astray. He whoever practices righteousness is righteous, just as He is righteous. 8 He who sins is of the devil, for the devil has been sinning from the beginning. For this purpose, the Son of God was revealed: that he might destroy the works of the devil. 9 Whoever is born of God does not commit sin, because his seed remains in him, and he cannot sin, because he is born of God. 10 In this the children of God are revealed, and the children of the devil. Whoever does not practice righteousness is not of God, neither is he who does not love his brother.
11 For this is the message which you have heard from the beginning, that we should love one another; 12 unlike Cain, who was of the evil one, and killed his brother. Why did he kill him? Because his deeds were evil, and his brother's righteous.
13 Do not be surprised, my brothers, if the world hates you. 14 We know that we have passed out of death into life, because we love the brothers. He who doesn't love his brother remains in death. 15 Whoever hates his brother is a murderer, and you know that no murderer has eternal life remaining in him.
16 By this we know love, because he laid down his life for us. And we ought to lay down our lives for the brothers.
17 But whoever has the world's goods and sees his brother in need, then closes his heart of compassion against him, how does the love of God remain in him? 18 My little children, let us not love in word only, or with the tongue only, but in deed and truth. 19 And by this we know that we are of the truth, and persuade our hearts before him, 20 because if our heart condemns us, God is greater than our heart, and knows all things. 21 Beloved, if our hearts do not condemn us, we have boldness toward God; 22 so whatever we ask, we receive from him, because we keep his commandments and do the things that are pleasing in his sight. 23 This is his commandment, that we should believe in the name of his Son, Jesus Christ, and love one another, just as he commanded. 24 He who keeps his commandments remains in him, and he in him. By this we know that he remains in us, by the Spirit which he gave us.
Psalm 122:1-9
A Song of Ascents. By David.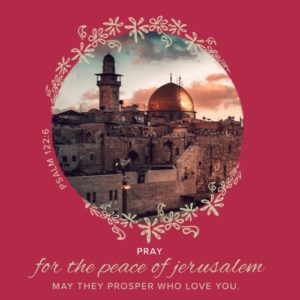 1 I was glad when they said to me,
"Let's go to the house of the Lord!"
2 Our feet are standing within your gates, Jerusalem,
3 Jerusalem, that is built as a city that is compact together,
4 where the tribes go up, the tribes of the Lord,
according to an ordinance for Israel,
to give thanks to the name of the Lord.
5 For there are set thrones for judgment,
the thrones of David's house.
6 Pray for the peace of Jerusalem.
Those who love you will prosper.
7 Peace be within your walls,
and prosperity within your palaces.
8 For my brothers' and companions' sakes,
I will now say, "Peace be within you."
9 For the sake of the house of the Lord our God,
I will seek your good.
Proverbs 29:1
1 He who is often rebuked and stiffens his neck
will be destroyed suddenly, with no remedy.