You will not need to fight this battle. Position yourselves, stand still, and see the salvation of the Lord with you, O Judah and Jerusalem.'" 2 Chronicles 20:17
2 Chronicles 19-20
2 Chronicles 19
Jehoshaphat Reproved by Jehu
1 Jehoshaphat the king of Judah returned to his house to Jerusalem in peace. 2 Jehu the son of Hanani the seer went out to meet him and said to king Jehoshaphat, "Should you help the wicked and love those who hate the Lord? Because of this, wrath is on you from before the Lord. 3 Nevertheless there are good things found in you, in that you have removed the Asheroth from the land and have set your heart to seek the Lord."
Jehoshaphat's reform
4 Jehoshaphat lived in Jerusalem, and he went out again among the people from Beersheba to the hill country of Ephraim, and brought them back to the Lord, the God of their fathers.
5 He set judges in the land throughout all the fortified cities of Judah, city by city, 6 and said to the judges, "Consider what you do, for you do not judge for man, but for the Lord, and he is with you in this judgment. 7 Now therefore let the fear of the Lord be on you. Take heed and do it, for there is no iniquity with the Lord our God, nor respecter of persons, nor taking of bribes."
8 Moreover in Jerusalem Jehoshaphat appointed Levites and priests, the heads of Israelite families, to administer the Lord's judgement and to settle controversies. They returned to live in Jerusalem. 9 He commanded them, saying, "You shall do this in the fear of the Lord, faithfully, and with a perfect heart. 10 Whenever any controversy comes to you from your brothers who dwell in their cities, between blood and blood, between law and commandment, statutes and ordinances, you must warn them, that they would not be guilty before the Lord, and wrath then come on you and on your brothers. Do this, and you will not be guilty. 11 Amariah the chief priest is over you in all matters of the Lord, and Zebadiah the son of Ishmael, the ruler of the house of Judah, in all the king's matters. Also the Levites shall be officers before you. Deal courageously, and may the Lord be with those who do what is right."
2 Chronicles 20
Jehoshaphat Invaded by Moab
1 After this, the Moabites, the Ammonites, and with them some of the Meunites, came against Jehoshaphat to battle. 2 Then some came who told Jehoshaphat, "A great multitude is coming against you from beyond the sea from Syria. Look! They are in Hazazon Tamar" (that is, En Gedi). 3 Jehoshaphat was alarmed and set himself to seek the Lord. He proclaimed a fast throughout all Judah. 4 Judah gathered together to seek help from the Lord. They came out of all the cities of Judah to seek the Lord.
Jehoshaphat's Prayer
5 Jehoshaphat stood in the assembly of Judah and Jerusalem, in the house of the Lord, before the new court, 6 and he said, "Lord, God of our fathers, are you not the God in heaven? Are you not ruler over all the kingdoms of the nations? Power and might are in your hand, so that no one is able to withstand you. 7 Did you, our God, not drive out the inhabitants of this land before your people Israel and give it forever to the offspring of Abraham, your friend? 8 They lived in it and have built you a sanctuary in it for your name, saying, 9 'If disaster comes on us—the sword, judgment, pestilence, or famine—we will stand before this house, and before you (for your name is in this house), and cry to you in our affliction, and you will hear and save us.'
10 Now the Ammonites and Moabites and men from Mount Seir, whom you would not let Israel invade when they came out of the land of Egypt, but they turned away from them and did not destroy them; 11 look now, how they reward us, to come to cast us out of your possession which you have given us to inherit. 12 Our God, will you not judge them? For we have no might against this great army that comes against us. We do not know what to do, but our eyes are on you."
13 All Judah stood before the Lord, with their little ones, their wives, and their children.
The Prophecy of Jahaziel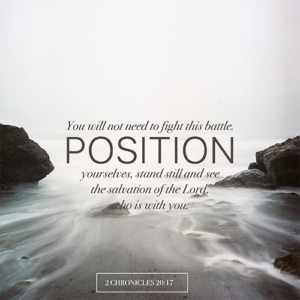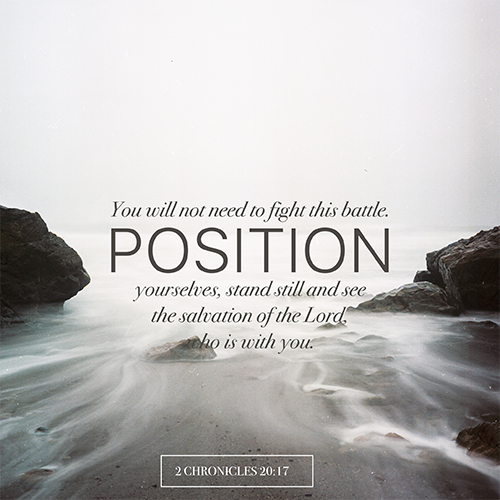 14 Then, in the midst of the assembly, the Spirit of the Lord came on Jahaziel the son of Zechariah, the son of Benaiah, the son of Jeiel, the son of Mattaniah, the Levite, of the sons of Asaph, 15 and he said, "Listen, all Judah, and you inhabitants of Jerusalem, and you, king Jehoshaphat. The Lord says to you, 'Do not be afraid, and do not be dismayed because of this great multitude, for the battle is not yours, but God's.
16 Tomorrow, go down against them. They are coming up by the ascent of Ziz. You will find them at the end of the valley, before the wilderness of Jeruel. 17 You will not need to fight this battle. Position yourselves, stand still, and see the salvation of the Lord with you, O Judah and Jerusalem. Do not be afraid, nor be dismayed. Go out against them tomorrow, for the Lord is with you.' "
18 Jehoshaphat bowed his head with his face to the ground, and all Judah and the inhabitants of Jerusalem fell down before the Lord, worshiping God. 19 The Levites,  the Kohathites and the Korahites stood up to praise the Lord, the God of Israel, with an exceedingly loud voice.
The Enemies Destroy Themselves
20 They rose early in the morning and went out into the wilderness of Tekoa. As they went out, Jehoshaphat stood and said, "Listen to me, Judah, and you inhabitants of Jerusalem! Believe in the Lord your God, so you will be established! Believe his prophets, so you will prosper."
21 When he had received counsel from the people, he appointed those who were to sing to the Lord and give praise in holy array as they went out before the army, singing, "Give thanks to the Lord, for his loving kindness endures forever."
22 When they began to sing and to praise, the Lord set ambushers against the Ammonites, Moabites, and those in Mount Seir, who had come against Judah, and they were defeated. 23 For the Ammonites and Moabites stood up against the inhabitants of Mount Seir to utterly kill and destroy them. When they had made an end of the inhabitants of Seir, they helped by destroying each other.
24 When Judah came to the place overlooking the wilderness, they looked for the multitude, but there were only were dead bodies fallen to the earth, and there were none who had escaped.
25 When Jehoshaphat and his people came to take their plunder, they found among them in abundance, both riches and dead bodies, and precious jewels, which they stripped off for themselves, more than they could carry away. They took plunder for three days, it was so much.
The People Return in Triumph
26 On the fourth day, they assembled themselves in Beracah Valley, for there they blessed the Lord. Therefore that place was called "Beracah Valley" to this day. 27 Then they returned, every man of Judah and Jerusalem, with Jehoshaphat in front of them, to go back to Jerusalem with joy, for the Lord had caused them to rejoice over their enemies. 28 They came to Jerusalem with stringed instruments, harps, and trumpets to the house of the Lord. 29 When all the kingdoms of the countries heard that the Lord had fought against the enemies of Israel, they were afraid of God. 30 So the realm of Jehoshaphat was quiet, for his God gave him rest all around.
Summary of Jehoshaphat's Reign
31 Jehoshaphat reigned over Judah. He was 35 years old when he began to reign, and he reigned 25 years in Jerusalem. His mother's name was Azubah the daughter of Shilhi. 32 He walked in the ways of Asa his father and did not turn away from it, doing that which was right in the eyes of the Lord. 33 However the high places were not taken away, and the people had still not set their hearts on the God of their fathers. 34 Now the rest of the acts of Jehoshaphat, from the first to the last, they are written in the history of Jehu the son of Hanani, which is included in the book of the kings of Israel.
Jehoshaphat's Convoy Perishes
35 After this, Jehoshaphat king of Judah joined himself with Ahaziah king of Israel, who acted very wickedly. 36 He joined himself with Ahaziah to make ships to go to Tarshish, which they made in Ezion Geber. 37 Then Eliezer the son of Dodavahu of Mareshah prophesied against Jehoshaphat, saying, "Because you have joined yourself with Ahaziah, the Lord has destroyed your works." The ships were wrecked, so that they were not able to go to Tarshish.
Romans 10
The Word Brings Salvation
1 Brothers, my heart's desire and my prayer to God is for Israel, that they may be saved. 2 For I testify about them that they have a zeal for God, but not according to knowledge. 3 For being ignorant of God's righteousness, and seeking to establish their own righteousness, they did not subject themselves to the righteousness of God. 4 For Christ is the fulfillment of the law for righteousness to everyone who believes.
5 For Moses writes about the righteousness of the law,
"The one who does them will live by them." a
6 But the righteousness which is of faith says this, "Do not say in your heart, 'Who will ascend into heaven?' (that is, to bring Christ down), 7 or, 'Who will descend into the abyss?' (that is, to bring Christ up from the dead.)" 8 But what does it say? "The word is near you, in your mouth and in your heart."
That is the word of faith which we preach, 9 that if you will confess with your mouth that Jesus is Lord, and believe in your heart that God raised him from the dead, you will be saved. 10 For with the heart, one believes resulting in righteousness, and with the mouth confession is made resulting in salvation. 11 For the Scripture says,
"Whoever believes in him will not be disappointed." b
12 For there is no distinction between Jew and Greek, for the same Lord is Lord of all and is rich to all who call on him. 13 For,
"Whoever will call on the name of the Lord will be saved." c
14 How then will they call on him in whom they have not believed? How will they believe in him whom they have not heard? How will they hear without a preacher? 15 And how will they preach unless they are sent? As it is written:
"How beautiful are the feet of those who preach the Good News of peace,
who bring glad tidings of good things!" d
16 But they did not all listen to the glad news. For Isaiah says,
"Lord, who has believed our report?" e
17 So faith comes by hearing and hearing by the word of God. 18 But I say, did they not hear? Yes, most certainly,
"Their sound went out into all the earth,
their words to the ends of the world." f
19 But I ask, did Israel not know? First Moses says,
"I will provoke you to jealousy with that which is no nation.
I will make you angry with a nation void of understanding." g
20 Isaiah is very bold and says,
"I was found by those who did not seek me.
I was revealed to those who did not ask for me." h
21 But about Israel he says,
"All day long I stretched out my hands to a disobedient and contrary people." i
a Leviticus 18:5
b Isaiah 28:16
c Joel 2:32
d Isaiah 52:7
e Isaiah 53:1
f Psalm 19:4
g Deuteronomy 32:21
h Isaiah 65:1
i Isaiah 65:2
Psalm 21
After the Battle
For the Chief Musician. A Psalm by David.
1 The king rejoices in your strength, Lord!
How greatly he rejoices in your salvation!
2 You have given him his heart's desire,
and have not withheld the request of his lips.
Selah.
3 For you meet him with the blessings of goodness.
You set a crown of fine gold on his head.
4 He asked life of you and you gave it to him,
length of days forever and ever.
5 His glory is great in your salvation.
You lay honor and majesty on him.
6 For you make him most blessed forever.
You make him glad with joy in your presence.
7 For the king trusts in the Lord.
Through the loving kindness of the Most High, he shall not be moved.
8 Your hand will find out all of your enemies.
Your right hand will find out those who hate you.
9 You will make them as a fiery furnace in the time of your anger.
The Lord will consume them in his wrath.
The fire shall devour them.
10 You will destroy their descendants from the earth,
their posterity from among the children of men.
11 For they intended to harm you.
They plotted evil against you which cannot succeed.
12 For you will make them turn their back,
when you aim drawn bows at their face.
13 Be exalted, Lord, in your strength,
so we will sing and praise your power.
Proverbs 20:4-6
4 The sluggard will not plow because of the winter,
therefore he shall beg in harvest and have nothing.
5 Counsel in the heart of man is like deep water,
but a man of understanding will draw it out.
6 Many men claim to be men of unfailing love,
but who can find a faithful man?
«       »