All of God's works are known to him from eternity. Acts 15:18
2 Kings 5
Naaman Cured of Leprosy
1 Now Naaman, captain of the army of the king of Syria, was a great man in the sight of his master, and honorable, because by him the Lord had given victory to Syria. He was also a mighty man of valor, but he was a leper. 2 The Syrians had gone out in bands and had taken a little maiden captive from the land of Israel, and she waited on Naaman's wife. 3 She said to her mistress, "I wish that my lord were with the prophet who is in Samaria! Then he would heal him of his leprosy."
4 Someone went in and told his lord, saying, "The maiden who is from the land of Israel said this."
5 The king of Syria said, "Go now, and I will send a letter to the king of Israel."
He departed and took with him 750 pounds of silver, 150 pounds of gold, and ten changes of clothing. 6 He brought the letter to the king of Israel, saying, "Now when this letter has come to you, I have sent Naaman my servant to you, that you may heal him of his leprosy."
7 When the king of Israel had read the letter, he tore his clothes and said, "Am I God, to kill and to make alive, that this man sends a man to me to heal him of his leprosy? But please consider this and see that he is seeking a quarrel against me."
8 It was so, when Elisha the man of God heard that the king of Israel had torn his clothes, that he sent to the king, saying, "Why have you torn your clothes? Let him come now to me, and he shall know that there is a prophet in Israel."
9 So Naaman came with his horses and with his chariots and stood at the door of the house of Elisha. 10 Elisha sent a messenger to him, saying, "Go and wash in the Jordan seven times, and your flesh shall be restored to you, and you shall be clean."
11 But Naaman was angry and went away and said, "I thought, 'He will surely come out to me and stand and call on the name of the Lord his God and wave his hand over the place and heal the leper.' 12 Aren't Abanah and Pharpar, the rivers of Damascus, better than all the waters of Israel? Couldn't I wash in them and be clean?" So he turned and went away in a rage.
13 His servants came near and spoke to him and said, "My father, if the prophet had asked you do some great thing, wouldn't you have done it? How much rather then, when he says to you, 'Wash and be clean?' "
14 Then he went down and dipped himself seven times in the Jordan, according to the instructions of the man of God, and his flesh was restored like the flesh of a little child, and he was clean.
Gehazi's Greed and Leprosy
15 Naaman returned to the man of God, he and all his company, and came and stood before him, and he said, "See now, I know that there is no God in all the earth, but in Israel. Now therefore, please take a gift from your servant."
16 But he said, "As the Lord lives, before whom I stand, I will receive none."
He urged him to take it, but he refused. 17 Naaman said, "If not, then, please let two mules' loads of earth be given to your servant, for your servant will from now on offer neither burnt offering nor sacrifice to other gods, but to the Lord. 18 In this thing may the Lord pardon your servant: when my master goes into the house of Rimmon to worship there, and he leans on my hand, and I bow down in the house of Rimmon–when I bow down in the house of Rimmon, may the Lord pardon your servant in this thing."
19 He said to him, "Go in peace."
So he departed from him a little way. 20 But Gehazi the servant of Elisha the man of God, said, "My master has spared this Naaman the Syrian, in not receiving at his hands that which he brought. As the Lord lives, I will run after him and take something from him."
21 So Gehazi followed after Naaman. When Naaman saw one running after him, he came down from the chariot to meet him and said, "Is all well?"
22 He said, "All is well. My master has sent me to say, 'Two young men from among the sons of the prophets have just arrived from the hill country of Ephraim. Please give them 75 pounds of silver and two changes of clothing.' "
23 Naaman said, "Be pleased to take 150 pounds." He urged him and bound 150 pounds of silver in two bags, with two changes of clothing, and laid them on two of his servants, and they carried them before him. 24 When he came to the hill, he took them from their hand and stored them in the house. Then he let the men go, and they departed. 25 But he went in and stood before his master. Elisha said to him, "Where did you come from, Gehazi?"
He said, "Your servant went nowhere."
26 He said to him, "Didn't my heart go with you, when the man turned from his chariot to meet you? Is it a time to receive money and to receive garments, olive groves and vineyards, sheep and cattle, male servants and female servants? 27 Therefore the leprosy of Naaman will cling to you and to your offspring forever."
He went out from his presence a leper, as white as snow.
Acts 15
The Dispute over Circumcision
1 Some men came down from Judea and were teaching the brothers, "Unless you are circumcised after the custom of Moses, you can't be saved." 2 Therefore after Paul and Barnabas had no small dissension and discussion with them, they appointed Paul and Barnabas, and some others from among them, to go up to Jerusalem to the apostles and elders about this question. 3 Being sent on their way by the assembly, they passed through both Phoenicia and Samaria, declaring the conversion of the Gentiles. They caused great joy to all the brothers. 4 When they had come to Jerusalem, they were received by the assembly and the apostles and the elders, and they reported everything that God had done with them.
The Council at Jerusalem
5 But some of the sect of the Pharisees who believed rose up, saying, "It is necessary to circumcise them and to command them to keep the law of Moses."
6 The apostles and the elders were gathered together to see about this matter. 7 When there had been much discussion, Peter rose up and said to them, "Brothers, you know that a good while ago God made a choice among you that by my mouth the nations should hear the word of the Gospel and believe. 8 God, who knows the heart, testified about them, giving them the Holy Spirit, just like he did to us. 9 He made no distinction between us and them, cleansing their hearts by faith. 10 Now therefore why do you tempt God, that you should put a yoke on the neck of the disciples, which neither our fathers, nor we were able to bear? 11 But we believe that we are saved through the grace of the Lord Jesus, just as they are."
12 Everyone in the crowd remained silent, and they listened to Barnabas and Paul reporting what signs and wonders God had done among the nations through them. 13 After they were silent, James answered, "Brothers, listen to me. 14 Simeon has reported how God first visited the nations to take out of them a people for his name. 15 This agrees with the words of the prophets. As it is written,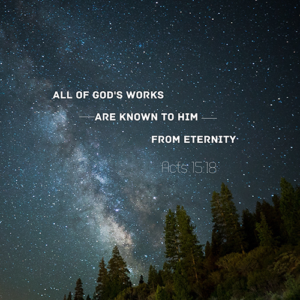 16 'After these things I will return.
I will again build the tabernacle of David, which has fallen.
I will again build its ruins.
I will set it up 17 that the rest of men may seek after the Lord;
all the Gentiles who are called by my name,
says the Lord, who does all these things.' a
18 "All of God's works are known to him from eternity. 19 Therefore my judgment is that we don't trouble those from among the Gentiles who turn to God, 20 but that we write to them that they abstain from the pollution of idols, from sexual immorality, from what is strangled, and from blood. 21 For Moses, from generations of old, has in every city those proclaiming him, being read in the synagogues every Sabbath."
The Letter to the Gentile Believers
22 Then it seemed good to the apostles and the elders, with the whole assembly, to choose men from their company and send them to Antioch with Paul and Barnabas: Judas called Barsabbas, and Silas, leading men among the brothers. 23 They wrote these things by their hand:
"The apostles, the elders, and the brothers, to the brothers who are of the Gentiles in Antioch, Syria, and Cilicia: greetings.
24 Because we have heard that some who went out from us have troubled you with words, unsettling your souls, saying, 'You must be circumcised and keep the law,' to whom we gave no commandment, 25 it seemed good to us, having come to one accord, to choose men to send to you, with our beloved Barnabas and Paul, 26 men who have risked their lives for the name of our Lord Jesus Christ. 27 We have sent therefore Judas and Silas, who themselves will also tell you the same things by word of mouth.
28 For it seemed good to the Holy Spirit, and to us, to lay no greater burden on you than these necessary things: 29 that you abstain from things sacrificed to idols, from blood, from things strangled, and from sexual immorality, from which, if you keep yourselves, it will be well with you.
Farewell."
The Believers at Antioch Rejoice
30 So, when they were sent off, they came to Antioch. Having gathered the multitude together, they delivered the letter. 31 When they had read it, they rejoiced over the encouragement. 32 Judas and Silas, also being prophets themselves, encouraged the brothers with many words and strengthened them. 33 And after they had spent some time there, they were sent off in peace by the brothers, to those who had sent them. 34 But it pleased Silas to remain there. 35 But Paul and Barnabas stayed in Antioch, teaching and preaching the word of the Lord, with many others also.
Paul's Second Missionary Journey
36 After some days Paul said to Barnabas, "Let's return now and visit our brothers in every city in which we proclaimed the word of the Lord, to see how they are doing." 37 Barnabas planned to take John, who was called Mark with them also, 38 but Paul did not think that it was a good idea to take someone with them who had withdrawn from them in Pamphylia and did not go with them to do the work. 39 Then the contention grew so sharp that they separated from each other. Barnabas took Mark with him and sailed away to Cyprus, 40 but Paul chose Silas and went out, being commended by the brothers to the grace of God. 41 He went through Syria and Cilicia, strengthening the assemblies.
Psalm 141
Come to Me Quickly
A Psalm by David.
1 Lord, I have called on you.
Come to me quickly!
Hear my voice when I call to you.
2 Let my prayer be set before you like incense,
the lifting up of my hands like the evening sacrifice.
3 Set a watch, Lord, before my mouth.
Keep watch over the door of my lips.
4 Do not incline my heart to any evil thing,
to practice wicked deeds with men who sin.
Do not let me eat of their delicacies.
5 Let the righteous strike me. It is an act of loving kindness.
Let him reprove me. It is like oil refreshing the head.
Do not let me refuse it,
for my prayer is always against evil.
6 Their judges will be thrown down the side of a cliff.
They will listen to my words, for they are well spoken.
7 As when one plows and breaks up the earth,
so have our bones been scattered at the mouth of the grave.
8 For my eyes are fixed on you, O God, my Lord.
In you, I take refuge.
Do not leave me destitute.
9 Keep me from the snare which they have laid for me,
from the traps of evildoers.
10 Let the wicked all fall together into their own nets
while I pass by them.
Proverbs 17:23
23 A wicked man receives a bribe in secret,
to pervert the ways of justice.
«       »