A gossip reveals secrets, but he who has a trustworthy spirit conceals the matter. Proverbs 11:13
Numbers 23
Balaam's First Oracle
1 Balaam said to Balak, "Build seven altars here for me and prepare seven bulls here and seven rams for me."  2 Balak did as Balaam had spoken, and Balak and Balaam offered a bull and a ram on every altar. 3 Balaam said to Balak, "Stand by your burnt offering, and I will go. Perhaps the Lord will come to meet me. Whatever he shows me I will tell you."  And he went to a solitary place.
4 God met Balaam, and he said to him, "I have prepared the seven altars, and I have offered up a bull and a ram on every altar."  5 The Lord put a word in Balaam's mouth and said, "Return to Balak, and thus you shall speak."  6 He returned to him, and he was standing by his burnt offering, he and all the princes of Moab.
7 He took up his parable and said,
"From Aram, Balak has brought me,
the king of Moab, from the mountains of the East.
Come, curse Jacob for me.
Come, defy Israel.
8 How shall I curse whom God has not cursed?
How shall I defy whom the Lord has not defied?
9 For from the top of the rocks I see him.
From the hills I see him.
It is a people that dwells apart.
Among the nations, they are not counted.
10 Who can count the dust of Jacob,
or count even a quarter of Israel?
Let me die the death of the righteous!
Let my last end be like theirs!"
11 Balak said to Balaam, "What have you done to me? I took you to curse my enemies, and you have altogether blessed them."
12 He answered and said, "Should I not be careful to speak only that which the Lord has put in my mouth?"
Balaam's Second Oracle
13 Balak said to him, "Please come with me to another place, where you may see them. You will be able to see only the utmost part of them and shall not see all of them. Curse them from there for me."
14 He took him into the field of Zophim, to the top of Pisgah, and built seven altars and offered up a bull and a ram on every altar. 15 He said to Balak, "Stand here by your burnt offering, while I meet the Lord over there."
16 The Lord met Balaam and gave him the words to say, "Return to Balak and say this."
17 He came to him, and he was standing by his burnt offering, and the leaders of Moab with him. Balak said to him, "What has the Lord spoken?"
18 He took up his parable and said,
"Rise up, Balak, and hear!
Listen to me, you son of Zippor.
19 God is not a man, that he should lie,
nor a son of man, that he should repent.
Has he ever declared something and did not do it?
Or has he spoken and will not make it good?
20 I have received a command to bless.
He has blessed, and I cannot reverse it.
21 He has not seen iniquity in Jacob.
Nor has he seen perversity in Israel.
The Lord his God is with him.
The joy of a king is among them.
22 God brought them out of Egypt.
He has, for them, the strength of a wild ox.
23 Surely no omen works against Jacob;
Nor is there any divination against Israel.
Now it shall be said of Jacob and of Israel,
'Look what has the Lord done!'
24 A people rise up as a lioness.
As a young lion he lifts himself up.
He shall not lie down until he eats of the prey,
and drinks the blood of the slain."
25 Balak said to Balaam, "Then neither curse them, nor bless them at all."
26 But Balaam answered Balak, "Did I not tell you, 'All that the Lord speaks, that I must do?' "
27 Balak said to Balaam, "Come with me. I will take you to another place. Perhaps it will please God that you may curse them for me from there."
28 Balak took Balaam to the top of Peor, that looks down on the desert. 29 Balaam said to Balak, "Build seven altars for me here, and prepare seven bulls and seven rams for me here."
30 Balak did as Balaam had said and offered up a bull and a ram on every altar.
Luke 1:57-80
The Birth of John the Baptist
57 Now Elizabeth was full term, and it was time for her to deliver, and she gave birth to a son. 58 Her neighbors and her relatives heard how the Lord had shown great mercy toward her, and they rejoiced with her. 59 And it came to pass, on the eighth day, they came to circumcise the child, and they were calling him Zacharias, after the name of his father. 60 His mother answered, "No, rather he will be called John."
61 They said to her, "There is no one among your relatives who is called by this name." 62 They made signs to his father, what he would have him called.
63 He asked for a writing tablet and wrote, "His name is John."
They were all astonished. 64 His mouth was opened immediately and his tongue loosed, and he spoke and praised God. 65 Fear came on all who lived around them, and all these sayings were talked about throughout all the hill country of Judea. 66 All who heard them laid them up in their heart, saying, "What then will this child be?" The hand of the Lord was with him.
Zechariah's Song
67 His father Zacharias was filled with the Holy Spirit and prophesied, saying,
68 "Blessed be the Lord, the God of Israel,
for he has visited and redeemed his people,
69 and has raised up a horn of salvation for us
in the house of his servant David
70 (as he spoke by the mouth of his holy prophets
who have been from of old),
71 that we should be saved from our enemies
and from the hand of all who hate us,
72 to perform the mercy promised to our fathers,
and to remember his holy covenant,
73 the oath which he swore to our father Abraham,
74 to grant to us that we, being delivered out of the hand of our enemies,
might serve him without fear,
75 in holiness and righteousness before him all the days of our life.
76 And you, child, will be called a prophet of the Most High,
for you will go before the face of the Lord to prepare his ways,
77 to give knowledge of salvation to his people by the remission of their sins,
78 through the tender mercy of our God,
by which the dawn from on high will visit us,
79 to give light to those who sit in darkness and in the shadow of death,
to guide our feet into the way of peace."
80 And the child grew and became strong in spirit and was in the desert until the day of his public appearance to Israel.
Psalm 58
God Judges the Earth
For the Chief Musician. To the tune of "Do Not Destroy." A poem by David.
1 Do you indeed speak righteousness, silent ones?
Do you judge blamelessly, you sons of men?
2 No, in your heart you plot wickedness.
You measure out the violence of your hands on the earth.
3 The wicked go astray from the womb.
They are wayward as soon as they are born, speaking lies.
4 Their poison is like snake venom,
like a deaf cobra that stops its ear,
5 which does not listen to the voice of charmers,
no matter how skillful the charmer may be.
6 Break their teeth, O God, in their mouth.
Break out the great teeth of the young lions, O Lord.
7 Let them vanish like water that flows away.
When they draw the bow, let their arrows be made blunt.
8 Let them be like a snail which melts and passes away,
like the stillborn child, who has not seen the sun.
9 Before your pots can feel the heat of the thorns,
he will sweep away the green and the burning alike.
10 The righteous shall rejoice when he sees the vengeance.
He shall wash his feet in the blood of the wicked,
11 so that men shall say, "Most certainly there is a reward for the righteous.
Most certainly there is a God who judges the earth."
Proverbs 11:12-13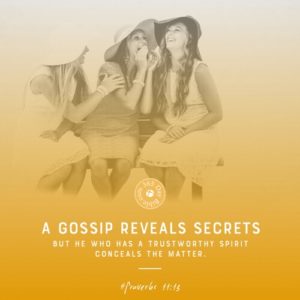 12 One who despises his neighbor is void of wisdom,
but a man of understanding holds his peace.
13 A gossip reveals secrets,
but he who has a trustworthy spirit conceals the matter.
«       »