Whoever wants to be first among you, must be slave of all. Mark 10:44
Leviticus 26
The Blessings of Obedience
1 " 'You shall not make idols for yourselves, and you shall not raise up a carved image or a pillar, and you shall not set up any figured stone in your land, to bow down to it; for I am the Lord your God.
2 You shall keep my Sabbaths and revere my sanctuary. I am the Lord.
3 If you walk in my statutes and keep my commandments and do them, 4 then I will give you your rain in its season, and the land shall yield its increase, and the trees of the field shall yield their fruit. 5 Your threshing shall continue until the vintage, and the vintage shall continue until sowing time. You shall eat your bread to the full, and dwell in your land safely.
6 I will give peace in the land, and you shall lie down, and nothing shall make you afraid. I will rid the land of dangerous beasts, and no sword shall go through your land. 7 You shall chase your enemies, and they shall fall before you by the sword. 8 Five of you shall chase a hundred, and a hundred of you shall chase 10,000, and your enemies shall fall before you by the sword.
9 I will turn to you, make you fruitful, multiply you, and will establish my covenant with you. 10 You shall eat old supplies long kept, and you shall move out the old because of the new. 11 I will set my tent among you, and I will not abhor you. 12 I will walk among you and will be your God, and you will be my people. 13 I am the Lord your God, who brought you out of the land of Egypt, that you should not be their slaves. I have broken the bars of your yoke and made you walk upright.' "
Punishments for Disobedience
14 " 'But if you will not listen to me and will not do all these commandments, 15 and if you shall reject my statutes, and if you abhor my ordinances so that you will not do all my commandments, but break my covenant, 16 I also will do this to you: I will appoint terror over you, wasting disease and fever, that shall consume the eyes and cause sorrow of heart. You will sow your seed in vain, for your enemies will eat it. 17 I will set my face against you, and you will be struck before your enemies. Those who hate you will rule over you, and you will flee when no one pursues you.
18 If, in spite of these things you will not listen to me, then I will chastise you seven times more for your sins. 19 I will break the pride of your power, and I will make your heaven as iron and your earth as brass. 20 Your strength will be spent in vain, for your land will not yield its increase, nor will the trees of the land yield their fruit.
21 If you walk contrary to me and will not listen to me, then I will bring seven times more plagues on you according to your sins. 22 I will send the dangerous beasts among you, which will rob you of your children, destroy your livestock and make you few in number. Your roads will become desolate.
23 If by these things you will not be turned back to me, but will walk contrary to me, 24 then I will also walk contrary to you, and I will strike you, seven times for your sins. 25 I will bring a sword upon you that will execute the vengeance of the covenant. You will be gathered together within your cities, and I will send the pestilence among you. You will be delivered into the hand of the enemy. 26 When I break your staff of bread, ten women shall bake your bread in one oven, and they shall deliver your bread again by weight. You shall eat and not be satisfied.
27 If, in spite of this you will not listen to me, but walk contrary to me, 28 then I will walk contrary to you in wrath. I will also chastise you seven times for your sins. 29 You will eat the flesh of your sons, and you will eat the flesh of your daughters. 30 I will destroy your high places and cut down your incense altars and cast your dead bodies upon the bodies of your idols, and my soul will abhor you. 31 I will lay your cities to waste and will bring your sanctuaries to desolation. I will not take delight in the sweet fragrance of your offerings. 32 I will bring the land into desolation, and your enemies that dwell in it will be astonished at it. 33 I will scatter you among the nations, and I will draw out the sword after you. Your land will be a desolation, and your cities shall be a waste.
34 Then the land will enjoy its Sabbaths as long as it lies desolate and you are in your enemies' land. Even then the land will rest and enjoy its Sabbaths. 35 As long as it lies desolate it shall have rest–the rest which it did not have in your Sabbaths when you lived on it.
36 As for those of you who are left, I will send a faintness into their hearts in the lands of their enemies. The sound of a driven leaf will put them to flight, and they shall flee, like one who flees from the sword. They will fall when no one pursues. 37 They will stumble over one another, as if they were before the sword, when no one pursues. You will have no power to stand before your enemies. 38 You will perish among the nations. The land of your enemies will eat you up. 39 Those of you who are left will pine away in their iniquity in your enemies' lands; and also in the iniquities of their fathers, they shall pine away with them.' "
God Remembers those who Repent
40 " 'If they confess their iniquity and the iniquity of their fathers, in their trespass against me, and also that because they walked contrary to me, 41 I also walked contrary to them, and brought them into the land of their enemies. If then their uncircumcised heart is humbled, and they then accept the punishment of their iniquity, 42 then I will remember my covenant with Jacob, my covenant with Isaac, and also my covenant with Abraham; and I will remember the land.
43 The land also will be left by them, and will enjoy its Sabbaths while it lies desolate without them, and they will accept the punishment of their iniquity because they rejected my ordinances, and they abhorred my statutes.
44 Yet for all that, when they are in the land of their enemies, I will not reject them, neither will I abhor them, to destroy them utterly and to break my covenant with them, for I am the Lord their God. 45 But I will, for their sake, remember the covenant of their ancestors, whom I brought out of the land of Egypt in the sight of the nations, that I might be their God. I am the Lord.' "
46 These are the statutes, ordinances, and laws, which the Lord made between himself and the Israelites in Mount Sinai by Moses.
Mark 10:32-52
Third Prediction of Death, Resurrection
32 They were on the way, going up to Jerusalem, and Jesus was going in front of them, and they were amazed; and those who followed were afraid. He again took the twelve disciples and began to tell them the things that were going to happen to him.
33 "We are going up to Jerusalem. The Son of Man will be delivered to the chief priests and the scribes. They will condemn him to death and will deliver him to the Gentiles. 34 They will mock him, spit on him, scourge him, and kill him. On the third day he will rise again."
35 James and John, the sons of Zebedee, came near to him, saying, "Teacher, we desire that whatever we might ask, you would do for us.
36 He said to them, "What do you want me to do for you?"
37 They said to him, "Grant to us that we may sit, one at your right hand, and one at your left hand, in your glory."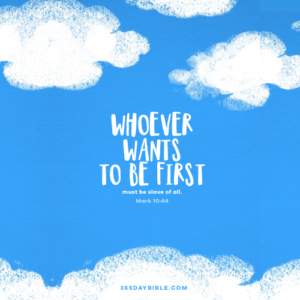 38 But Jesus said to them, "You do not know what you are asking. Are you able to drink the cup that I drink, and to be baptized with the baptism that I am baptized with?"
39 They said to him, "We are able."
Jesus said to them, "You shall indeed drink the cup that I drink, and you shall be baptized with the baptism that I am baptized with; 40 but to sit at my right hand and at my left hand is not mine to give, but for whom it has been prepared."
41 When the ten heard it, they began to be indignant toward James and John.
42 Jesus summoned them and said to them, "You know that they who are recognized as rulers over the nations lord it over them, and their great ones exercise authority over them. 43 But it shall not be so among you, but whoever wants to become great among you shall be your servant. 44 Whoever wants to be first among you must be slave of all. 45 For the Son of Man also came not to be served, but to serve, and to give his life as a ransom for many."
Jesus Heals Bartimaeus
46 They came to Jericho. As he went out from Jericho, with his disciples and a great multitude, the son of Timaeus, Bartimaeus, a blind beggar, was sitting by the road. 47 When he heard that it was Jesus the Nazarene, he began to cry out and say, "Jesus, son of David, have mercy on me!" 48 Many rebuked him, that he should be quiet, but he cried out much more, "Son of David, have mercy on me!"
49 Jesus stood still and said, "Call him."
They called the blind man, saying to him, "Cheer up! Get up. He is calling you!"
50 Casting away his cloak, he sprang up and came to Jesus.
51 Jesus asked him, "What do you want me to do for you?"
The blind man said to him, "Rabbi, that I may see again."
52 Jesus said to him, "Go your way. Your faith has healed you." Immediately he received his sight and followed Jesus on the way.
Psalm 45
Your Throne is Forever
For the Chief Musician. Set to "The Lilies." A contemplation by the sons of Korah. A song of love.
1 My heart overflows with a noble theme.
I recite my verses for the king.
My tongue is like the pen of a skillful writer.
2 You are the most excellent of the sons of men.
Grace has anointed your lips,
therefore the Lord has blessed you forever.
3 Strap your sword on your thigh, mighty one:
your splendor and your majesty.
4 In your majesty ride on victoriously on behalf of truth, humility, and righteousness.
Let your right hand display awesome deeds.
5 Your arrows are sharp.
The nations fall under you, with arrows in the heart of the king's enemies.
6 Your throne, O Lord, is forever and ever.
A scepter of equity is the scepter of your kingdom.
7 You have loved righteousness, and hated wickedness.
Therefore O Lord, your God, has anointed you with the oil of gladness above your companions.
8 All your garments smell like myrrh, aloes, and cassia.
Out of ivory palaces stringed instruments have made you glad.
9 Kings' daughters are among your honorable women.
At your right hand the queen stands in gold of Ophir.
10 Listen, daughter, consider, and turn your ear.
Forget your own people, and also your father's house.
11 So the king will desire your beauty,
honor him, for he is your lord.
12 The daughter of Tyre comes with a gift.
The rich among the people entreat your favor.
13 The princess inside is all glorious.
Her clothing is interwoven with gold.
14 She shall be led to the king in embroidered work.
The virgins, her companions who follow her, shall be brought to you.
15 With gladness and rejoicing they shall be led.
They shall enter into the king's palace.
16 Your sons will take the place of your fathers.
You shall make them princes in all the earth.
17 I will make your name to be remembered in all generations.
Therefore the peoples shall give you thanks forever and ever.
Proverbs 10:22
22 The Lord's blessing brings wealth,
and he adds no trouble to it.
«       »