Let us consider how to provoke one another to love and good works. Hebrews 10:24
Ezekiel 23-24
Ezekiel 23
The Adultery of Oholah and Aholibah
1 The word of the Lord came again to me, saying, 2 "Son of man, there were two women, the daughters of one mother. 3 They committed whoredom in Egypt. They committed whoredom in their youth. Their breasts were fondled there, and their virgin bosoms were caressed there. 4 Their names were Oholah the elder, and Oholibah her sister. They became mine, and they bore sons and daughters. As for their names, Samaria is Oholah, and Jerusalem Oholibah.
5 Oholah committed whoredom when she was mine. She doted on her lovers, on the Assyrians her neighbors 6 who were clothed with blue, governors and rulers, all of them desirable young men, horsemen riding on horses. 7 She gave herself as a prostitute to them, all of them the choicest men of Assyria. She defiled herself with the idols of whomever she lusted after. 8 She has not left her prostitution since leaving Egypt, for in her youth they lay with her. They caressed her youthful nipples, and they poured out their lust upon her.
9 Therefore I delivered her into the hand of her lovers, into the hand of the Assyrians, on whom she doted. 10 They stripped her naked. They took her sons and her daughters, and they killed her with the sword. She became infamous among women, for they executed judgments on her.
11 Her sister Oholibah saw this, yet she was more corrupt in her lust than she, and in her whoredom in which was more depraved than the whoredom of her sister. 12 She lusted after the Assyrians, governors and rulers, her neighbors, gorgeously clothed horsemen riding on horses, all of them desirable young men. 13 I saw that she was defiled. They both went the same way.
14 She increased her promiscuous behavior when she saw men portrayed on the wall, the images of the Chaldeans portrayed with red, 15 dressed with belts on their waists, with flowing turbans on their heads, all of them looking like princes, in the likeness of the Babylonians in Chaldea, the land of their birth. 16 As soon as she saw them, she lusted after them and sent messengers to them into Chaldea. 17 The Babylonians came to her into the bed of love, and they defiled her with their whoredom. She was defiled by them, but afterward she alienated herself from them.
18 So when she revealed her harlotry and exposed her nakedness, then I was alienated from her, just like i was alienated from her sister. 19 Yet she multiplied her promiscuous acts, remembering the days of her youth and her promiscuity in the land of Egypt. 20 She lusted after their lovers whose private parts were like that of donkeys and whose emissions were like that of horses. 21 Thus you called to memory the lewdness of your youth, in the caressing of your nipples by the Egyptians because of your youthful breasts."
Oholibah to Be Plagued
22 "Therefore, Oholibah, this is what the Lord God says: 'I will raise up your lovers against you, from whom you have alienated yourself, and I will bring them against you on every side: 23 the Babylonians and all the Chaldeans, Pekod, Shoa, Koa, and all the Assyrians with them, all of them desirable young men, governors and rulers, princes and men of renown, all of them riding on horses.
24 They will come against you with weapons, chariots, and wagons, and with the coalition of nations. They will set themselves against you with buckler, shield, and helmet, all around you. I will delegate judgment to them, and they will judge you according to their own ethics. 25 I will set my jealousy against you, and they will deal with you in fury. They will cut off your noses and your ears. Your remnant will fall by the sword. They will take your sons and your daughters, and the rest of you will be devoured by the fire. 26 They will also strip you of your clothes and take away your beautiful jewels. 27 Thus I will put an end to your lewdness and remove your prostitution from the land of Egypt so that you will not raise your eyes to them or remember Egypt any more.'
28 For the Lord God says: 'I will deliver you into the hand of those whom you hate, into the hand of them from whom you have alienated yourselves. 29 They will deal with you in hatred and will take away everything for which you have labored and will leave you utterly naked. The shame of your whoredom will be exposed, both your lewdness and your promiscuity. 30 These things will be done to you because you have prostituted yourself to the nations, defiling yourself with their idols. 31 You have walked in the way of your sister, therefore I will put her cup in your hand.'
32 This is what the Lord God says:
'You will drink of your sister's cup,
which is deep and large.
You will be ridiculed and held in derision.
It contains much.
33 You will be filled with drunkenness and sorrow,
with the cup of horror and desolation,
with the cup of your sister Samaria.
34 You will drink deeply, draining every drop.
You will gnaw the broken pieces of it,
and will tear your breasts,
for I have spoken it,' says the Lord God.'
35 Therefore the Lord God says, 'Because you have forgotten me and cast me behind your back, therefore you also bear the consequences of your lewdness and your promiscuity.' "
Judgment on Both Sisters
36 The Lord said moreover to me: "Son of man, will you judge Oholah and Oholibah? Then declare to them their abominations. 37 For they have committed adultery, and blood is on their hands. They have committed adultery with their idols. They have also made their sons, whom they bore to me, pass through the fire, as sacrifice to their idols. 38 They have also done this to me: they have defiled my sanctuary on the same day and have profaned my Sabbaths. 39 For when they had sacrificed their children to their idols, then they came the same day into my sanctuary to profane it, and they have done all of this in the center of my house.
40 Furthermore you sisters have sent for men who come from far away, to whom a messenger was sent, and they came, for whom you bathed, painted your eyes, decked yourself in jewelry, 41 and sat on a stately bed, with a table prepared before it, whereupon you set my incense and my oil.
42 The sound of a crowd at leisure came from her. Common men and drunkards were brought from the wilderness, and they put bracelets on the hands of the women, and beautiful crowns on their heads. 43 Then I said, 'That harlot, worn out from all her adultery, will they continue to fornicate with her and she with them?'   44 They went in to her, as one goes in to a prostitute. So they went in to Oholah and to Oholibah, the lewd women. 45 Righteous men will judge them like one judges an adulteress or a murderer, because they are adulteresses, and blood is on their hands.
46 For the Lord God says, 'I will raise up a mob against them and will give them to be tossed back and forth and robbed. 47 The mob will stone them and execute them with their swords. They will kill their sons and their daughters and burn down their houses.
48 Thus I will remove licentiousness from the land, that all women may be taught not to be lewd like you. 49 They will repay you for your licentiousness, and you will bear the sins from your idols. Then you will know that I am the Lord God.' "
Ezekiel 24
The Parable of the Cooking Pot
1 Again, on the tenth day of the tenth month, in the ninth year of king Jehoiachin's captivity, the word of the Lord came to me, saying, 2 "Son of man, record this date. The king of Babylon drew close to Jerusalem on this day. 3 Utter a parable to the rebellious house and tell them that this is what the Lord God says:
'Put the cauldron on the fire.
Put it on and also pour water into it.
4 Gather its pieces into it,
every good piece,
the thigh and the shoulder.
Fill it with the choice bones.
5 Take the choice of the flock,
and also a pile of wood for the bones under the cauldron.
Make it boil well.
Yes, let its bones be boiled in it.'
6 Therefore this is what the Lord God says:
'Woe to the bloody city,
to the rusted cauldron,
whose rust cannot be removed!
Take the meat out of it, piece by piece,
without drawing lots.
7 For the blood she shed is still in her midst.
She left it sitting on bare rock,
not pouring it on the ground
to cover it with dust.
8 To stir up wrath and to take vengeance,
I have set her blood on the bare rock,
that it should not be covered.'
9 Therefore this is what the Lord God says:
'Woe to the bloody city!
I myself will make the kindling pile great.
10 Heaping on wood,
making the fire hot,
boiling the meat well,
making the broth thick,
and letting the bones be burned.
11 Then set it empty on its coals,
that it may be hot,
and its bronze may burn,
and that its filth may melt in it,
that its rust may be consumed.
12 She has wearied herself in vain.
Her rust is great.
Even by fire, the rust remains.
13 Because of the depravity of your licentiousness,
I tried to cleanse you,
but you were not cleansed.
You will not be cleansed from your filthiness,
until I have caused my wrath toward you to rest.
14 I, the Lord, have spoken.
It will happen, and I will do it.
I will not go back.
I will not spare you. I will not relent.
According to your ways and according to your deeds,
they will judge you,' declares the Lord God."
Ezekiel's Wife Dies
15 Also the word of the Lord came to me, saying, 16 "Son of man, I will remove from you, in one stroke, the desire of your eyes, yet you shall neither mourn nor weep, nor shall your tears flow. 17 Groan, but not aloud. Do not mourn for the dead. Bind your headdress on your head, and put your sandals on your feet. Do not cover your lips, and do not eat the bread of mourners."
18 So I spoke to the people in the morning, and that evening my wife died. So I did in the morning as I was commanded.
19 The people asked me, "Won't you tell us what these things mean to us, that you are doing?"
20 Then I said to them, "The word of the Lord came to me, saying: 21 Speak to the house of Israel, that this is what the Lord God says: 'I will profane my sanctuary, the pride of your power, the desire of your eyes, and that in which your heart delights, and your sons and your daughters whom you have left behind will fall by the sword.'
22 You will do as I have done: You will not cover your lips or eat the bread of mourners. 23 Your turbans will be on your heads and your sandals on your feet. You will not mourn or weep, but you will pine away in your iniquities, and moan one toward another.
24 'Thus Ezekiel will be a sign to you, according to all that he has done, you will do. When this comes, then you will know that I am the Lord God.'
25 You, son of man, should it not be on the day when I take their strength from them, the joy of their glory, the desire of their eyes, and that upon which they set their heart, their sons and their daughters, 26 that on that day he who escapes will come to you, so that you hear it with your own ears? 27 On that day your mouth will be opened to him who has escaped, and you will speak and no longer be mute. So you will be a sign to them. Then they will know that I am the Lord."
Hebrews 10:19-39
A Call to Persevere
19 Therefore, brothers, having boldness to enter into the holy place through the blood of Jesus, 20 by a new and living way, which he has consecrated for us, through the veil (that is, his flesh), 21 and having a great priest over the house of God, 22 let us draw near with a true heart in fullness of faith, having our hearts sprinkled from an evil conscience, and having our body washed with pure water. 23 Let us hold fast the confession of our hope without wavering, for he who promised is faithful.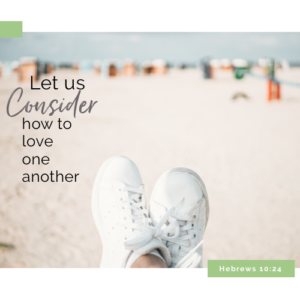 24 Let us consider how to provoke one another to love and good works, 25 not forsaking our own assembling together, as is the custom of some, but exhorting one another, and so much the more as you see the Day approaching.
26 For if we sin willfully after we have received the knowledge of the truth, there remains no more a sacrifice for sins, 27 but a certain fearful expectation of judgment, and a fierceness of fire which will devour the adversaries. 28 A man who disregards the law of Moses dies without compassion on the word of two or three witnesses. 29 How much worse punishment do you think he will be judged worthy of, who has trodden under foot the Son of God, and has treated the blood of the covenant by which he was sanctified as something unholy, and has insulted the Spirit of grace?
30 For we know him who said, "Vengeance is mine," says the Lord, "I will repay." d
Again, "The Lord will judge his people." e
31 It is a fearful thing to fall into the hands of the living God.
32 But remember the former days, in which, after you were enlightened, you endured a great struggle with suffering, 33 partly, being exposed to both oppression and reproach, and partly, becoming partakers with those who were treated thus. 34 For you both had compassion on me in my chains and joyfully accepted the plundering of your possessions, knowing that you have for yourselves a better possession and an enduring one in the heavens. 35 Therefore do not throw away your boldness, which has a great reward. 36 For you need endurance so that, having done the will of God, you may receive the promise.
37 "In a very little while,
he who is coming will come, and will not wait.
38 But the righteous will live by faith.
If he shrinks back, I will have no pleasure in him." f
39 But we are not of those who shrink back to destruction, but of those who have faith to the saving of the soul.
d Deuteronomy 32:35
e Deuteronomy 32:36
f Habakkuk-2:3-4
Psalm 109
Song of the Slandered
For the Chief Musician. A Psalm by David.
1 God of my praise, do not remain silent.
2 For the mouths of the wicked and deceitful open against me.
They have spoken to me with a lying tongue.
3 They have also surrounded me with words of hatred,
and fought against me without cause.
4 In return for my love, they are my adversaries,
but I am in prayer.
5 They have rewarded me evil for good,
and hatred for my love.
6 Set a wicked man over him.
Let an adversary stand at his right hand.
7 When he is judged, let him come out guilty.
Let his prayer be turned into sin.
8 Let his days be few.
Let another take his office.
9 Let his children be fatherless,
and his wife a widow.
10 Let his children be wandering beggars.
Let them be sought from their ruins.
11 Let the creditor seize all that he has.
Let strangers plunder the fruit of his labor.
12 Let there be no one to extend kindness to him,
nor let there be anyone to have pity on his fatherless children.
13 Let his posterity be cut off.
In the generation following let their name be blotted out.
14 Let the iniquity of his fathers be remembered by the Lord.
Do not let the sin of his mother be blotted out.
15 Let them be before the Lord continually,
that he may cut off their memory from the earth,
16 because he did not remember to show kindness,
but persecuted the poor and needy man,
the broken in heart, to kill them.
17 Yes, he loved cursing, and it came to him.
He did not delight in blessing, and it was far from him.
18 He clothed himself also with cursing as with his garment.
It came into his inward parts like water,
like oil into his bones.
19 Let it be to him like the clothing with which he covers himself,
for the belt that is always around him.
20 This is the reward of my adversaries from the Lord,
of those who speak evil against me.
21 But deal with me, O God, the Lord, for your name's sake,
because your loving kindness is good, deliver me,
22 for I am poor and needy.
My heart is wounded within me.
23 I fade away like an evening shadow.
I am shaken off like a locust.
24 My knees are weak from fasting.
My body is thin and lacks fat.
25 I have also become a reproach to them.
When they see me, they shake their head.
26 Help me, O Lord, my God.
Save me according to your loving kindness,
27 that they may know that this is your hand,
and that you, O Lord, have done it.
28 They may curse, but you bless.
When they arise, they will be shamed,
but your servant shall rejoice.
29 Let my adversaries be clothed with dishonor.
Let them cover themselves with their own shame as with a robe.
30 I will give great thanks to the Lord with my mouth.
Yes, I will praise him among the multitude.
31 For he will stand at the right hand of the needy,
to save him from those who judge his soul.
Proverbs 27:13
13 Take his garment when he puts up collateral for a stranger.
Hold it for a wayward woman!
«       »