He has made his wonderful works to be remembered. The Lord is gracious and full of compassion. Psalm 111:4
Ezekiel 27-28
Ezekiel 27
A Lament for Tyre
1 The word of the Lord came again to me, saying, 2 "You, son of man, take up a lament over Tyre 3 and tell Tyre, 'You who dwell at the entry of the sea, who are the merchant of the peoples to many islands, the Lord God says:
You, O Tyre, have said,
'I am perfect in beauty.'
4 Your borders are in the heart of the seas.
Your builders have perfected your beauty.
5 They have made all your planks of cypress trees from Senir.
They have taken a cedar from Lebanon to make a mast for you.
6 They have made your oars of the oaks of Bashan.
They have made your benches of ivory inlaid in cypress wood from the islands of Kittim.
7 Your sail was of fine linen with embroidered work from Egypt,
that it might be a banner for you.
Blue and purple from the islands of Elishah was your awning.
8 The inhabitants of Sidon and Arvad were your rowers.
Your wise men, Tyre, were within you.
They were your captains.
9 The elders of Gebal and its wise men
calked the seams of your ships.
All the ships of the sea with their mariners
were within you to trade your merchandise.
10 Persia, Lud, and Put were in your army–your warriors.
They hung the shield and helmet in you.
They showed your beauty.
11 The men of Arvad with your army were all over your walls,
and valiant men were in your towers.
They hung their shields all around your walls.
They have perfected your beauty.
12 Tarshish was your merchant partner because of the multitude and diversity of your wealth. They traded for your wares with silver, iron, tin, and lead.
13 Javan, Tubal, and Meshech were your traders. They traded slaves and vessels of bronze for your merchandise.
14 Those of the house of Togarmah traded for your wares with horses, war horses, and mules.
15 The men of Dedan traded with you. Many islands brought you ivory tusks and ebony to exchange for your goods.
16 Syria was your merchant because of the multitude of your handiwork. They traded for your wares with emeralds, purple, embroidered work, fine linen, coral, and rubies.
17 Judah and the land of Israel were your traders. They traded wheat of Minnith, confections, honey, oil, and balm for your merchandise.
18 Damascus was your merchant for the multitude of your handiwork, because of the multitude and diversity of your wealth, with the wine of Helbon and white wool.
19 Vedan and Javan traded with yarn for your wares: bright iron, cassia, and calamus were among your merchandise.
20 Dedan was your dealer for precious cloths for riding.
21 Arabia, and all the princes of Kedar were your traders in lambs, rams, and goats. In these, they were your merchants.
22 The merchants of Sheba and Raamah traded with you. For your merchandise, they exchanged the best of every spice, and with every precious stone, and with gold.
23 Haran, Canneh, and Eden, the traders of Sheba, Asshur and Chilmad, were your traders. 24 They were your traders in choice products. Blue fabrics and embroidered work, and chests of rich clothing, bound with cords and made of cedar were among your merchandise.
25 The ships of Tarshish were the caravans for your merchandise.
You were full and exceedingly glorious in the heart of the seas.' "
The Destruction of Tyre
26 " 'Your rowers have brought you into high seas.
The east wind has broken you in the heart of the seas.
27 Your riches,
your wares,
your merchandise,
your mariners,
your captains,
your repairers of ship seams,
the dealers in your merchandise,
and all your warriors who are within you,
with all your people who are among you,
will fall into the heart of the seas on the day of your ruin.
28 At the sound of the cry from your sailors,
the pasture lands will shake.
29 All who handle the oars,
the mariners and all the pilots of the sea,
will come down from their ships.
They will stand on the land
30 and will make their voices heard over you, crying bitterly.
They will throw dust on their heads,
and will wallow in the ashes.
31 They will make themselves bald on behalf of you
and clothe themselves with sackcloth.
They will weep for you in bitterness of soul
with bitter mourning.
32 In their wailing they will take up a lament for you
and lament over you, saying,
'Who is there like Tyre,
who is brought to silence in the midst of the sea?'
33 When your merchandise went out by sea,
you filled many peoples.
You enriched the kings of the earth
with the multitude of your riches and of your merchandise.
34 In the time that you were broken by the seas,
in the depths of the waters,
your merchandise
and all your people fell within you.
35 All the inhabitants of the islands are appalled at you,
and their kings are horribly afraid.
Their countenance is troubled.
36 The merchants among the peoples mock you.
You have become a horror,
and you will be no more.' "
Ezekiel 28
Prophecy against the King of Tyre
1 The word of the Lord came to me again, saying, 2 "Son of man, tell the prince of Tyre that this is what the Lord God says:
Your heart is proud,
and you have said, 'I am a god.
I sit in the seat of God,
in the midst of the sea.'
Yet you are man, and not God,
though you set your heart as the heart of God.
3 Behold, you are wiser than Daniel.
There is no secret that is hidden from you.
4 By your wisdom and by your understanding
you have achieved riches
and have brought gold and silver into your treasures.
5 By your great wisdom
and by your trading you have increased your riches,
and your heart is proud because of your riches.
6 Therefore the Lord God says:
'Because you have set your heart as the heart of God,
7 therefore, I will bring strangers on you,
the terror of nations.
They will draw their swords
against the beauty of your wisdom.
They will defile your brightness.
8 They will bring you down to the pit.
You will die the death of those who are slain
in the heart of the sea.
9 Will you continue saying before the one who kills you,
'I am god'?
But you are man, and not God,
in the hand of the one who wounds you.
10 You will die the death of the uncircumcised
at the hand of strangers,
for I have spoken it, declares the Lord God.' "
A Lament over the King of Tyre
11 Moreover the word of the Lord came to me, saying, 12 "Son of man, take up a lamentation over the king of Tyre and tell him that this is what the Lord God says:
'You were the seal of perfection,
full of wisdom
and perfect in beauty.
13 You were in Eden,
the garden of God.
Every precious stone adorned you:
ruby, topaz, emerald,
chrysolite, onyx, jasper,
sapphire, turquoise, and beryl.
Gold work of tambourines and of pipes was within you.
They were prepared on the day that you were created.
14 You were the anointed cherub to guard.
Then I set you up on the holy mountain of God.
You have walked up and down
in the midst of stones of fire.
15 You were perfect in your ways
from the day that you were created
until unrighteousness was found in you.
16 From the abundance of your trading,
your insides were filled with violence,
and you have sinned.
Therefore I have cast you out as profane
from the mountain of God.
I have destroyed you, guardian cherub,
from the midst of the stones of fire.
17 Your heart was made proud because of your beauty.
You have corrupted your wisdom because of your splendor.
I have cast you to the ground.
I have laid you before kings,
that they may see you.
18 From the multitude of your iniquities,
in the unrighteousness of your trade,
you have profaned your sanctuaries.
Therefore I have brought out a fire from your midst.
It has devoured you.
I have turned you to ashes on the earth
in the sight of all those who see you.
19 All those who know you among the peoples
will be appalled at you.
You have become a horror,
and you will exist no more.' "
A Prophecy against Sidon
20 The word of the Lord came to me, saying, 21 "Son of man, set your face toward Sidon and prophesy against it 22 and tell them that this is what the Lord God says:
'I am against you, Sidon.
I will be glorified among you.
Then they will know that I am the Lord,
when I have executed judgments in her,
showing myself holy within her.
23 For I will send pestilence to her
and blood into her streets.
The wounded will fall within her,
with the sword on every side.
Then they will know that I am the Lord.
24 There will no longer be a brier pricking the house of Israel, nor a painful thorn from anyone around her who scorned her. Then they will know that I am the Lord God.' "
The Restoration of Israel
25 The Lord God says, "When I have gathered the house of Israel from the peoples among whom they are scattered and show myself holy in the sight of the nations, then they will dwell in their own land which I gave to my servant Jacob. 26 They will dwell in it securely. Yes, they will build houses, plant vineyards, and will dwell securely, when I have executed judgments on all those around them who scorn them. Then they will know that I am the Lord their God."
Hebrews 11:17-40
Abraham Offers his One Son
17 By faith, Abraham, being tested, offered up Isaac. Yes, he who had gladly received the promises was offering up his one and only son, 18 to whom it was said, "Through Isaac your descendants shall be accounted,"  19 concluding that God is able to raise up even from the dead, from which, in a figurative sense, he also received him.
The Faith of Isaac, Jacob, Joseph
20 By faith, Isaac blessed Jacob and Esau, concerning things to come.
21 By faith, Jacob, when he was dying, blessed each of the sons of Joseph, and worshiped, leaning on the top of his staff.
22 By faith, Joseph, when his end was near, made mention of the departure of the Israelites, and gave instructions concerning his bones.
The Faith of Moses
23 By faith, Moses, when he was born, was hidden for three months by his parents, because they saw that he was a beautiful child, and they were not afraid of the king's commandment.
24 By faith, Moses, when he had grown up, refused to be called the son of Pharaoh's daughter, 25 choosing rather to share mistreatment with God's people than to enjoy the pleasures of sin for a time, 26 considering the reproach of Christ greater riches than the treasures of Egypt, for he looked to the reward.
27 By faith, he left Egypt, not fearing the wrath of the king, for he endured, as seeing him who is invisible. 28 By faith, he kept the Passover, and the sprinkling of the blood, that the destroyer of the firstborn should not touch them.
29 By faith, they passed through the Red Sea as on dry land. When the Egyptians tried to do so, they were swallowed up.
The Faith of Many
30 By faith, the walls of Jericho fell down, after they had been encircled for seven days.
31 By faith, Rahab the prostitute did not perish with those who were disobedient, having received the spies in peace.
32 What more shall I say? For the time would fail me if I told of Gideon, Barak, Samson, Jephthah, David, Samuel, and the prophets, 33 who through faith subdued kingdoms, worked out righteousness, obtained promises, stopped the mouths of lions, 34 quenched the power of fire, escaped the edge of the sword, from weakness were made strong, grew mighty in war, and caused foreign armies to flee.
35 Women received their dead by resurrection. Others were tortured, not accepting their deliverance, that they might obtain a better resurrection. 36 Others were tried by mocking and scourging, yes, moreover by bonds and imprisonment.
37 They were stoned. They were sawed apart. They were tempted. They were slain with the sword. They went around in sheep skins and in goat skins, being destitute, afflicted, mistreated— 38 of whom the world was not worthy—wandering in deserts, mountains, caves, and the holes of the earth.
39 All of these, having had testimony given to them through their faith, did not receive what was promised. 40 God had provided something better for us, so that they, without us, should not be made perfect.
Psalm 111
How Majestic are His Works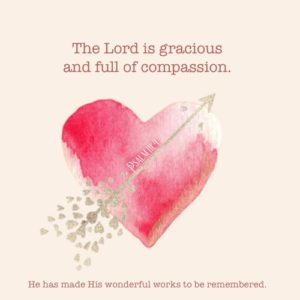 1 Hallelujah!
I will give thanks to the Lord with my whole heart,
in the council of the upright, and in the congregation.
2 The works of the Lord are great,
pondered by all those who delight in them.
3 His work is honor and majesty.
His righteousness endures forever.
4 He has made his wonderful works to be remembered.
The Lord is gracious and full of compassion.
5 He has given food to those who fear him.
He always remembers his covenant.
6 He has shown his people the power of his works,
in giving them the inheritance of the nations.
7 The works of his hands are truth and justice.
All his precepts are sure.
8 They are established forever and ever.
They are done in truth and uprightness.
9 He has sent redemption to his people.
He has ordained his covenant forever.
His name is holy and awesome!
10 The fear of the Lord is the beginning of wisdom.
All those who do his work have a good understanding.
His praise endures forever!
Proverbs 27:15-16
15 A continual dropping on a rainy day
and a contentious wife are alike.
16 Restraining her is like restraining the wind,
or like grasping oil in his right hand.
«       »