Order my steps in your word. Do not let any iniquity have dominion over me. Psalm 119:133
Daniel 6
The Plot against Daniel
1 It pleased Darius to set 120 local officials over the kingdom, stationed throughout the provinces, 2 and over them three chief executives, of whom Daniel was one, so that these local officials might report to them, that the king's accounts would not suffer loss. 3 Then this Daniel was distinguished above all the chief executives and the local officials because of the remarkable spirit that was in him, and the king decided to set him over the entire kingdom.
4 The chief executives and the local officials sought to find a case against Daniel that effected the kingdom, but they could not find a fault or case to bring against him because he was faithful. There was not any error or fault found in him. 5 So these men said, "We won't find any case against this Daniel, unless we find it in connection with the law of his God."
6 These chief executives and local officials gathered together before the king and said to him, "King Darius, live forever! 7 All the chief executives of the kingdom, the deputies and the local officials, the counselors and the governors, have consulted together to establish a royal statute and to make an official decree, that whoever petitions to any god or man during a period of 30 days, except to you, O king, he shall be cast into the den of lions. 8 Now, O king, establish the decree and sign the written decree, so that it cannot be changed, in accordance with the law of the Medes and Persians, which does not alter."
9 Therefore king Darius signed the written decree.
Daniel in the Lions' Den
10 Now when Daniel knew that the decree had been signed, he went into the bedroom of his house, where he knelt three times a day and prayed, giving thanks before his God with the windows open and facing Jerusalem, and he prayed as usual.
11 Then these men assembled together and found Daniel making petition and supplication before his God. 12 They came near and spoke before the king concerning the king's decree:
"Have you not signed a decree that every man who makes a petition to any god or man during these 30 days, except to you, O king, shall be cast into the den of lions?"
The king answered, "This is correct, according to the law of the Medes and Persians, which does not alter."
13 They answered and said before the king, "This Daniel, who is from the exiles of Judah, does not respect you, O king, nor the decree that you have signed, but makes his petition three times a day."
14 The king, when he heard these words, was very displeased and set his heart on delivering Daniel, and he worked until night to rescue him.
15 These men assembled together to the king and said to the king, "Know, O king, that it is a law of the Medes and Persians, that no decree nor statute which the king establishes may be changed."
16 The king gave the command, and they brought Daniel and threw him into the den of lions. The king began to speak, saying to Daniel, "Your God whom you serve continually, he will deliver you."
17 A stone was brought and laid over the entrance to the den, and the king sealed it with his own signet and with the signet of his nobles so that nothing might be changed concerning Daniel. 18 Then the king went to his palace and spent the night fasting. No musical instruments were brought before him, and sleep escaped him. 19 The king rose very early in the morning and went at once to the den of lions. 20 And when he came near to the den, he cried out to Daniel with a troubled voice. The king spoke, saying to Daniel, "Daniel, servant of the living God, is your God, whom you serve continually, able to deliver you from the lions?"
21 Then Daniel said to the king, "O king, live forever! 22 My God has sent his angel and has shut the lions' mouths, and they have not hurt me, because before him, I am found innocent, and also before you, O king, I have done no harm."
23 Then the king was overjoyed, and commanded them to take Daniel up from the den. Daniel was taken up from the den, and no harm of any kind was found on him, because he had trusted in his God.
The King's Decree
24 The king gave a command, and they brought the men who had accused Daniel and cast them into the den of lions, along with their children and their wives, and the lions mauled them and broke all their bones into pieces before they reached the bottom of the den.
25 Then king Darius wrote to all the peoples, nations, and languages, who dwell on the earth: "Peace be multiplied to you. 26 I hereby issue a decree that in the entire dominion of my kingdom, men will tremble and fear before the God of Daniel:
'For he is the living God and steadfast forever.
His kingdom will never be destroyed,
and his sovereign authority shall be to the end.
27 He delivers and rescues.
He works signs and wonders in heaven and on earth,
who has delivered Daniel from the power of the lions.' "
28 So this Daniel prospered in the reign of Darius and in the reign of Cyrus the Persian.
2 Peter 3
Christ's Coming Judgment
1 Beloved, this is now the second letter that I have written to you, and in both letters I have inspired you to have pure minds and to remind you 2 to keep the words of the holy prophets in mind and the command from the Lord and Savior, given through us apostles, 3 knowing this first: that in the last days there will be mockers following their own lusts 4 and saying, "Where is this promise of his Coming? For, from the day that the fathers fell asleep, everything has continued as they have from the beginning of creation."
5 For the mockers willfully forget this: at the word of God the ancient heavens existed, and at his word, the earth was formed from the midst of the water. 6 In the same way the world was brought into existence, it was submerged in water and perished. 7 But the heavens that exist now and the earth, at the same word of God, have been stored up for fire and reserved for the day of judgment and destruction for ungodly people.
8 But do not forget this one thing, beloved, that one day to the Lord is like a thousand years, and a thousand years like one day. 9 The Lord is not slow concerning his promise, as some regard "slow", but he is patient with us, not wishing that anyone should perish but that all should come to repentance.
The Day of the Lord
10 But the day of the Lord will come like a thief in the night, in which the heavens will pass away with a great noise, and the elements will be dissolved with fervent heat, and the earth and the works that are in it will be burned up. 11 Therefore since all these things will be destroyed like this, what kind of people ought you to be, living holy and godly lives, 12 looking for and earnestly desiring the coming of the day of God, which will cause the burning heavens to be dissolved, and the elements will melt with fervent heat! 13 But, according to his promise, we look for new heavens and a new earth, in which righteousness dwells.
Final Exhortations
14 Therefore, beloved, as you are looking forward to these things, be diligent to be found in peace, without defect and blameless in his sight. 15 Consider the patience of our Lord as salvation, just as our beloved brother Paul also, according to the wisdom given to him, wrote to you, 16 and also in all of his letters in which he spoke of these things. There are some things in them that are hard to understand, which the ignorant and unstable twist, as they also do to the other Scriptures, to their own destruction. 17 You therefore, beloved, knowing these things beforehand, beware, so that you are not taken away with the errant ways of the wicked and fall from your own steadfastness. 18 But grow in the grace and knowledge of our Lord and Savior Jesus Christ.
To him be the glory both now and forever. Amen.
Psalm 119:129-152
PEY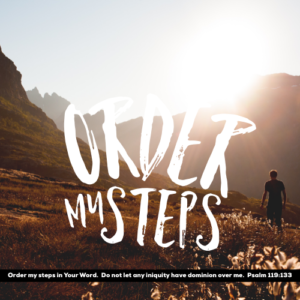 129 Your testimonies are wonderful,
therefore I keep them.
130 Your words are an entryway that provides light.
It gives understanding to the simple.
131 I opened my mouth wide and panted,
for I longed for your commandments.
132 Turn to me and have mercy on me,
as you always do to those who love your name.
133 Order my steps in your word.
Do not let any iniquity have dominion over me.
134 Redeem me from the oppression of man,
so I will observe your precepts.
135 Make your face shine on your servant.
Teach me your statutes.
136 Streams of tears run down my eyes,
because they do not observe your law.
TZADI
137 You are righteous, Lord.
Your judgments are just.
138 The statutes you have commanded are righteous.
They are fully trustworthy.
139 My zeal wears me out,
because my enemies ignore your words.
140 Your promises have been thoroughly tested,
and your servant loves them.
141 I am small and despised.
I do not forget your precepts.
142 Your righteousness is an everlasting righteousness.
Your law is truth.
143 Trouble and anguish have taken hold of me.
Your commandments are my delight.
144 Your testimonies are righteous forever.
Give me understanding, that I may live.
KUF
145 I have called with my whole heart.
Answer me, Lord!
I will keep your statutes.
146 I have called to you. Save me!
I will obey your statutes.
147 I rise before dawn and cry for help.
I put my hope in your words.
148 My eyes stay open through the night watches,
that I might meditate on your word.
149 Hear my voice according to your loving kindness.
Revive me, Lord, according to your ordinances.
150 They draw near who follow after wickedness.
They are far from your law.
151 You are near, Lord.
All your commandments are truth.
152 Of old I have known from your testimonies,
that you have founded them forever.
Proverbs 28:21-22
21 To show partiality is not good,
yet a man will do wrong for a piece of bread.
22 A stingy man hurries after riches,
and does not know that poverty waits for him.
«       »