My flesh and my heart may fail, but God is the strength of my heart and my portion forever. Psalm 73:26
Isaiah 63-64
Isaiah 63
God's Judgment on the Nations
1 Who is this coming from Edom,
from Bozrah, with his garments stained red?
Who is this who is so splendidly clothed,
marching in the greatness of his strength?
"It is I, the Lord, who is mighty to save,
announcing victory."
2 Why is your clothing red,
and your garments like that of someone who treads in the wine vat?
3 "I have trodden the wine press alone.
Of the peoples, no one was with me.
Yes, I trod them in my anger
and trampled them in my wrath.
Their lifeblood is sprinkled on my garments,
and I have stained all my clothing.
4 For the day of vengeance was in my heart,
and the year of my redemption had come.
5 I looked, and there was no one to help;
and I wondered that there was no one to uphold me.
Therefore my own arm brought salvation to me.
My own wrath upheld me.
6 I trod down the peoples in my anger
and made them drunk in my wrath.
I poured their lifeblood out on the earth."
God's Mercies Recalled
7 I will tell of the loving kindnesses of the Lord
and the praises of the Lord,
according to all that the Lord has given to us,
and the great goodness toward the house of Israel,
which he has given to them according to his mercies,
and according to the abundance of his loving kindnesses.
8 For he said, "Surely, they are my people,
children who will not deal falsely,"
so he became their Savior.
9 In all their suffering he suffered,
and the angel of his presence saved them.
In his love and in his pity he redeemed them.
He bore them
and carried them all the days of old.
10 But they rebelled
and grieved his Holy Spirit.
Therefore he turned and became their enemy,
and he himself fought against them.
11 Then he remembered the days of old,
of Moses and his people, saying,
"Where is he who brought them out of the sea
with the shepherds of his flock?
Where is he who put
his Holy Spirit among them?"
12 Who caused his glorious arm
to be at Moses' right hand?
Who divided the waters before them,
to make himself an everlasting name?
13 Who led them through the depths,
like a horse in the wilderness,
to keep them from stumbling?
14 As the livestock that go down into the valley,
The Spirit of the Lord gave them rest.
So you led your people,
to make for yourself a glorious name.
Prayer for Mercy
15 Look down from heaven
and see from your lofty dwelling place,
glorious and holy.
Where is your zeal and your mighty acts?
The yearning of your heart and your compassion
is restrained toward me.
16 For you are our Father,
though Abraham does not know us,
and Israel does not acknowledge us.
You, Lord, are our Father.
Our Redeemer from of Old is your name.
17 O Lord, why do you let us wander from your ways,
and harden our heart from fear of you?
Return for your servants' sake,
the tribes of your inheritance.
18 Your holy people possessed it but a little while.
Our adversaries have trodden down your sanctuary.
19 We have become like those over whom you never ruled,
like those who were not called by your name.
Isaiah 64
Prayer for Illustration of God's Power
1 Oh that you would tear the heavens open and come down,
that the mountains might quake at your presence,
2 as when fire kindles brushwood or makes water boil.
Make your name known to your adversaries,
that the nations may tremble at your presence,
3 as when you did awesome deeds beyond our expectations.
You came down, and the mountains quaked at your presence.
4 Since ancient times man has not heard,
nor has the ear perceived,
nor has the eye seen a God like you,
who works for him who waits for him.
5 You meet him who rejoices at doing right,
those who remember you and your ways.
You were angry, and we sinned.
We have been in sin for a long time.
Shall we be saved?
6 For we have all become like one who is unclean,
and all our righteousness is like filthy rags.
We all fade like a leaf,
and our iniquities, like the wind, take us away.
7 There is no one who calls on your name,
who stirs himself up to take hold of you,
for you have hidden your face from us,
and have consumed us by means of our iniquities.
8 But now, Lord, you are our Father.
We are the clay and you, our potter.
All of us are the work of your hand.
9 Do not be furious, O Lord.
Do not remember sin forever.
Look and see, we beg you.
We are all your people.
10 Your holy cities have become a wilderness.
Zion has become a wilderness,
Jerusalem a desolation.
11 Our holy and our beautiful house
where our fathers praised you
has been burned down.
All our treasured places are laid waste.
12 With all of this, will you hold yourself back from helping, Lord?
Will you keep silent and punish us very severely?
Philippians 2:19-30
Timothy and Epaphroditus
19 But I hope in the Lord Jesus to send Timothy to you soon, that I also may be cheered up when I know how you are doing. 20 For I have no one else like-minded, who will truly care about you. 21 For they all seek their own, not the things of Jesus Christ. 22 But you know the proof of him, that as a child serves a father, so he served with me in furtherance of the gospel. 23 Therefore I hope to send him at once, as soon as I see how it will go with me. 24 But I trust in the Lord that I myself also will come shortly.
Epaphroditus Commended
25 But I counted it necessary to send to you Epaphroditus, my brother, fellow worker, fellow soldier, and your apostle and minister of my needs, 26 since he longed for all of you, and was very troubled because you had heard that he was sick. 27 For indeed he was sick, nearly to death, but God had mercy on him, and not on him only, but on me also, that I might not have sorrow upon sorrow. 28 I have sent him therefore the more diligently, that when you see him again, you may rejoice, and that I may be the less sorrowful. 29 Receive him therefore in the Lord with all joy, and hold such people in honor, 30 because for the work of Christ he came near to death, risking his life to supply that which was lacking in your service toward me.
Psalm 73
Surely God is Good to Israel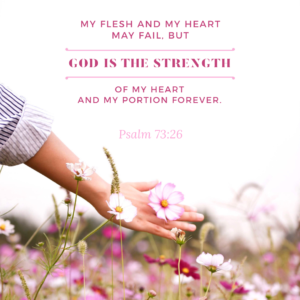 A Psalm by Asaph.
1 Truly, God is good to Israel,
to those who are pure in heart.
2 But as for me, I had almost lost my footing.
My walk had nearly slipped.
3 For I was envious of the arrogant,
when I saw the prosperity of the wicked.
4 They have no struggles before their death,
but their strength is solid.
5 They are free from burdens of men,
and they are not plagued with troubles like other men.
6 Therefore pride is like a chain around their neck.
Violence covers them like a garment.
7 Their eyes bulge with fat.
Their minds pass the limits of conceit.
8 They scoff and speak with malice.
In arrogance, they threaten oppression.
9 They have set their mouth in the heavens.
Their tongue walks through the earth.
10 Therefore their people return to them,
and they drink up waters of abundance.
11 They say, "How does God know?
Is there knowledge in the Most High?"
12 These are the wicked.
Being always at ease, they increase in riches.
13 Surely I have cleansed my heart in vain
and washed my hands in innocence,
14 For all day long I have been plagued
and punished every morning.
15 If I had said, "I will speak up,"
I would have betrayed the generation of your children.
16 When I tried to understand this,
it was too painful for me,
17 until I entered God's sanctuary
and understood their final days.
18 Surely you set them in slippery places.
You throw them down to destruction.
19 How they are suddenly destroyed!
They are completely swept away with terrors.
20 Like a dream when one wakes up,
so, Lord, when you awake, you will despise their fantasies.
21 For my soul was grieved.
I was embittered in my heart.
22 I was so senseless and ignorant.
I was a brute beast before you.
23 Nevertheless, I am continually with you.
You have held my right hand.
24 You will guide me with your counsel
and afterward receive me to glory.
25 Whom do I have in heaven but you?
There is no one on earth whom I desire besides you.
26 My flesh and my heart may fail,
but God is the strength of my heart and my portion forever.
27 For those who are far from you shall perish.
You have destroyed all those who are unfaithful to you.
28 But it is good for me to come close to God.
I have made the Lord God my refuge,
that I may tell of all your works.
Proverbs 24:13-14
13 My son, eat honey, for it is good,
the droppings of the honeycomb,
which are sweet to your taste.
14 So you shall know wisdom to be to your soul.
If you have found it, then there will be a reward.
Your hope will not be cut off.
«       »