But concerning brotherly love, you have no need that one write to you. For you yourselves are taught by God to love one another. 1 Thessalonians 4:9
Jeremiah 17-18
Jeremiah 17
The Sin and Punishment of Judah
1 "The sin of Judah is written with an iron pen
and with the point of a diamond.
It is engraved on the tablet of their hearts
and on the horns of their altars.
2 Their children still remember their altars
and their Asherah poles by the green trees on the high hills.
3 My mountain in the field, which I will give,
along with your wealth and all your treasures, as plunder–
and your high places too–because of the sin throughout your land.
4 You, of your own accord, will give up your heritage that I gave you.
I will cause you to serve your enemies in a land which you do not know,
for you have kindled a fire in my anger which will burn forever."
5 The Lord says:
"Cursed is the one who trusts in man,
who relies on the strength of mankind,
and whose heart turns away from the Lord.
6 For he will be like a bush in the desert
and will not see when good comes,
but will inhabit the parched places in the wilderness,
an uninhabited salt land.
7 Blessed is the man who trusts in the Lord
and whose confidence is in the Lord.
8 For he will be like a tree planted by the waters,
who spreads out its roots by the river
and will not fear when heat comes,
but its leaf will be green.
He will not be concerned about a year of drought,
and it will stop producing fruit.
9 The heart is deceitful above all things,
and it is exceedingly corrupt.
Who can understand it?
10 I, the Lord, search the mind.
I test the heart,
to give to every man according to his ways,
according to the fruit of his deeds."
11 As the partridge that sits on eggs which she has not laid,
so is he who gets rich by unjust means.
In the middle of his life, it will leave him.
At the end of his days, he will be a fool."
Jeremiah's Prayer for Deliverance
12 A glorious throne,
set on high from the beginning,
is the place of our sanctuary.
13 Lord, the hope of Israel,
all who forsake you will be put to shame.
Those who depart from Me will be written in the dirt,
because they have forsaken the Lord,
the spring of living waters.
14 Heal me, O Lord, and I will be healed.
Save me, and I will be saved,
for you are my praise.
15 They ask me,
"Where is the word of the Lord?
Let it be fulfilled now."
16 As for me, I have not run away from being your shepherd.
Nor have I desired this woeful day.
You know this. You were witness to everything that came from of my lips.
17 Do not become a terror to me.
You are my refuge in the day of disaster.
18 Let those who persecute me be put to shame,
but let me not be put to shame.
Let them be terrified,
but do not let me be terrified.
Bring on them the day of disaster,
destroying them with double destruction.
The Sabbath Renewed
19 The Lord said this to me: "Go and stand at the People's Gate, through which the kings of Judah come in and by which they go out, and in all the gates of Jerusalem.
20 Tell them, 'Hear the word of the Lord, you kings of Judah, all of Judah and all of the inhabitants of Jerusalem, who enter in by these gates.
21 This is what the Lord says: Be careful not to carry anything heavy on the Sabbath day or to bring it in through the gates of Jerusalem. 22 Do not carry anything out of your houses on the Sabbath day. Do not do any work, but make the Sabbath day holy, as I commanded your fathers. 23 But they did not listen. They did not turn their ear to me but were stiff necked, so they could not hear or receive instruction.
24 It will happen, if you diligently listen to me, says the Lord, to carry no heavy loads through the gates of this city on the Sabbath day, but make the Sabbath day holy, doing no work on it, 25 then kings and princes will enter the gates of this city and will sit on the throne of David, riding in chariots and on horses, they, and their princes, the men of Judah, and the inhabitants of Jerusalem, and this city will remain forever. 26 They will come from the cities of Judah, and from the places around Jerusalem, from the land of Benjamin, from the lowland, from the hill country, and from the South, bringing burnt offerings, sacrifices, grain offerings, and frankincense, and bringing sacrifices of thanksgiving, to the house of the Lord.
27 But if you will not listen to me and make the Sabbath day holy, by not carrying heavy burdens or entering the gates of Jerusalem on the Sabbath day, then I will kindle a fire in its gates, and it will devour the palaces of Jerusalem, and it will not be quenched.' "
Jeremiah 18
The Potter and the Clay
1 The word which came to Jeremiah from the Lord: 2 "Arise, and go down to the potter's house, and there I will cause you to hear my words."
3 Then I went down to the potter's house, and he was making something at the wheel. 4 When the clay pot that he was making became marred in the hand of the potter, he reworked it into another pot, forming as seemed best to the potter.
5 Then the word of the Lord came to me, saying, 6 "House of Israel, can I not do with you the same as this potter?" says the Lord. "As the clay in the potter's hand, so are you in my hand, house of Israel.
7 At the instant I speak concerning a nation and concerning a kingdom, to uproot and to break it down and destroy it, 8 if that nation, concerning which I have spoken, turns from their evil ways, I will relent of the disaster that I planned to do to them. 9 At the instant I speak concerning a nation, and concerning a kingdom, to build and to plant it, 10 if they do that which is evil in my sight, and they do not obey my voice, then I will relent of the good with which I said I would do.
11 Now therefore, speak to the men of Judah and to the inhabitants of Jerusalem, saying, 'The Lord says, 'I am planning and devising disaster for you. Everyone return from his evil way now and amend your ways and your deeds.'
12 But they reply, 'It is futile, for we will continue to pursue our own plans, and each of us will continue following the stubbornness of his evil heart.' "
13 Therefore the Lord says:
"Ask now among the nations:
'Who has heard such things?'
The virgin of Israel has done a very horrible thing.
14 Will the snow of Lebanon fail from the rock of the field?
Will the cold waters that flow down from afar be dried up?
15 For my people have forgotten me.
They have burned incense to false gods.
They have been made to stumble in their ways,
in the ancient paths,
leaving secure roads to walk on side trails,
16 to make their land desolate
and an object of perpetual scorn.
Everyone who passes by it will be appalled,
shaking his head.
17 I will scatter them as with an east wind before their enemy.
I will show them my back and not my face,
in the day of their calamity."
A Plot Against Jeremiah
18 Then some said, "Come! Let us devise plans against Jeremiah, for the law will not depart from the priest, nor counsel from the wise, nor the word from the prophet. Come, and let us ruin him with slander and disregard his words."
19 Pay attention to me, Lord,
and listen to what my adversaries are saying.
20 Should evil be repaid for good?
For they have dug a pit for me.
Remember how I stood before you to speak up on their behalf,
to turn your wrath away from them.
21 Therefore deliver their children to famine
and give them over to the power of the sword.
Let their wives become childless and widows.
Let their men be killed
and their young men struck by the sword in battle.
22 Let a cry be heard from their houses
when you bring a troop suddenly on them,
for they have dug a pit to take me
and hidden snares for my feet.
23 Yet, Lord, you know their entire plot to kill me.
Do not forgive their iniquity.
Do not blot out their sin from your sight.
Let them be overthrown before you.
Deal with them while you are still angry.
1 Thessalonians 4
Live to Please God
1 Finally then, brothers, we beg and exhort you in the Lord Jesus, that as you received from us how you ought to walk and to please God, that you abound more and more. 2 For you know what instructions we gave you through the Lord Jesus.
3 For this is the will of God: your sanctification, that you abstain from sexual immorality, 4 that each one of you know how to control his own body in sanctification and honor, 5 not in the passion of lust, as the Gentiles, who do not know God, 6 that no one should transgress and defraud his brother or sister in this matter, because the Lord is an avenger in all these things, as we also forewarned you and testified. 7 For God called us not for impurity, but for sanctification. 8 Therefore he who rejects this does not reject man, but God, who has also given his Holy Spirit to you.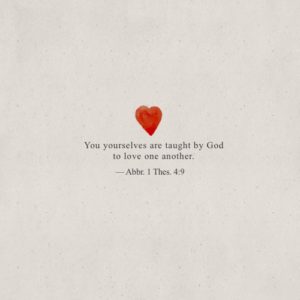 9 But concerning brotherly love, you have no need of anyone writing to you, for you yourselves are taught by God to love one another. 10 Indeed, you do it toward all the brothers who are in all Macedonia. But we exhort you, brothers, that you abound more and more, 11 and that you make it your ambition to lead a quiet life, to do your own business, and to work with your own hands, just as we instructed you, 12 that you may walk properly toward those who are outside and may have need of nothing.
The Return of the Lord
13 But we do not want you to be ignorant, brothers, concerning those who have fallen asleep, so that you do not grieve like the rest, who have no hope. 14 Since we believe that Jesus died and rose again, so God will bring with him those who have fallen asleep through Jesus.
15 For this we tell you by the word of the Lord, that we who are alive, who are left until the coming of the Lord, will in no way precede those who have fallen asleep. 16 For the Lord himself will descend from heaven with a shout, with the voice of the archangel and with the trumpet of God. The dead in Christ will rise first, 17 then we who are alive, who are left, will be caught up together with them in the clouds, to meet the Lord in the air. So we will be with the Lord forever. 18 Therefore comfort one another with these words.
Psalm 81
Sing aloud to God, our strength
For the Chief Musician. On an instrument of Gath. By Asaph.
1 Sing aloud to God, our strength!
Make a joyful shout to the God of Jacob!
2 Raise a song, and bring in the tambourine,
the sweet sound of the harp and lyre.
3 Blow the trumpet at the New Moon,
at the full moon, on our feast day.
4 For it is a statute for Israel,
an ordinance of the God of Jacob.
5 He appointed it in Joseph as a covenant,
when he went out over the land of Egypt,
where I heard a language that I did not know.
6 "I relieved his shoulder of the burden.
His hands were freed from the basket.
7 You called in trouble, and I delivered you.
I answered you in the secret place of thunder.
I tested you at the waters of Meribah."
Selah.
8 "Hear, my people, and I will testify to you,
Israel, if you would listen to me!
9 There shall be no foreign god in you,
nor shall you worship any foreign god.
10 I am the Lord, your God,
who brought you up out of the land of Egypt.
Open your mouth wide, and I will fill it.
11 But my people did not listen to my voice.
Israel desired none of me.
12 So I let them go after the stubbornness of their hearts,
that they might walk in their own counsel.
13 Oh that my people would listen to me,
that Israel would walk in my ways!
14 I would soon subdue their enemies,
and turn my hand against their adversaries.
15 The haters of the Lord would cringe before him,
and their punishment would last forever.
16 But he would have also fed them with the finest of the wheat.
I will satisfy you with honey out of the rock."
Proverbs 25:6-8
6 Do not exalt yourself in the presence of the king,
or claim a place among great men,
7 for it is better that it be said to you, "Come up here,"
than that you should be put lower in the presence of the prince,
whom your eyes have seen.
«       »