Finally, brothers, whatever is true, whatever is honorable, whatever is just, whatever is pure, whatever is lovely, whatever is of good report: if there is any virtue and if there is anything praiseworthy, think about these things. Philippians 4:8
Jeremiah 1-2
Jeremiah 1
The Words of Jeremiah
1 The words of Jeremiah the son of Hilkiah, one of the priests who were in Anathoth in the land of Benjamin:
2 The word of the Lord came to Jeremiah in the days of Josiah the son of Amon, king of Judah, in the thirteenth year of his reign. 3 It came also in the days of Jehoiakim the son of Josiah, king of Judah, until the end of the eleventh year of Zedekiah, the son of Josiah, king of Judah, until the fifth month when the people of Jerusalem were taken captive.
The Call of Jeremiah
4 The word of the Lord came to me:
5 "Before I formed you in the womb, I chose you.
Before you were born, I sanctified you.
I have appointed you as a prophet to the nations."
6 But I said, "No, Lord God! I don't know how to speak, for I am still a child."
7 Then the Lord said to me,
"Do not say,
'I am a child,'
for you must go
to whomever I send you,
and you must say
whatever I command you.
8 Do not be afraid because of them,
for I am with you to rescue you,"
declares the Lord.
9 Then the Lord stretched out his hand and touched my mouth and said to me,
"I have put my words
in your mouth.
10 I have, today, set you
over the nations and over the kingdoms,
to uproot and to tear down,
to destroy and to overthrow,
to build and to plant."
11 Moreover the word of the Lord came to me, saying, "Jeremiah, what do you see?"
I said, "I see a branch of an almond tree."
12 Then the Lord said to me, "You have seen well, for I am watching over my word to fulfill it."
13 The word of the Lord came to me the second time, saying, "What do you see?"
I said, "I see a boiling cauldron, and it is tilting away from the north."
14 Then the Lord said to me, "Out of the north, disaster will break out on all the inhabitants of the land. 15 For I will call all the families of the kingdoms of the north," says the Lord.
"They will come, and each king will establish his throne
at the entrance to the gates of Jerusalem,
against all the walls surrounding it,
and against all the cities of Judah.
16 I will utter my judgments against them
concerning all their wickedness,
for they have forsaken me,
and have burned incense to other gods
and worshiped the works of their own hands.
17 "You therefore get up, put your belt on your waist and tell them everything that I command you. Do not be afraid of them, lest I terrify you in front of them. 18 For today I have made you a fortified city, an iron pillar, and bronze walls against the whole land, against the kings of Judah, against its princes, against its priests, and against the people of the land. 19 They will fight against you, but they will not prevail against you, for I am with you", says the Lord, "to rescue you."
Jeremiah 2
Israel has Forsaken God
1 The word of the Lord came to me, 2 "Go and proclaim to Jerusalem, 'The Lord says,
"I remember your faithfulness in your youth,
the love of a bride,
how you followed me through the wilderness,
in a land that was not sown.
3 Israel was holy to the Lord,
the first fruits of his harvest.
All who devoured him were held guilty.
Disaster came upon them," 'says the Lord."
4 Hear the word of the Lord, O house of Jacob, and all the families of the house of Israel! 5 The Lord says,
"What unrighteousness have your fathers found in me,
that they have gone so far from me,
and have gone after worthless things,
so that they themselves became worthless?
6 They did not say, 'Where is the Lord
who brought us up out of the land of Egypt,
who led us through the wilderness,
through a land of deserts and of pits,
through a land of drought and of the shadow of death,
through a land that no one passed through,
and where no man lived?'
7 I brought you into a plentiful land
to eat its fruit and its goodness,
but when you entered, you defiled my land
and made my heritage an abomination.
8 The priests did not ask, 'Where is the Lord?'
and those who handle the law did not know me.
The rulers also transgressed against me,
and the prophets prophesied by Baal
and followed things that do not profit.
9 "Therefore I will yet contend with you," says the Lord,
"and I will contend with your children's children.
10 Cross over to the islands of Kittim and look.
Send to Kedar and consider carefully
whether there has ever been such a thing.
11 Has a nation exchanged its gods,
which really are no gods?
But my people have exchanged their glory
for that which does not profit.
12 Be astonished at this, you heavens
and be horribly afraid.
Be utterly devastated," says the Lord.
13 "For my people have committed two evils:
They have forsaken me,
the spring of living waters,
and dug cisterns for themselves,
broken cisterns that cannot hold water.
The Results of Israel's Sin
14 Is Israel a slave?
Was he born into slavery?
Why has he become a captive?
15 The young lions have roared at him and growled.
They have laid his land to waste.
His cities are burned up, uninhabited.
16 The children also of Memphis and Tahpanhes
have broken the crown of your head.
17 Have you not brought this on yourself,
in that you have forsaken the Lord your God,
when he was leading you along the way?
18 Now what do you gain by going to Egypt,
to drink the waters of the Shihor?
Or why do you go the way of Assyria,
to drink the waters of the Euphrates?
19 Your own wickedness will correct you,
and your backsliding will convict you.
Know therefore and see
that it is an evil and bitter thing,
that you have forsaken the Lord your God,
and that my fear is not in you," says the Lord, God of Hosts.
20 "For long ago I broke off your yoke,
and broke your chains.
You said, 'I will not serve,'
for on every high hill
and under every green tree
you prostrated yourself,
playing the prostitute.
21 Yet I had planted you, a noble vine,
a pure and faithful seed.
How then have you turned before me
into the degenerate branches of a foreign vine?
22 For though you wash yourself with lye
and use much soap,
yet your iniquity is marked before me," says the Lord God.
Israel's Unfaithfulness
23 "How can you say, 'I am not defiled.
I have not gone after the Baals'?
Look at your ways in the valley,
and know what you have done.
You are a like a wild female camel, running loose,
24 a wild donkey used to the wilderness,
that sniffs the wind in her craving.
When she is in heat, who can turn her away?
All those who seek her need not weary themselves.
In her mating season they will find her.
25 "Keep your feet from being bare
and your throat from thirst.
But you said, 'It is useless,
for I love these foreign gods,
and I will go after them.'
26 As the thief is ashamed when he is found,
so the house of Israel is ashamed,
they, their kings, their princes, their priests, and their prophets,
27 who tell wood, 'You are my father,'
and a stone, 'You have given birth to me,'
for they have turned their back to me,
and not their face,
but in the time of their trouble
they will say, 'Arise, and save us!'
28 "But where are your gods that you have made for yourselves?
Let them arise, if they can save you in the time of your trouble,
for you have as many gods as you have towns, O Judah.
29 "Why will you contend with me?
All of you have transgressed against me," says the Lord.
30 "I have struck your children in vain.
They received no correction.
Your own sword has devoured your prophets,
like a destroying lion.
31 Generation, consider the word of the Lord:
Have I been a wilderness to Israel?
Or a land of thick darkness?
Why do my people say,
'We have broken loose.
We will no longer come to you?'
32 "Can a maiden forget her jewelry,
or a bride her attire?
Yet my people have forgotten me
for days without number.
33 How well you prepare your way to seek love!
Even wicked women
learn from your ways.
34 Also, your clothes are stained
with the blood of the innocent poor,
You did not find them breaking in,
but it is because of all these things.
35 "Yet you said, 'I am innocent.
Surely his anger has turned away from me.'
"I will judge you,
because you say, 'I have not sinned.'
36 Why do you go around
constantly changing your ways?
You will be ashamed of Egypt also,
as you were ashamed of Assyria.
37 You will also leave that place
with your hands on your head,
for the Lord has rejected those in whom you trust,
and you will not prosper with them.
Philippians 4
Stand Firm in the Lord
1 Therefore, my brothers, beloved and longed for, my joy and crown, stand firm in the Lord in this way, my beloved.
2 I exhort Euodia, and I exhort Syntyche, to think the same way in the Lord. 3 Yes, I beg you also, true partner, help these women, for they labored with me in the gospel, with Clement also, and the rest of my fellow workers, whose names are in the book of life.
4 Rejoice in the Lord always! Again I will say, "Rejoice!" 5 Let your gentleness be known to all men. The Lord is at hand. 6 Do not be anxious about anything, but in everything, by prayer and petition with thanksgiving, let your requests be made known to God, 7 and the peace of God, which surpasses all understanding, will guard your hearts and your thoughts in Christ Jesus.
Think on These Things
8 Finally, brothers, whatever is true, whatever is honorable, whatever is just, whatever is pure, whatever is lovely, whatever is of good report: if there is any virtue, and if there is anything praiseworthy, think about these things. 9 The things which you learned, received, heard, and saw in me: do these things, and the God of peace will be with you.
Philippian Generosity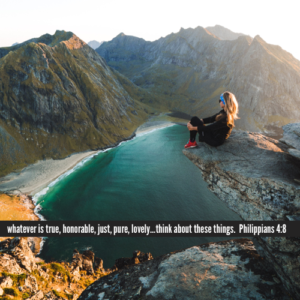 10 But I rejoice in the Lord greatly, that now at last you have revived your concern for me. You were indeed concerned for me,  but you lacked opportunity to express it. 11 Not that I speak because of lack, for I have learned in whatever state I am, to be content in it. 12 I know how to be humbled, and I also know how to abound. In everything and in all things I have learned the secret both to be filled and to be hungry, both to abound and to be in need. 13 I can do all things through Christ, who strengthens me.
14 However you did well that you shared in my affliction. 15 You yourselves also know, Philippians, that in the early days of the Gospel, when I departed from Macedonia, no assembly shared with me in the matter of giving and receiving, except you alone. 16 For even in Thessalonica you sent once and again to my need.
17 Not that I am seeking the gift, but I am seeking the fruit that increases to your account. 18 But I have everything and in abundance. I am filled, having received from Epaphroditus the things that came from you, a sweet-smelling fragrance, an acceptable and well-pleasing sacrifice to God. 19 My God will supply all your needs, according to his riches in glory in Christ Jesus. 20 Now to our God and Father be the glory forever and ever! Amen.
Final Greetings
21 Greet every saint in Christ Jesus. The brothers who are with me greet you. 22 All the saints greet you, especially those who are of Caesar's household.
23 The grace of the Lord Jesus Christ be with you all. Amen.
Psalm 75
We Give Thanks, for Your Name is Near
For the Chief Musician. To the tune of "Do Not Destroy." A Psalm by Asaph. A song.
1 We give thanks to you, O God.
We give thanks, for your Name is near.
Men tell about your wondrous works.
2 When I choose the appointed time,
I will judge blamelessly.
3 The earth and all its inhabitants quake.
I firmly hold its pillars.
Selah.
4 I said to the arrogant, "Do not boast!"
I said to the wicked, "Do not lift up your own horn.
5 Do not lift up your horn on high.
Do not speak with your head held high."
6 For neither from the east, nor from the west,
nor yet from the south, comes exaltation.
7 But God is the judge.
He puts down one, and lifts up another.
8 For in the hand of the Lord, there is a cup,
full of foaming wine mixed with spices.
He pours it out.
Indeed the wicked of the earth drink
and drink it to its very dregs.
9 But I will declare this forever:
I will sing praises to the God of Jacob.
10 I will cut off all the horns of the wicked,
but the horns of the righteous shall be lifted up.
Proverbs 24:17-20
17 Do not rejoice when your enemy falls.
Do not let your heart be glad when he is overthrown,
18 lest the Lord see it, and be displeased,
and he turn away his wrath from him.
19 Do not worry yourself because of evildoers,
nor be envious of the wicked,
20 for there will be no reward to the evil man.
The lamp of the wicked will be snuffed out.
«       »