Praise God, you angels of his, who are mighty in strength, who fulfill his word, obeying the voice of his word. Psalm 103:20
Lamentations 4-5
Lamentations 4
The Distress of Zion
1 How the gold has become dull!
The purest gold has changed!
The stones of the sanctuary are scattered
at the top of every street.
2 The precious sons of Zion,
comparable to fine gold,
how they are esteemed as earthen pitchers,
the work of the potter's hands!
3 Even the jackals offer their breast.
They nurse their young ones.
But the daughter of my people has become cruel,
like the ostriches in the wilderness.
4 The tongue of the nursing child
clings to the roof of his mouth for thirst.
The young children ask for bread,
and no one breaks it for them.
5 Those who ate delicacies
are desolate in the streets.
Those who were brought up in purple
embrace garbage dumps.
6 For the iniquity of the daughter of my people
is greater than the sin of Sodom,
which was overthrown in a moment,
without a hand touching her.
7 Her nobles were purer than snow.
They were whiter than milk.
They were more ruddy in body than rubies.
Their polishing was like sapphire.
8 Their appearance is blacker than coal.
They are unrecognizable in the streets.
Their skin clings to their bones.
It is withered.
It has become like a stick.
9 Those who die by the sword are better off
than those who die from hunger,
for they waste away, stricken through
for want of the fruits of the field.
10 The hands of compassionate women
have boiled their own children,
who became their food
in the destruction of the daughter of my people.
11 The Lord has accomplished his wrath.
He has poured out his fierce anger.
He has kindled a fire in Zion,
which has devoured its foundations.
12 The kings of the earth did not believe,
nor did the rest of the world,
that the adversary and the enemy
would enter into the gates of Jerusalem.
13 It is because of the sins of her prophets
and the iniquities of her priests,
that have shed the blood of the just
in the midst of her.
14 They wander like blind men in the streets.
They are polluted with blood,
So that men cannot touch their garments.
15 "Go away!" they cried to them.
"Unclean! Go away! Go away! Don't touch!
When they fled away and wandered,
men said among the nations,
"They can't live here any more."
16 The anger of the Lord has scattered them.
He will not pay attention to them any more.
They did not respect the office of the priest.
They did not favor the elders.
17 With failing eyes,
we looked in vain for our help.
From our looking tower we watched for a nation
that could not save us.
18 They track our steps,
so that we cannot go in our streets.
Our end is near.
Our days are fulfilled,
for our end has come.
19 Our pursuers were swifter than the eagles of the sky.
They chased us on the mountains.
They set an ambush for us in the wilderness.
20 The anointed of the Lord,
the breath of our nostrils,
was caught in their trap,
of whom we said,
under his shadow we will live among the nations.
21 Rejoice and be glad, daughter of Edom,
that dwells in the land of Uz.
But the cup will pass to you also.
You will be drunken,
and will be stripped naked.
22 Daughter of Zion,
the punishment of your iniquity
has been accomplished.
He will no longer keep you in exile.
But daughter of Edom,
he will punish your iniquity,
He will expose your sins.
Lamentations 5
A Prayer for Mercy and Restoration
1 Remember, Lord, what has happened to us.
Look, and see our disgrace.
2 Our inheritance has been turned over to strangers,
our houses to foreigners.
3 We are orphans and fatherless.
Our mothers are like widows.
4 We pay money for the water we drink.
Our wood is sold to us.
5 Our pursuers are at our necks.
We are weary and have no rest.
6 We have shaken hands in submission
to the Egyptians and Assyrians,
to be satisfied with bread.
7 Our fathers sinned, and are no longer.
We have borne their iniquities.
8 Servants rule over us.
There is no one to deliver us out of their hand.
9 We get our bread at the risk of our lives,
because of the sword of the wilderness.
10 Our skin is black like an oven,
because of the burning heat of famine.
11 They ravished the women in Zion,
the virgins in the cities of Judah.
12 Princes were hanged up by their hands.
The elders were dishonored.
13 The young men carry millstones.
The children stumbled under loads of wood.
14 The elders have ceased from their place at the city gate,
and the young men from their music.
15 The joy of our heart has ceased.
Our dancing has turned into mourning.
16 The crown has fallen from our head.
Woe to us, for we have sinned!
17 For this our heart is faint.
For these things our eyes grow dim.
18 For the mountain of Zion is desolate,
and foxes roam on it.
19 You, Lord, remain forever.
Your throne is from generation to generation.
20 Why do you forget us forever?
and forsake us for such a long time?
21 Turn us to yourself, Lord, and we will be restored.
Renew us like the days of old,
22 unless you have utterly rejected us,
and your anger is against us.
Hebrews 2
Pay Attention to Salvation
1 Therefore we ought to pay greater attention to the things that we heard, or we might drift away. 2 For if the message spoken through angels proved steadfast, and every transgression and act of disobedience received a just penalty, 3 how would we escape punishment if we neglect so great a salvation—which was first announced by the Lord, and then confirmed to us by those who heard it? 4 God also testified with them, in both signs and wonders, and various works of power, and in gifts of the Holy Spirit, according to his own will.
Jesus Made Like His Brothers
5 For he did not put the world to come, of which we speak, under the dominion of angels. 6 But someone has testified somewhere, saying,
"What is man, that you think of him?
Or the son of man, that you care for him?
7 You made him a little lower than the angels.
You crowned him with glory and honor.
8 You have made all things subject to him and under his feet." a
For in subjecting all things to him, he left nothing that is not subject to him. But in this present time we do not see everything that is subjected to him yet. 9 But we see Jesus, who for a little while was made a little lower than the angels, who, because of the suffering of death, has been crowned with glory and honor, that by the grace of God he should taste of death for everyone.
10 For it was fitting for him (for whom and through whom all things exist), in bringing many children to glory, to make the author of their salvation perfect through suffering. 11 For both he who sanctifies and those who are sanctified are all from One, and for this reason he is not ashamed to call them brothers, 12 saying,
"I will declare your name to my brothers.
Among the congregation I will sing your praise." b
13 Again,
"I will put my trust in him." c
Again,
"Here I am with the children whom God has given me." d
14 Since then the children share flesh and blood, in the same way, He also shared their humanity, so that through death He might bring to nothing the one who had the power of death, that is, the devil, 15 and might deliver all of them who through fear of death throughout their lifetime, were bound in slavery.
16 For most certainly, he does not give help to angels, but he gives help to the offspring of Abraham. 17 Therefore he was obligated in all things to be made like his brothers, that he might become a merciful and faithful high priest in things pertaining to God, to make atonement for the sins of the people. 18 For in that he himself has suffered, being tempted, he is able to help those who are tempted.
a Psalm 8:4-6
b Psalm 22:22
c Isaiah 8:17
d Isaiah 8:18
Psalm 103
Everything Within Me, Praise His Holy Name!
By David.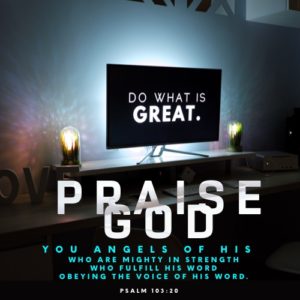 1 Praise the Lord, O my soul!
All that is within me, praise his holy name!
2 Praise the Lord, my soul,
and do not forget all his benefits,
3 who forgives all your sins,
who heals all your diseases,
4 who redeems your life from destruction,
who crowns you with loving kindness and tender mercies,
5 who satisfies your desire with good things,
so that your youth is renewed like the eagle's.
6 The Lord executes righteous acts,
and justice for all who are oppressed.
7 He made known his ways to Moses,
his deeds to the Israelites.
8 The Lord is merciful and gracious,
slow to anger, and abundant in loving kindness.
9 He will not always accuse.
nor will he stay angry forever.
10 He has not dealt with us according to our sins,
nor repaid us for our iniquities.
11 For as the heavens are high above the earth,
so great is his loving kindness toward those who fear him.
12 As far as the east is from the west,
so far has he removed our transgressions from us.
13 Like a father has compassion on his children,
so the Lord has compassion on those who fear him.
14 For he knows how we are made.
He remembers that we are dust.
15 As for man, his days are like grass.
As a flower of the field, so he flourishes.
16 For the wind passes over it, and it is gone.
Its place remembers it no more.
17 But the Lord's loving kindness is from everlasting to everlasting
with those who fear him,
his righteousness to children's children,
18 to those who keep his covenant,
to those who remember to obey his precepts.
19 The Lord has established his throne in the heavens.
His kingdom rules over all.
20 Praise the Lord, you angels of his,
who are mighty in strength, who fulfill his word,
obeying the voice of his word.
21 Praise the Lord, all you armies of his,
you servants of his, who do his pleasure.
22 Praise the Lord, all you works of his,
in all places of his dominion.
Praise the Lord, my soul!
Proverbs 26:23
23 Like silver dross on an earthen vessel
are the lips of a zealous one with a hateful heart.
«       »