He is the visible image of the invisible God, the firstborn of all creation. Colossians 1:15
Jeremiah 3-4
Jeremiah 3
The Polluted Land
1 "If a man divorces his wife
and she leaves him and marries another man,
should he ever return to her?'
Would that land not become completely corrupted?
But you have played the prostitute with many lovers,
yet return back to me," says the Lord.
2 "Lift up your eyes to the barren heights and see!
Where have you not lain with another?
You have sat waiting for them by the road
like an Arabian in the wilderness.
You have polluted the land
with your prostitution and with your wickedness.
3 Therefore the showers have been withheld,
and there has been no spring rain,
yet you still have the brazen look of a prostitute,
and you refused to be ashamed.
4 Will you not begin crying to me,
'My Father, were you not my friend from youth?
5 Will he stay angry forever?
Will he harbor it to the end?'
You have said this but continue doing evil things
and have gone your own way."
Israel's and Judah's Unfaithfulness
6 Moreover, the Lord said to me in the days of Josiah the king, "Have you seen that which backsliding Israel has done? She has gone up on every high mountain and under every green tree and has played the prostitute there. 7 I said after she had done all these things, 'She will return to me,' but she did not return, and her treacherous sister Judah saw it.
8 I saw when, for this very reason, that backsliding Israel had committed adultery, I had put her away and given her a certificate of divorce, yet treacherous Judah, her sister, had no fear, but she also went and played the prostitute. 9 Because she took her prostitution lightly, the land was polluted, and she committed adultery with stones and with wood. 10 Yet for all this her treacherous sister, Judah, has not returned to me with her whole heart, but only in pretense," says the Lord.
Invitation to Repentance
11 The Lord said to me, "Backsliding Israel has shown herself more righteous than treacherous Judah. 12 Go, and proclaim these words toward the north and say,
'Return, you backsliding Israel,' says the Lord,
'I will not look in anger on you,
for I am merciful,' says the Lord.
'I will not stay angry forever.
13 Only acknowledge your iniquity,
that you have transgressed against the Lord your God.
You have scattered your ways to the strangers
under every green tree,
and you have not obeyed my voice,' says the Lord."
14 "Return, backsliding children," says the Lord, "for I am your master. I will take one of you from a city and two from a family, and I will bring you to Zion. 15 I will give you shepherds according to my heart, who will feed you with knowledge and understanding. 16 It will come to pass, when you multiply and increase in the land, in those days," says the Lord, "they will no longer say, 'The Ark of the Lord's Covenant!' It will not come to mind. They will not remember it. They will not miss it, nor will another be made.
17 At that time they will call Jerusalem 'The Throne of the Lord', and all the nations will be gathered to it, to the name of the Lord, to Jerusalem. They will no longer walk after the stubbornness of their evil heart. 18 In those days the house of Judah will walk with the house of Israel, and they will come together out of the land of the north to the land that I gave as an inheritance to your fathers.
19 "But I said, 'How I desire to treat you as my sons,
and give you a desirable land,
a good heritage among a multitude of nations!'
I said, 'You shall call me "My Father",
and shall not turn away from following me.'
20 Surely as a wife treacherously departs from her husband,
so you have dealt treacherously with me, house of Israel," says the Lord.
21 A voice is heard on the barren heights,
the weeping and the petitions of the Israelites,
because they have perverted their way.
They have forgotten the Lord their God.
22 Return, you backsliding children,
and I will heal your backsliding.
"We have come to you,
for you are the Lord our God.
23 Truly in vain is the help that is looked for
from the hills, the tumult on the mountains.
Truly the salvation of Israel
is in the Lord our God.
24 But this shameful thing
has devoured the labor of our fathers from our youth,
their flocks and their herds,
their sons and their daughters.
25 Let us lie down in our shame,
and let our confusion cover us,
for we have sinned against the Lord our God,
we and our fathers,
from our youth even to this day.
We have not obeyed the voice of the Lord our God.
Jeremiah 4
God Calls Israel by His Promise
1 "If you will return, Israel," says the Lord,
"if you will return to me,
and if you will put your abominations out of my sight.
then you will not be removed,
2 and if you will swear in truth, in justice, and in righteousness,
'As the Lord lives,'
then the nations will be blessed by him,
and they will glory in him."
3 For the Lord says to the men of Judah and to Jerusalem:
"Break up your fallow ground,
and do not sow among thorns.
4 Circumcise yourselves to the Lord,
and take away the foreskins of your heart,
you men of Judah and inhabitants of Jerusalem,
lest my wrath go out like fire,
and burn so that no one can quench it,
because of the evil of your deeds."
Disaster from the North
5 Declare it in Judah and announce it in Jerusalem, and say:
"Blow the trumpet in the land!'
Cry aloud and say,
'Assemble yourselves!
Let us go into the fortified cities!'
6 Set up a standard toward Zion.
Flee for safety! Do not wait!
For I will bring disaster from the north,
and great destruction.
7 A lion has gone up from his thicket
and a destroyer of nations.
He is on his way. He has left his place
to make your land desolate,
to lay waste to your cities,
leaving them without inhabitants.
8 For this, clothe yourself with sackcloth,
lament and wail,
for the fierce anger of the Lord
has not turned back from us.
9 It will happen at that time," says the Lord,
"that the king will lose heart and perish,
along with the heart of the officials.
The priests will be appalled,
and the prophets will be astonished."
10 Then I said, "Ah, Lord God! Surely you have greatly deceived this people and Jerusalem, saying, 'You will have peace,' whereas the sword is at our throat."
11 At that time it will be said to this people and to Jerusalem, "A dry wind from barren heights blows in the wilderness toward the daughter of my people, not to winnow, nor to cleanse, 12 a full wind from these places will come at my word. Now I will also utter judgments against my people."
13 He will come up as clouds,
and his chariots will be like the whirlwind.
His horses are swifter than eagles.
Woe to us! For we are ruined.
14 Jerusalem, wash your heart from wickedness,
that you may be saved.
How long will evil thoughts
be harbored within you?
15 For a voice is declaring from Dan,
announcing disaster from the hills of Ephraim,
16 Tell the nations! Proclaim against Jerusalem,
"Enemies are coming from a distant country,
to raise their voice against the cities of Judah.
17 As the keepers of a field, they surround her,
because she has been rebellious against me," says the Lord.
18 "Your ways and your deeds
have brought these things upon you.
This is your punishment, for it is bitter,
for it pierces to the heart."
Lamentation for Judah
19 My anguish, my anguish!
I am pained to my very heart!
My heart trembles within me.
I cannot hold my peace,
because you have heard, O my soul,
the sound of the trumpet, the alarm of war.
20 Destruction on destruction is decreed,
for the whole land is laid waste.
Suddenly my tents are destroyed,
and my curtains–gone in a moment.
21 How long will I see the standard
and hear the sound of the trumpet?
22 "For my people are foolish.
They do not know me.
They are foolish children,
and they have no understanding.
They are skilled in doing evil,
but they do not know how to do good."
23 I saw the earth,
and it was waste and void,
and the heavens,
and they had no light.
24 I saw the mountains,
and they trembled,
and all the hills moved back and forth.
25 I looked, and there was no man,
and all the birds of the sky had fled.
26 I looked, and the fruitful field was a wilderness,
and all its cities were broken down
at the presence of the Lord,
before his fierce anger.
27 For the Lord says,
"The whole land will be desolate,
yet I will not destroy it completely.
28 For this earth will mourn,
and the heavens above will be black,
because I have spoken it.
I have planned it,
and I have decided
and will not turn back from it."
29 Every city flees
from the noise of the horsemen and archers.
They go into the thickets
and climb up on the rocks.
Every city is forsaken,
and not a man dwells within.
30 You, when you are made desolate,
what will you do?
Though you clothe yourself with scarlet,
though you deck yourself out with gold jewelry,
though you enlarge your eyes with makeup.
You make yourself beautiful in vain.
Your lovers despise you.
They seek your life.
31 For I have heard a voice like a woman in labor,
like the anguish of a woman giving birth to her first child,
the voice of the daughter of Zion,
who gasps for breath,
who spreads her hands, saying,
"Woe is me!
For I faint before the murderers."
Colossians 1:1-20
Greetings from Paul
1 Paul, an apostle of Christ Jesus through the will of God, and Timothy our brother.
2 To the saints and faithful brothers in Christ at Colossae:
Grace to you and peace from God our Father and the Lord Jesus Christ.
Thanksgiving and Prayer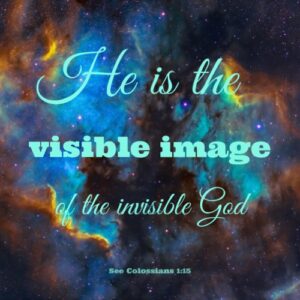 3 We give thanks to God the Father of our Lord Jesus Christ, praying always for you, 4 having heard of your faith in Christ Jesus and of the love which you have toward all the saints, 5 because of the hope which is laid up for you in the heavens, of which you heard before in the word of the truth of the gospel 6 which has come to you.
It is all over the world, bearing fruit and growing, as it does in you also, since the day you heard and knew the grace of God in truth. 7 You learned of it from Epaphras, our beloved fellow servant, who is a faithful servant of Christ on your behalf, 8 who also declared to us your love in the Spirit.
9 For this reason, we also, since the day we heard this, do not cease praying and making requests for you, that you may be filled with the knowledge of his will in all spiritual wisdom and understanding, 10 that you may walk worthily of the Lord, to please him in all respects, bearing fruit in every good work and increasing in the knowledge of God, 11 strengthened with all power, according to the might of his glory, for all endurance and perseverance with joy, 12 giving thanks to the Father, who made us fit to be partakers of the inheritance of the saints in light.
13 He delivered us out of the power of darkness and translated us into the Kingdom of the Son of his love, 14 in whom we have our redemption, the forgiveness of our sins.
The Supremacy of Christ
15 He is the visible image of the invisible God, the firstborn of all creation. 16 For by him all things were created in the heavens and on the earth, visible things and invisible things, whether thrones or dominions or principalities or powers. All things have been created through him and for him.
17 He is before all things, and in him all things are held together. 18 He is the head of the body, the church, who is the beginning, the firstborn from the dead, that in all things he might have the preeminence. 19 For all the fullness was pleased to dwell in him, 20 and through him to reconcile all things to himself by him, whether things on the earth or things in the heavens, having made peace through the blood of his cross.
Psalm 76
God's Name is Great in Israel
For the Chief Musician. On stringed instruments. A Psalm by Asaph. A song.
1 In Judah, God is known.
His name is great in Israel.
2 His tabernacle is also in Salem.
his dwelling place in Zion.
3 There he broke the flaming arrows
of the bow, the shield, and the sword,
and the weapons of war.
Selah.
4 Glorious are you, and excellent,
more than mountains of game.
5 Valiant men lie plundered,
they have slept their last sleep.
None of the men of war can lift their hands.
6 At your rebuke, God of Jacob,
both chariot and horse are cast into a dead sleep.
7 You, yes you, are to be feared.
Who can stand in your sight when you are angry?
8 You pronounced judgment from heaven.
The earth feared, and was silent,
9 when God arose to judgment,
to save all the afflicted ones of the earth.
Selah.
10 Surely the wrath of man praises you.
The survivors of your wrath are restrained.
11 Make vows to the Lord your God and fulfill them!
Let all of his neighbors bring tribute
to him who is to be feared.
12 He will cut off the spirit of princes.
He is feared by the kings of the earth.
Proverbs 24:21-22
21 My son, fear God and the king.
Do not join those who are rebellious,
22 for their calamity will rise suddenly.
Who knows what destruction may come from them both?
«       »