And let the peace of God rule in your hearts, to which you also were called in one body, and be thankful. Colossians 3:15
Jeremiah 9
Jeremiah's Continual Tears
1 Oh that my head were a spring of waters
and my eyes a fountain of tears,
that I might weep day and night
for the slain of the daughter of my people!
2 Oh that I had in the wilderness,
a lodging place for travelers,
that I might leave my people,
and get away from them!
For they are all adulterers,
an assembly of treacherous men.
3 They bend their tongue,
like a bow, to lie.
They have grown strong in the land,
but not for truth,
for they go from evil to evil,
and they do not know me.
4 Everyone beware of his neighbor
and do not trust in any brother,
for every brother will utterly uproot the other,
and every neighbor will go around like a slanderer.
5 Friends deceive each other,
and will not speak the truth.
They have trained their tongue to utter lies.
They wear themselves out committing sin.
6 Your habitation is in the midst of deceit.
Through their deceit, they refuse to know me,"
 7 Therefore, the Lord of Hosts says,
"I will refine them and test them,
for how should I deal with the daughter of my people?
8 Their tongue is a deadly arrow,
for it speaks deceit.
One speaks peaceably to his neighbor with his mouth,
but in his heart, he waits to ambush him.
9 Should I not punish them for these things?" says the Lord.
"Should I not be avenged on a nation such as this?
10 I will weep and wail for the mountains,
and lament for the pastures of the wilderness,
because they are burned up, so that no one passes through,
Men cannot hear the sound of the livestock.
Both the birds of the sky and the animals have fled.
They are gone.
11 I will make Jerusalem a heap of ruins,
a dwelling place of jackals.
I will make the cities of Judah a desolation,
without inhabitant."
12 Who is wise enough to understand this? Who is he to whom the mouth of the Lord has spoken, that he may declare it? Why has the land perished and burned up like a wilderness, so that no one passes through it?
13 The Lord answers, "Because they have forsaken my law which I set before them and have not obeyed my voice or walked in my ways, 14 but have walked after the stubbornness of their own heart and after the Baals, which their fathers taught them."
15 Therefore the Lord of Hosts, the God of Israel, says, "I will feed these people with wormwood and give them poisoned water to drink. 16 And I will scatter them among the nations, whom neither they nor their fathers have known. I will send the sword after them, until I have consumed them."
Weeping in Jerusalem
17 The Lord of Hosts says,
"Consider this and call for the wailing women,
that they may come.
Send for the skilled mourners.
18 Let them come quickly
and mourn over us,
that our eyes may run with tears
and our eyelids gush with water.
19 For the sound of wailing is heard out of Zion,
'How we are ruined!
We are greatly confounded
because we have forsaken the land,
because they have torn down our dwellings.' "
20 Yet hear the word of the Lord, you women.
Let your ear receive the word of his mouth.
Teach your daughters to wail.
Everyone teach her neighbor a lament.
21 For death has come up into our windows.
It has entered into our palaces
to take the children from the streets,
and the young men from the public square.
22 Speak this, "The Lord says,
" 'The dead bodies of men will fall like dung on the open field,
and like cut grain left from the harvester.
No one will gather them.' "
23 The Lord says, "Do not let the wise man glory in his wisdom.
Do not let the mighty man glory in his might.
Do not let the rich man glory in his riches.
24 But let him who glories, glory in this:
that he has understanding and knows me,
that I am the Lord who exercises mercy, justice, and righteousness on the earth,
for I delight in these things," says the Lord.
25 "The days are coming when I will punish all those who are circumcised only in their flesh: 26 Egypt, Judah, Edom, the children of Ammon, Moab, and all who have the corners of their hair cut off, who dwell in the wilderness, for all the nations are uncircumcised, and the whole house of Israel is uncircumcised in heart."
Colossians 3
Put on the New Self
1 If then you were raised together with Christ, seek those things that are above, where Christ is, seated at the right hand of God. 2 Set your mind on things above, not on things that are on the earth. 3 For you died, and your life is hidden with Christ in God. 4 When Christ, our life, is revealed, then you will also be revealed with him in glory.
5 Put to death, therefore, your earthly nature: sexual immorality, uncleanness, depraved passion, evil desire, and covetousness, which is idolatry. 6 For these things, the wrath of God comes on the disobedient.
7 You also once walked in those, when you lived in them, 8 but now you have put all of that away: anger, wrath, malice, slander, and shameful talk coming out of your mouth. 9 Do not lie to one another now that you have put off the old self with his wicked behavior, 10 and have put on the new self, who is being renewed in knowledge after the image of his Creator, 11 where there cannot be Greek and Jew, circumcision and uncircumcision, barbarian, Scythian, bondservant, or free person; but Christ is all and in all.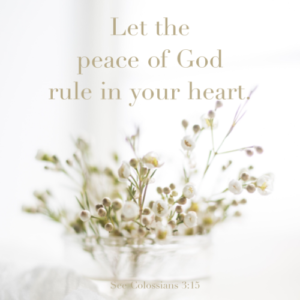 12 As God's chosen ones, holy and beloved, put on a heart of compassion, kindness, lowliness, humility, and perseverance; 13 bearing with one another and forgiving each other. If any man has a complaint against another, just as Christ forgave you, do so also.
14 Above all these things, walk in love, which is the bond of perfection. 15 And let the peace of God rule in your hearts, to which you also were called in one body, and be thankful. 16 Let the word of Christ dwell in you richly, in all wisdom, teaching and admonishing one another with psalms, hymns, and spiritual songs, singing with grace in your heart to the Lord.
17 Whatever you do, in word or in deed, do everything in the name of the Lord Jesus, giving thanks to God the Father, through him.
Christian Households
18 Wives, be submissive to your husbands, as is fitting in the Lord.
19 Husbands, love your wives, and do not be bitter towards them.
20 Children, obey your parents in all things, for this pleases the Lord.
21 Fathers, do not provoke your children, so that they won't be discouraged.
22 Servants, obey in all things those who are your masters according to the flesh, not just when they are looking, as pleasers of men, but in singleness of heart, fearing God.
23 And whatever you do, work heartily, as for the Lord, and not for men, 24 knowing that from the Lord you will receive the reward of the inheritance; for you serve the Lord Christ. 25 But he who does wrong will be repaid for the wrong that he has done, and there is no partiality.
Psalm 78:32-55
32 For all this they still sinned
and did not believe in his wondrous works.
33 Therefore he ended their days in futility
and their years in terror.
34 When he began killing them,
then they sought after him.
They returned and sought God in earnest.
35 They remembered that God was their rock,
the Most High God, their redeemer.
36 But they flattered him with their mouth
and lied to him with their tongue.
37 For their heart was not right with him,
nor were they faithful in his covenant.
38 But he, being merciful, forgave their sin,
and did not destroy them.
Yes, many times he turned his anger away
and did not stir up all his wrath.
39 He remembered that they were but flesh,
a wind that passes away and does not return.
40 How often they rebelled against him in the wilderness
and grieved him in the desert!
41 They turned back and tempted God
and provoked the Holy One of Israel.
42 They did not remember his hand,
nor the day when he redeemed them from the adversary,
43 how he set his signs in Egypt,
his wonders in the field of Zoan.
44 He turned their rivers into blood, and their streams,
so that they could not drink.
45 He sent among them swarms of flies,
which devoured them,
and frogs, which destroyed them.
46 He gave also their increase to the caterpillar,
and their labor to the locust.
47 He destroyed their vines with hail,
their sycamore fig trees with frost.
48 He subjected their livestock to hail
and their flocks to hot thunderbolts.
49 He unleashed on them,
the fierceness of his anger,
wrath, indignation, and trouble,
and a band of destroying angels.
50 He made a path for his anger.
He did not spare them from death,
but subjected their life to pestilence,
51 and struck all the firstborn in Egypt,
the firstfruit of their virility in the tents of Ham.
52 But he led out his own people like sheep,
and guided them in the wilderness like a flock.
53 He led them safely, so that they were not afraid,
but the sea overwhelmed their enemies.
54 He brought them to the border of his sanctuary,
to this mountain, which his right hand had taken.
55 He also drove out the nations before them,
allotted them as an inheritance by line,
and made the tribes of Israel to dwell in their tents.
Proverbs 24:27
27 Prepare your work outside,
and get your fields ready.
Then afterwards, build your house.
«       »