The Lord made the earth by his power. He has established the world by his wisdom, and by his understanding has he stretched out the heavens. Jeremiah 10:12
Jeremiah 10-11
Jeremiah 10
The Sovereignty of God
1 Hear the word which the Lord speaks to you, house of Israel!
2 The Lord says,
"Do not learn the way of the nations,
and do not be alarmed at signs in the stars,
though other nations are frightened by them.
3 For the customs of the peoples are worthless,
for one cuts down a tree from the forest,
the work of the hands of an axman.
4 They decorate it with silver and with gold,
which they attach with nails and hammers,
so that it cannot move.
5 They are like scarecrows in a cucumber field.
They do not speak and must be carried
because they cannot walk.
Do not be afraid of them,
for they can do no harm,
nor can they do any good.
6 There is no one like you, Lord.
You are great,
and your name is great in might.
7 Who should not fear you,
King of the nations?
For it belongs to you.
Because among all the wise men of the nations,
and in all their royal estate,
there is no one like you.
8 But they are altogether stupid and foolish,
instructed by wooden idols!
9 There is silver beaten into plates,
which is brought from Tarshish,
and gold from Uphaz,
the work of the engraver
and of the hands of the goldsmith.
Their clothing is blue and purple.
They are all the work of skillful men.
10 But the Lord is the true God.
He is the living God,
and an everlasting King.
At his wrath, the earth trembles.
The nations are not able to withstand his indignation.
11 "You shall say this to them: 'The gods that have made neither the heavens nor the earth will perish from the earth and from under the heavens.' "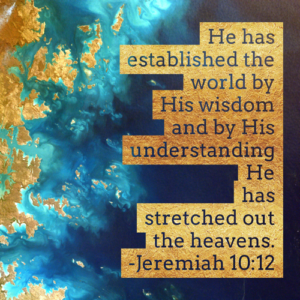 12 The Lord made the earth by his power.
He has established the world by his wisdom,
and by his understanding has he stretched out the heavens.
13 When he utters his voice,
the waters in the heavens roar,
and he causes the vapors to ascend from the ends of the earth.
He makes lightning for the rain
and brings the wind out of his treasuries.
14 Everyone has become senseless and without knowledge.
Every goldsmith is put to shame by his idols,
for his molten image is falsehood,
and there is no breath in them.
15 They are worthless, a work of delusion.
When judgement comes they will perish.
16 But the God of Jacob is not like these,
for he is the maker of all things,
and Israel is the tribe of his inheritance.
The Lord of Hosts is his name.
The Coming Destruction
17 Gather up your belongings from the land,
you, who are under siege. 18 For the Lord says,
"All at once, I will fling out the inhabitants of the land,
and will bring distress on them,
that they may feel it."
19 Woe is me because of my injury!
My wound is serious,
but I said, "Truly this is my grief,
and I must bear it."
20 My tent has been destroyed,
and all my cords are broken.
My children have gone away from me,
and they are no more.
There is no one to spread my tent any more,
to set up my curtains.
21 For the shepherds are senseless
and have not inquired of the Lord.
Therefore they have not prospered,
and all their flocks have scattered.
22 The voice of news is coming,
and a great commotion out of the north country,
to make the cities of Judah a desolation,
a dwelling place of jackals.
Jeremiah's Prayer
23 Lord, I know that the way of man is not in his control.
It is not man who directs his steps as he walks.
24 God, correct me, but gently,
not in your anger,
lest you reduce me to nothing.
25 Pour out your wrath on the nations that do not know you,
and on the families that do not call on your name,
for they have devoured Jacob.
Yes, they have devoured him, consumed him,
and have laid waste his habitation.
Jeremiah 11
The Broken Covenant
1 This is the word that came to Jeremiah from the Lord, saying, 2 "Hear the words of this covenant and speak to the men of Judah and to the inhabitants of Jerusalem 3 and say to them, the Lord, the God of Israel says: 'Cursed is the man who does not obey the words of this covenant, 4 which I commanded your fathers in the day that I brought them out of the land of Egypt, out of the iron furnace,' saying, 'Obey me and do everything according to which I command you, so you shall be my people, and I will be your God, 5 that I may establish the oath which I swore to your fathers, to give them a land flowing with milk and honey,' as it is today."
Then I answered and said, "Amen, God."
6 The Lord said to me, "Proclaim all these words in the cities of Judah and in the streets of Jerusalem, saying, 'Hear the words of this covenant, and do them. 7 For I earnestly protested to your fathers in the day that I brought them up out of the land of Egypt, to this day, rising early and protesting, saying, "Obey my voice." 8 Yet they did not obey, nor turn their ear, but everyone walked in the stubbornness of their evil heart. Therefore I brought on them all the words of this covenant, which I commanded them to do, but they did not do them.' "
9 The Lord said to me, "A conspiracy is found among the men of Judah, and among the inhabitants of Jerusalem. 10 They have turned back to the iniquities of their forefathers, who refused to hear my words. They have gone after other gods to serve them. The house of Israel and the house of Judah have broken my covenant which I made with their fathers.
11 Therefore the Lord says, 'I will bring disaster on them, from which they will not be able to escape, and they will cry to me, but I will not listen to them. 12 Then the cities of Judah and the inhabitants of Jerusalem will go and cry to the gods to which they offer incense, but they will not save them at all in the time of their trouble. 13 For you have as many gods as you have cities, Judah, and you have set up as many shameful alters as you have streets in Jerusalem–altars to burn incense to Baal.'
14 Therefore do not pray for these people. Do not lift up cry or prayer for them, for I will not hear them when they cry to me because of their trouble.
15 What right has my beloved to be in my house,
since she has behaved so lewdly with so many?
Do you think offerings of consecrated meat can prevent disaster?
You rejoice in doing evil.
16 The Lord once called you
a thriving olive tree,
beautiful and full of good fruit.
But he has kindled it into a roaring fire,
and its branches are consumed.
17 For the Lord of Hosts, who planted you, has pronounced destruction against you, because of the evil of the house of Israel and of the house of Judah, which they have done to themselves in provoking me to anger by offering incense to Baal.
The Plot Against Jeremiah
18 The Lord gave me knowledge of it, and I knew it.
Then you showed me their deeds.
19 But I was like a gentle lamb that is led to the slaughter.
I did not know that they had devised plans against me, saying,
"Let us destroy the tree with its fruit,
and let us cut him off from the land of the living,
that his name may be no longer remembered."
20 O Lord of Hosts, who judges righteously,
who tests the heart and the mind,
let me see your vengeance on them,
for to you I have revealed my cause.
21 "Therefore the Lord says concerning the men of Anathoth, who seek your life, saying, 'You shall not prophesy in the name of the Lord, that you not die by our hand,' 22 therefore the Lord of Hosts says, 'I will punish them. The young men will die by the sword. Their sons and their daughters will die by famine. 23 There will be no remnant to them, for I will bring tragedy on the men of Anathoth, in the year of their visitation.' "
Colossians 4
Fellow Workers
1 Masters, give to your servants that which is right and fair, knowing that you also have a Master in heaven.
2 Continue steadfastly in prayer, staying alert in it with thanksgiving, 3 praying together for us also, that God may open to us a door for the word, to speak the mystery of Christ, for which I am also in bonds, 4 that I may reveal it as I ought to speak. 5 Walk in wisdom toward those who are outside, redeeming the time. 6 Let your words always be spoken with grace and seasoned with salt, that you may know how you ought to answer each one.
Final Greetings
7 All my affairs will be made known to you by Tychicus, the beloved brother, faithful servant, and fellow bondservant in the Lord. 8 I am sending him to you for this very purpose, that he may know your circumstances and comfort your hearts, 9 together with Onesimus, the faithful and beloved brother, who is one of you. They will make known to you everything that is going on here.
10 Aristarchus, my fellow prisoner, greets you, and Mark, the cousin of Barnabas (concerning whom you received commandments, "If he comes to you, receive him."), 11 and Jesus who is called Justus. These are my only fellow workers for the Kingdom of God who are of the circumcision, men who have been a comfort to me.
12 Epaphras, who is one of you, a servant of Christ, salutes you, always striving for you in his prayers, that you may stand perfect and complete in all the will of God. 13 For I testify about him that he has great zeal for you, and for those in Laodicea and for those in Hierapolis. 14 Luke the beloved physician and Demas greet you.
Sharing this Letter
15 Greet the brothers who are in Laodicea, and Nymphas, and the assembly that is in his house.
16 When this letter has been read among you, have it read also in the assembly of the Laodiceans, and also read the letter from Laodicea. 17 Tell Archippus, "Take heed to the ministry which you have received in the Lord, that you fulfill it."
18 The salutation of me, Paul, with my own hand: remember my bonds. Grace be with you. Amen.
Psalm 78:56-72
56 Yet they tested and provoked the Most High God
and did not keep his commands.
57 They turned back and dealt treacherously like their fathers.
They were twisted like a deceitful bow.
58 For they provoked him to anger with their high places
and moved him to jealousy with their idols.
59 When God heard this, he was angry
and greatly abhorred Israel
60 so that he abandoned the tent of Shiloh,
the tent which he placed among men
61 and delivered his strength into captivity,
his glory into the adversary's hand.
62 He also gave his people over to the sword
and was angry with his inheritance.
63 Fire devoured their young men.
Their maidens had no wedding song.
64 Their priests fell by the sword,
and their widows could not weep.
65 Then the Lord awakened like one out of sleep,
like a mighty warrior who shouts because of too much wine.
66 He struck his adversaries backward.
He put them to a perpetual shame.
67 Moreover he rejected the tent of Joseph
and did not choose the tribe of Ephraim,
68 but chose the tribe of Judah,
Mount Zion which he loved.
69 He built his sanctuary like the heights,
like the earth which he has established forever.
70 He also chose David his servant
and took him from the sheepfolds,
71 from following the ewes that have their young.
He brought him to be the shepherd of Jacob,
his people, and Israel, his inheritance.
72 So he was their shepherd according to the integrity of his heart,
and guided them with the skillfulness of his hands.
Proverbs 24:28-29
28 Do not be a witness against your neighbor without cause.
Do not deceive with your lips.
29 Do not say, "I will do to him as he has done to me;
I will repay the man according to his work."
«       »