So we, your people and sheep of your pasture, will give you thanks forever. We will praise you forever, to all generations. Psalm 79:13
Jeremiah 12-14
Jeremiah 12
The Prosperity of the Wicked
1 You are ever righteous, Lord,
when I plead a case before you.
I would like to reason a case with you.
Why does the way of the wicked prosper?
Why are they who deal very treacherously all at ease?
2 You have planted them.
Yes, they have taken root.
They grow. Yes, they produce fruit.
You are always on their lips,
but far from their heart.
3 But you, Lord, know me.
You see me and test my heart toward you.
Pull them out like sheep for the slaughter
and prepare them for the day of slaughter.
4 How long will the land mourn,
and the herbs of the whole country wither?
Because of the wickedness of those who dwell there,
the animals and birds are consumed,
because they said,
"He doesn't see what our end will be."
God's Answer to Jeremiah
5 "If you have raced with men on foot,
and they have worn you out,
then how can you race with horses?
If you stumble in a land of peace where you are secure,
then how will you manage in the pride of the Jordan?
6 For your brothers and your father's house,
they have betrayed you!
They have cried aloud about you!
If they speak flattering words to you,
do not believe them.
7 I have forsaken my house.
I have cast off my heritage.
I have given the dearly beloved of my soul
into the hands of her enemies.
8 My chosen one has become to me
like a lion in the forest.
She has raised her voice against me.
Because of this, I have grown to hate her.
9 Is my chosen like a speckled bird of prey to me?
Are birds of prey surrounding her?
Go, assemble all the animals of the field.
Bring them to devour her.
10 Many shepherds have destroyed my vineyard.
They have trodden my portion under foot.
They have turned my lovely portion
into a desolate wilderness.
11 They have made it desolate.
It mourns before me, desolate.
The whole land has been laid waste,
and no one cares.
12 Destroyers have come
on all the barren heights of the wilderness,
for the sword of the Lord devours
from one end of the land
to the other end of the land.
No one has peace.
13 They have sown wheat
and have reaped thorns.
They have exhausted themselves
and profit nothing.
You will be ashamed of your fruits,
because of the fierce anger of the Lord."
A Message for Israel's Neighbors
14 The Lord says, "Concerning all my evil neighbors, who dare to touch the inheritance which I have given to my people Israel: I will uproot them from their land and will uproot the house of Judah from among them. 15 It will happen that after I have uprooted them up, I will return and have compassion on them. I will bring them back, every man to his heritage and every man to his land.
16 It will happen, if they will diligently learn the ways of my people, to swear by my name, 'As the Lord lives,' as they taught my people to swear by Baal, then they will be built up in the midst of my people. 17 But if they will not hear, then I will uproot that nation and destroy it," says the Lord.
Jeremiah 13
The Linen Belt
1 The Lord said to me, "Go, and buy yourself a linen belt and put it on your waist and do not put it in water."
2 So I bought a belt according to the word of the Lord and put it on my waist.
3 The word of the Lord came to me the second time, saying, 4 "Take the belt that you have bought, which is on your waist and get up. Go to the Euphrates and hide it there in a cleft of the rock."
5 So I went and hid it by the Euphrates, as the Lord commanded me.
6 After many days, the Lord said to me, "Get up. Go to the Euphrates and take the belt from there, which I commanded you to hide there."
7 Then I went to the Euphrates and dug up the belt from the place where I had hidden it, and the belt was ruined. It was useless.
8 Then the word of the Lord came to me, saying, 9 "The Lord says, 'In this way, I will ruin the pride of Judah and the great pride of Jerusalem. 10 These evil people, who refuse to hear my words, who walk in the stubbornness of their heart, and have gone after other gods to serve them and to worship them, will be like this belt, which is useless.
11 For as the belt clings to the waist of a man, so I have caused the whole house of Israel and the whole house of Judah to cling to me, declares the Lord, so that they might be my people, bringing praise and honor and glory to my name, but they would not listen.
The Wineskins
12 Therefore you shall tell them that this is what the Lord, the God of Israel says, 'Every container should be filled with wine.'
They will tell you, 'Do we not certainly know that every container should be filled with wine?' 13 Then tell them that this is what the Lord says: 'I will fill all the inhabitants of this land, the kings who sit on David's throne, the priests, the prophets, and all the inhabitants of Jerusalem, with drunkenness. 14 I will dash them one against another, the fathers and the sons together, declares the Lord. I will not pity, spare, or have compassion on them, that I should not destroy them.' "
Captivity Threatened
15 Hear, and give ear.
Do not be proud,
for the Lord has spoken.
16 Give glory to the Lord your God,
before he causes darkness,
and before your feet stumble
on the dark mountains.
While you look for light,
he turns it into the shadow of death
and makes it deep darkness.
17 But if you will not listen,
I will weep in secret for your pride.
My eyes will weep bitterly,
with tears running down,
because the Lord's flock has been taken captive.
18 Say to the king
and to the queen mother,
"Take a lowly seat.
for your beautiful crowns
have come down from your heads.
19 The cities of the South have been shut up,
and there is no one to open them.
Judah has been taken captive: all of it.
It has been taken completely captive.
20 Lift up your eyes
and see those who come from the north.
Where is the flock that was entrusted to you,
the sheep that were your pride?
21 What will you say,
when he sets over you as rulers,
the very ones you trained to be your allies?
Will sorrows not take hold of you,
like of a woman in labor?
22 If you say in your heart,
"Why have these things happened to me?"
Your skirts have been stripped off,
because of the extent of your iniquity,
and you have been violated.
23 Can the Ethiopian change his skin,
or the leopard his spots?
If so, then you who are accustomed to doing evil
may learn to do good.
24 "Therefore I will scatter them,
as the stubble that passes away,
by the wind of the wilderness.
25 This is your lot,
the portion I have measured to you." says the Lord,
"because you have forgotten me,
and trusted in falsehood.
26 Therefore I will also lift up your skirts to your face,
and your shame will be exposed.
27 I have seen your abominations, your adulteries,
and your neighing, the lewdness of your prostitution,
on the hills in the field.
Woe to you, Jerusalem!
You will not be made clean.
How long will it yet be?"
Jeremiah 14
Drought, Famine, Sword, Pestilence
1 This is the word of the Lord that came to Jeremiah concerning the drought.
2 "Judah mourns,
and its gates languish.
They sit in black on the ground.
The cry of Jerusalem goes up.
3 Their nobles send their little ones to the waters.
They come to the cisterns,
and find no water.
They return with their vessels empty.
They are disappointed and confounded,
and cover their heads.
4 Because of the ground which is cracked,
because no rain has been in the land,
the plowmen are disappointed.
They cover their heads.
5 Yes, the doe in the field also calves and forsakes her young,
because there is no grass.
6 The wild donkeys stand on the bare heights.
They pant for air like jackals.
Their eyes fail,
because there is no vegetation.
7 Though our iniquities testify against us,
work for your name's sake, Lord,
for our rebellion is great.
We have sinned against you.
8 O Hope of Israel,
its Savior in the time of trouble,
why should you be as a foreigner in the land
and as a wayfaring man
who turns aside to stay for a night?
9 Why should you be like a scared man,
like a warrior who cannot save?
Yet you, Lord, are in the midst of us,
and we are called by your name.
Do not leave us.
10 The Lord says to this people,
"Even so they have loved to wander.
They have not restrained their feet.
Therefore the Lord does not accept them.
Now he will remember their iniquity,
and punish them for their sins."
11 The Lord said to me, "Do not pray for this people, for their good. 12 When they fast, I will not hear their cry, and when they offer burnt offering and grain offering, I will not accept them; but I will consume them by the sword, by famine, and by pestilence."
13 Then I said, "Ah, Lord God! The prophets tell them, 'You will not see the sword, nor will you have famine, but I will give you assured peace in this place.' "
14 Then the Lord said to me, "The prophets prophesy lies in my name. I did not send them. I did not command them. I did not speak to them. They prophesy to you a lying vision, divination, and a thing of nothing, and the deceit of their own heart.
15 Therefore this is what the Lord says concerning the prophets who prophesy in my name, but I did not send them, yet they say 'Sword and famine will not be in this land.' Those prophets will be consumed by sword and famine. 16 The people to whom they prophesy will be cast out in the streets of Jerusalem because of the famine and the sword. They will have no one to bury them—them, their wives, their sons, or their daughters, for I will pour their wickedness on them.
17 You shall say this word to them:
'My eyes overflow with tears night and day,
without ceasing,
for the virgin daughter of my people
is broken with a great breach,
with a very grievous wound.
18 If I go out into the field,
there they are – those who have been slain with the sword!
If I enter into the city,
there they are – those who are sick with famine!
For both the prophet and the priest go around the land
without knowledge.' "
A Prayer for Mercy
19 Have you utterly rejected Judah?
Have you loathed Zion?
Why have you struck us, and there is no healing for us?
We looked for peace, but no good came;
and for a time of healing, but only dismay!
20 We acknowledge, Lord, our wickedness
and the iniquity of our fathers,
for we have sinned against you.
21 Do not abhor us, for your name's sake.
Do not disgrace the throne of your glory.
Remember, and do not break your covenant with us.
22 Are there any among the vanities of the nations
that can cause rain?
Or can the sky give showers?
Are you not he, the Lord our God?
Therefore we will wait for you,
for you have made all these things.
1 Thessalonians 1-2
1 Thessalonians `1
Greetings from Paul, Silas and Timothy
1 Paul, Silvanus, and Timothy, to the church of the Thessalonians, in God the Father and the Lord Jesus Christ:
Grace to you and peace from God our Father and the Lord Jesus Christ.
2 We always give thanks to God for all of you, mentioning you in our prayers, 3 remembering, without ceasing, your work of faith and labor of love and perseverance of hope in our Lord Jesus Christ, before our God and Father.
4 We know, brothers, loved by God, that you are chosen, 5 and that our Gospel came to you not only in word, but also in power, and in the Holy Spirit, and with much assurance. You know what kind of men we showed ourselves to be among you for your sake. 6 You became imitators of us and of the Lord, having received the word in much affliction, with joy of the Holy Spirit, 7 so that you became an example to all who believe in Macedonia and in Achaia.
8 For from you the word of the Lord has been declared, not only in Macedonia and Achaia, but also in every place your faith toward God has gone out, so that we need not to say anything. 9 For they themselves report concerning us what kind of a reception we had from you and how you turned to God from idols, to serve a living and true God, 10 and to wait for his Son from heaven, whom he raised from the dead: Jesus, who delivers us from the wrath to come.
1 Thessalonians 2
Paul's Ministry
1 For you yourselves know, brothers, our visit to you was not in vain, 2 but having suffered before and been shamefully treated, as you know, at Philippi, we grew bold in our God to tell you the Gospel of God despite much opposition.
3 For our exhortation is not of error, nor of uncleanness, nor in deception. 4 But even as we have been approved by God to be entrusted with the Gospel, so we speak, not as pleasing men, but God, who tests our hearts. 5 For neither were we at any time found using words of flattery, as you know, nor a cloak of covetousness (God is witness), 6 nor seeking glory from men (neither from you nor from others), when we might have claimed authority as apostles of Christ. 7 But we were gentle among you, like a nursing mother cherishes her own children. 8 Even so, affectionately longing for you, we were well pleased to impart to you, not only the Gospel of God, but also our own souls, because you had become very dear to us.
9 For you remember, brothers, our labor and travail; for working night and day, that we might not burden any of you, we preached to you the Gospel of God. 10 You are witnesses with God, how holy, righteously, and blamelessly we behaved ourselves toward you who believe. 11 As you know, we exhorted, comforted, and implored every one of you, as a father does his own children, 12 to the end that you should walk worthily of God, who calls you into his own Kingdom and glory.
13 For this cause we also thank God without ceasing, that when you received from us the word of the message of God, you accepted it, not as the word of men, but as it is in truth, the word of God, which also works in you who believe.
14 For you, brothers, became imitators of the churches of God which are in Judea in Christ Jesus, for you also suffered the same things from your own countrymen, even as they did from the Jews 15 who killed both the Lord Jesus and their own prophets, and drove us out, and do not please God, and are contrary to all men, 16 forbidding us to speak to the Gentiles that they may be saved, to fill up their sins always. But wrath has come on them to the uttermost.
Paul's Longing to Visit
17 But we, brothers, being bereaved of you for a short season, in presence, not in heart, tried even harder to see your face with great desire, 18 because we wanted to come to you—indeed, I, Paul, once and again—but Satan hindered us. 19 For who is our hope, or joy, or crown of rejoicing if it is not you yourselvves, before our Lord Jesus at his coming? 20 For you are our glory and our joy.
Psalm 79
A Prayer for Deliverance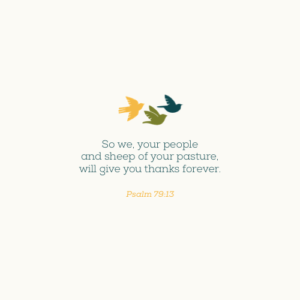 A Psalm by Asaph.
1 God, the nations have come into your inheritance.
They have defiled your holy temple.
They have laid Jerusalem in heaps.
2 They have given the dead bodies of your servants to be food for the birds of the sky,
the flesh of your saints to the animals of the earth.
3 They have shed their blood like water around Jerusalem.
There was no one to bury them.
4 We have become a reproach to our neighbors,
a scoffing and derision to those who are around us.
5 How long, God?
Will you be angry forever?
Will your jealousy burn like fire?
6 Pour out your wrath on the nations that do not know you,
on the kingdoms that don't call on your name;
7 for they have devoured Jacob,
and destroyed his homeland.
8 Do not hold the iniquities of our forefathers against us.
Let your tender mercies speedily meet us,
for we are in desperate need.
9 Help us, God of our salvation, for the glory of your name.
Deliver us, and forgive our sins, for your name's sake.
10 Why should the nations say, "Where is their God?"
Let it be known among the nations, before our eyes,
that vengeance for your servants' blood is being poured out.
11 Let the sighing of the prisoner come before you.
According to the greatness of your power, preserve those who are sentenced to death.
12 Pay back to our neighbors seven times into their bosom
their reproach with which they have reproached you, Lord.
13 So we, your people and sheep of your pasture,
will give you thanks forever.
We will praise you forever, to all generations.
Proverbs 24:30-34
30 I went by the field of the sluggard,
by the vineyard of the man void of understanding:
31 It was all grown over with thorns.
Its surface was covered with nettles,
and its stone wall was broken down.
32 Then I saw, and considered well.
I saw, and received instruction.
33 A little sleep, a little slumber,
a little folding of the hands to sleep,
34 so your poverty will come as a robber
and your want as an armed man.
«       »