I myself am God. Besides me, there is no savior. Isaiah 43:11
Isaiah 42-43
Isaiah 42
The Lord's Chosen Servant
1 "My servant, whom I uphold,
my chosen one, in whom I delight:
I have put my Spirit on him.
He will bring justice to the nations.
2 He will not shout,
nor raise his voice,
nor cause it to be heard in the street.
3 He won't break a bruised reed.
He won't quench a dimly burning wick.
He will faithfully bring justice.
4 He will not fail nor be discouraged,
until he has set justice in the earth,
and the islands wait for his law."
5 Lord God,
he who created the heavens and stretched them out,
he who spread out the earth and that which comes out of it,
he who gives breath to its people and spirit to those who walk in it, says:
6 "I, God, have called you in righteousness.
I will hold your hand.
I will keep you,
and make you a covenant for the people,
as a light for the nations,
7 to open the blind eyes,
to bring the prisoners out of the dungeon,
and those who sit in darkness out of the prison.
8 "I am God.
That is my name.
I will not give my glory to another,
nor my praise to engraved images.
9 The former things have happened
and I declare new things.
I tell you about them before they come up."
A New Song of Praise
10 Sing to the Lord a new song,
and his praise from the end of the earth,
you who go down to the sea,
and all that is therein,
the islands and their inhabitants.
11 Let the wilderness and its cities raise their voices,
with the villages that Kedar inhabits.
Let the inhabitants of Sela sing.
Let them shout from the top of the mountains!
12 Let them give glory to God,
and declare his praise in the islands.
13 The Lord will go out like a mighty man.
He will stir up zeal like a man of war.
He will raise a war cry.
Yes, he will shout aloud.
He will triumph over his enemies.
14 "I have been silent a long time.
I have been quiet and restrained myself.
Now I will cry out like a travailing woman. I will both gasp and pant.
15 I will destroy mountains and hills,
and dry up all their herbs.
I will make the rivers islands,
and will dry up the pools.
16 I will bring the blind by a way that they don't know.
I will lead them in paths that they don't know.
I will make darkness light before them,
and crooked places straight.
I will do these things,
and I will not forsake them.
17 "Those who trust in engraved images,
who tell molten images,
'You are our gods,'
will be turned back.
They will be utterly disappointed.
Israel is Deaf and Blind
18 "Hear, you deaf,
and look, you blind,
that you may see.
19 Who is blind, but my servant?
Or who is as deaf as my messenger whom I send?
Who is as blind as he who is at peace,
and as blind as the Lord's servant?
20 You see many things, but don't observe.
His ears are open, but he doesn't listen.
21 It pleased the Lord, for his righteousness' sake, to magnify the law
and make it honorable.
22 But this is a robbed and plundered people.
All of them are snared in holes,
and they are hidden in prisons.
They have become captives, and no one delivers,
and a plunder, and no one says, 'Restore them!'
23 Who is there among you who will give ear to this?
Who will listen and hear for the time to come?
24 Who gave Jacob as plunder,
and Israel to the robbers?
Was it not the Lord, he against whom we have sinned?
For they would not walk in his ways,
and they disobeyed his law.
25 Therefore he poured the fierceness of his anger on him,
and the strength of battle.
It set him on fire all around, but he didn't know.
It burned him, but he didn't take it to heart."
Isaiah 43
Israel's Only Savior
1 But now the Lord, who created you, Jacob,
and he who formed you, Israel, says:
"Don't be afraid, for I have redeemed you.
I have called you by your name.
You are mine.
2 When you pass through the waters, I will be with you,
and through the rivers, they will not overflow you.
When you walk through the fire, you will not be burned,
and flame will not scorch you.
3 For I am the Lord your God,
the Holy One of Israel,
your Savior.
I have given Egypt as your ransom,
Ethiopia and Seba in your place.
4 Since you have been precious and honored in my sight,
and I have loved you,
therefore I will give people in your place,
and nations instead of your life.
5 Don't be afraid, for I am with you.
I will bring your offspring from the east,
and gather you from the west.
6 I will tell the north, 'Give them up!'
and tell the south, 'Don't hold them back!
Bring my sons from far away,
and my daughters from the ends of the earth—7 everyone who is called by my name,
and whom I have created for my glory,
whom I have formed,
yes, whom I have made.' "
8 Bring out the blind people who have eyes,
and the deaf who have ears.
9 Let all the nations be gathered together,
and let the peoples be assembled.
Who among them can declare this,
and show us former things?
Let them bring their witnesses, that they may be justified,
or let them hear, and say, "That is true."
10 "You are my witnesses," says the Lord,
"With my servant whom I have chosen;
that you may know and believe me,
and understand that I am he.
Before me there was no God formed,
neither will there be after me.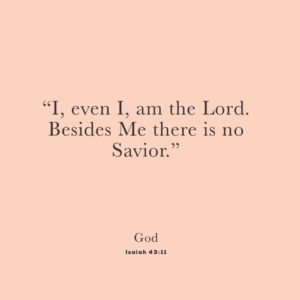 11 I myself am the Lord.
Besides me, there is no savior.
12 I have declared, I have saved, and I have shown,
and there was no strange god among you.
Therefore you are my witnesses",
says the Lord, "and I am God.
13 Yes, since the day was, I am he.
There is no one who can deliver out of my hand.
I will work, and who can hinder it?"
The Destruction of Babylon Foretold
14 The Lord, your Redeemer, the Holy One of Israel says: "For your sake, I have sent to Babylon, and I will bring all of them down as fugitives, even the Chaldeans, in the ships of their rejoicing. 15 I am the Lord, your Holy One, the Creator of Israel, your King."
16 The Lord, who makes a way in the sea,
and a path in the mighty waters,
17 who brings out the chariot and horse,
the army and the mighty man
(they lie down together, they shall not rise;
they are extinct, they are quenched like a wick) says:
Deliverance of God's People
18 "Don't remember the former things,
and don't consider the things of old.
19 Look! I will do a new thing.
It springs out now.
Don't you know it?
I will even make a way in the wilderness,
and rivers in the desert.
20 The animals of the field, the jackals and the ostriches, shall honor me,
because I give water in the wilderness and rivers in the desert,
to give drink to my people, my chosen,
21 the people which I formed for myself,
that they might declare my praise.
Israel's Unfaithfulness
22 Yet you have not called on me, Jacob;
but you have been weary of me, Israel.
23 You have not brought me any of your sheep for burnt offerings,
neither have you honored me with your sacrifices.
I have not burdened you with offerings,
nor wearied you with frankincense.
24 You have bought me no sweet cane with money,
nor have you filled me with the fat of your sacrifices,
but you have burdened me with your sins.
You have wearied me with your iniquities.
25 I, even I, am he who blots out your transgressions for my own sake;
and I will not remember your sins.
26 Put me in remembrance.
Let us plead together.
Declare your case,
that you may be justified.
27 Your first father sinned,
and your teachers have transgressed against me.
28 Therefore I will profane the princes of the sanctuary;
and I will make Jacob a curse,
and Israel an insult."
Ephesians 2:1-22
Grace through Faith
1 You were made alive when you were dead in transgressions and sins, 2 in which you once walked according to the course of this world, according to the prince of the power of the air, the spirit who now works in the children of disobedience. 3 We also all once lived among them in the lusts of our flesh, fulfilling the desires of the flesh and of the mind, and were by nature children of wrath, just as the others.
4 But God, being rich in mercy, for his great love with which he loved us, 5 even when we were dead through our trespasses, made us alive together with Christ—by grace you have been saved— 6 and raised us up with him, and made us to sit with him in the heavenly places in Christ Jesus, 7 that in the ages to come he might show the exceeding riches of his grace in kindness toward us in Christ Jesus; 8 for by grace you have been saved through faith, and that not of yourselves; it is the gift of God, 9 not of works, that no one would boast. 10 For we are his workmanship, created in Christ Jesus for good works, which God prepared before that we would walk in them.
Once far off, now near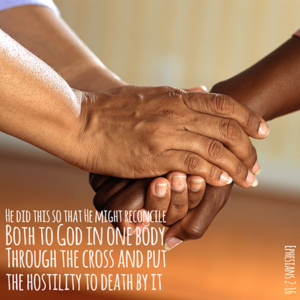 11 Therefore remember that once you, the Gentiles in the flesh, who are called "uncircumcision" by that which is called "circumcision" (in the flesh, made by hands), 12 that you were at that time separate from Christ, alienated from the commonwealth of Israel, and strangers from the covenants of the promise, having no hope and without God in the world. 13 But now in Christ Jesus you who once were far off are made near in the blood of Christ.
Christ is our peace
14 For he is our peace, who made both one, and broke down the middle wall of separation, 15 having abolished in his flesh the hostility, the law of commandments contained in ordinances, that he might create in himself one new man of the two, making peace, 16 and might reconcile them both in one body to God through the cross, having killed the hostility through it. 17 He came and preached peace to you who were far off and to those who were near. 18 For through him we both have our access in one Spirit to the Father. 19 So then you are no longer strangers and foreigners, but you are fellow citizens with the saints and of the household of God, 20 being built on the foundation of the apostles and prophets, Christ Jesus himself being the chief cornerstone; 21 in whom the whole building, fitted together, grows into a holy temple in the Lord; 22 in whom you also are built together for a habitation of God in the Spirit.
Psalm 67
For the Chief Musician. With stringed instruments. A Psalm. A song.
1 May God be merciful to us, bless us,
and cause his face to shine on us.
Selah.
2 That your way may be known on earth,
and your salvation among all nations,
3 let the peoples praise you, God.
Let all the peoples praise you.
4 Oh let the nations be glad and sing for joy,
for you will judge the peoples with equity,
and govern the nations on earth.
Selah.
5 Let the peoples praise you, God.
Let all the peoples praise you.
6 The earth has yielded its increase.
God, even our own God, will bless us.
7 God will bless us.
All the ends of the earth shall fear him.
Proverbs 23:29-35
29 Who has woe?
Who has sorrow?
Who has strife?
Who has complaints?
Who has needless bruises?
Who has bloodshot eyes?
30 Those who stay long at the wine;
those who go to seek out mixed wine.
31 Don't look at the wine when it is red,
when it sparkles in the cup,
when it goes down smoothly.
32 In the end, it bites like a snake,
and poisons like a viper.
33 Your eyes will see strange things,
and your mind will imagine confusing things.
34 Yes, you will be as he who lies down in the middle of the sea,
or as he who lies on top of the rigging:
35 "They hit me, and I was not hurt!
They beat me, and I don't feel it!
When will I wake up? I can do it again.
I can find another."