I form the light and create darkness. I make peace and create calamity. I am God, who does all these things. Isaiah 45:7
Isaiah 44-45
The Lord has Chosen Israel
1 Yet listen now, Jacob my servant,
and Israel, whom I have chosen.
2 This is what the Lord who made you
and formed you from the womb,
who will help you says:
"Do not be afraid, Jacob my servant,
and you, Jeshurun, whom I have chosen.
3 For I will pour water on the land that is thirsty
and streams on the dry ground.
I will pour my Spirit on your descendants
and my blessing on your offspring,
4 and they will spring up among the grass,
like willows by the watercourses.
5 One will say, 'I am the Lord's,'
and another will be called by the name of Jacob,
and another will write on his hand 'to the Lord,'
and name himself by the name of Israel."
Only One is God
6 This is what the Lord, the King of Israel,
and his Redeemer, the Lord of Armies, says:
"I am the first, and I am the last,
and besides me there is no God.
7 Who is like me?
Who will call,
and will declare it,
and set it in order for me,
since I established the ancient people?
Let them declare the things that are coming
and what will take place.
8 Do not tremble or be afraid.
Have I not declared it and shown it to you long ago?
You are my witnesses.
Is there a God besides me?
Indeed, there is not.
I do not know any other Rock."
The Folly of Idolatry
9 Everyone who makes a carved image is nothing.
The things that they treasure are worthless.
Those who worship idols are blind and ignorant,
so they will be put to shame.
10 Who has fashioned a god
or molds an image that is profitable for nothing?
11 All the idol-worshipers will be put to shame,
the craftsmen are mere men.
Let them all be gathered together.
Let them stand up.
They will be terrified.
Together, they will be put to shame.
12 The blacksmith takes an ax,
works in the coals,
fashions it with hammers,
and works it with his strong arm.
He is hungry,
and his strength fails,
he drinks no water,
and is faint.
13 The carpenter stretches out a line.
He marks it out with a pencil.
He shapes it with planes.
He marks it out with compasses,
and shapes it into the figure of a human,
with all its the beauty,
placing it in a shrine.
14 He cuts down cedars for himself
and takes the cypress and the oak
and strengthens for himself one among the trees of the forest.
He plants a cypress tree,
and the rain nourishes it.
15 Then it will be fuel,
and he takes it and warms himself.
Yes, he burns it and bakes bread on it.
Then, he makes a god with it and worships it.
He makes it a carved image and falls down to it.
16 He burns part of it in the fire.
With part of it, he eats meat.
He cooks a roast and is satisfied.
Yes, he warms himself
and says, "Aha! I am warm. I have seen the fire."
17 The rest of it he makes into a god,
his own engraved image.
He bows down to it and worships
and prays to it, and says, "Deliver me, for you are my god!"
18 They do not understand, nor do they think about it;
for they have shut their eyes, so they cannot see,
and their hearts, that they cannot understand.
19 No one stops to consider it,
or has the knowledge or discernment to say,
"Part of it I used to burn fire.
Yes, I have baked bread on its coals.
I have roasted meat and eaten it.
Should I use the rest of it to make an abomination?
Shall I bow down to a tree trunk?"
20 He feeds on ashes.
A deceived heart has turned him astray,
and he cannot deliver himself,
nor can he say, "Is this not a lie in my own right hand?"
Jerusalem to be Restored
21 Remember these things, Jacob and Israel,
for you are my servant.
I have formed you.
You are my servant.
Israel, you will not be forgotten by me.
22 I have blotted out your transgressions like a cloud
and your sins, like a mist.
Return to me, for I have redeemed you.
23 Sing, you heavens, for the Lord has done it!
Shout, you lower parts of the earth!
Break out into singing, you mountains, O forest, all of your trees,
for the Lord has redeemed Jacob,
and will glorify himself in Israel.
24 The Lord, your Redeemer,
who formed you from the womb says:
"I am the Lord, the maker of all things,
who alone stretches out the heavens,
who spreads out the earth by myself,
25 who foils the signs of the false prophets,
and makes fools of diviners,
who confounds wise men,
and makes their knowledge foolishness,
26 who confirms the word of his servant,
and fulfills the counsel of his messengers,
who says of Jerusalem,
'She will be inhabited,'
and of the cities of Judah, 'They will be built,'
and 'I will raise up its wastelands,'
27 who says to the deep sea,
'Be dry,' and 'I will dry up your rivers,'
28 who says of Cyrus,
'He is my shepherd who will fulfill all I desire,'
speaking of Jerusalem,
'She will be built,'
and of the temple,
'Your foundation will be laid.' "
Isaiah 45
God Calls Cyrus
1 This is what the Lord says to Cyrus, his anointed,
whose right hand I have held, to subdue nations before him,
and strip kings of their armor,
to open the doors before him,
and the gates shall not be shut:
2 "I will go before you
and make the rough places smooth.
I will break the doors of bronze in pieces
and cut apart the bars of iron.
3 I will give you the treasures of darkness
and hidden riches of secret places,
that you may know that it is I, the Lord, the God of Israel,
who calls you by your name.
4 For Jacob my servant's sake,
and Israel my chosen,
I have called you by your name.
I have given you a title,
though you have not known me.
5 I am the Lord, and there is no one else.
Besides me, there is no God.
I will strengthen you,
though you have not known me,
6 that they may know
from the rising of the sun to its setting in the west,
that there is no one besides me.
I am the Lord, and there is no one else.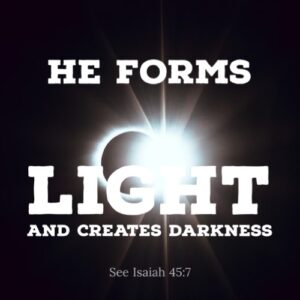 7 I form the light
and create darkness.
I make peace
and create calamity.
I am the Lord,
who does all these things.
8 Pour down, you heavens, from above,
and let the skies rain righteousness.
Let the earth open up and bring forth salvation,
and let righteousness spring up with it.
I the Lord have created it.
9 Woe to him who argues with his Maker—
a clay pot among the clay pots of the earth!
Should the clay ask him who formed it,
'What are you making?'
or does your work say, 'He has no hands?'
10 Woe to him who says to a father,
'What have you become the father of?'
or to a mother, 'What have you given birth to?' "
11 The Lord says,
the Holy One of Israel and his Maker:
"Do you question me about the things to come
concerning my children?
Are you commanding me
concerning the work of my hands!
12 I have made the earth, and created man on it.
With my own hands, I have stretched out the heavens.
Its entire host of stars, I command.
13 I have raised up Cyrus in righteousness,
and I will make all his ways straight.
He shall build my city,
and he shall let my exiles go free,
not for price nor reward," says the Lord of Hosts.
The Lord will Save
14 The Lord says: "The labor of Egypt,
and the merchandise of Ethiopia,
and the Sabeans, men of stature, will come to you,
and they will be yours.
They will go after you.
They shall come over in chains.
They will bow down to you.
They will plead with you:
'Surely God is with you, and there is no one else.
There is no other god.
15 Most certainly you are a God who has hidden yourself,
O God of Israel, the Savior.' "
16 The crafters of idols
will be put to shame and humiliated –all of them.
Together, they will go away disgraced.
17 Israel will be saved by the Lord
with an everlasting salvation.
You will be neither disappointed nor disgraced,
from age to age, everlasting.
18 For the Lord who created the heavens,
the God who formed the earth and made it,
who established it and did not create it to be a wasteland,
but formed it to be inhabited says:
"I am the Lord.
There is no other.
19 I have not spoken in secret,
in a place of the land of darkness.
I did not say to the offspring of Jacob, 'Seek me in vain.'
What I speak is righteous.
What I declare is truth.
20 "Come, gather together.
Draw near together, you fugitives of the nations,
the ignorant who carry wooden idols
and pray to a god that cannot save.
21 Declare your case and present it.
Yes, consult with one another.
Who has been predicting this since ancient times?
Was it not I, the Lord?
There is no other God besides me,
a just God and a Savior.
There is no one besides me.
22 "Look to me and be saved,
all the ends of the earth,
for I am God, and there is no other.
23 By myself, I have sworn.
Words of truth have come from my mouth
and will not be revoked,
that to me every knee shall bow
and every tongue shall swear allegiance.
24 They will say of me,
'In the Lord alone is all righteousness and strength.' "
To him will men come.
All those who raged against him will be put to shame.
25 All the offspring of Israel will be justified in the Lord,
and will rejoice!
Ephesians 3
The Mystery of the Gospel
1 For this reason I, Paul, the prisoner of Christ Jesus on behalf of you Gentiles, 2 if indeed you have heard of the stewardship of God's grace which was given to me for you, 3 the mystery was made known to me by revelation, that I wrote of briefly before. 4 When you read it, you can perceive my understanding in the mystery of Christ, 5 which in other generations was not made known to mankind, as it has now been revealed to his holy apostles and prophets in the Spirit: 6 the Gentiles are joint heirs and members of the same body, and partakers of his promise in Christ Jesus through the Gospel, 7 of which I was made a servant according to the gift of that grace of God which was given to me according to the working of his power.
8 To me, the very least of all saints, was this grace given, to preach to the Gentiles the unsearchable riches of Christ, 9 and to make all men see what is the administration of the mystery which for ages has been hidden in God, who created all things through Jesus Christ, 10 to the intent that now through the assembly the manifold wisdom of God might be made known to the principalities and the powers in the heavenly places, 11 according to the eternal purpose which he accomplished in Christ Jesus our Lord. 12 In him we have boldness and access in confidence through our faith in him. 13 Therefore I ask that you may not lose heart at my troubles for you, which are your glory.
Paul's Prayer for the Ephesians
14 For this reason, I bow my knees to the Father of our Lord Jesus Christ, 15 from whom every family in heaven and on earth is named, 16 that he would grant you, according to the riches of his glory, that you may be strengthened with power through his Spirit in the inner person, 17 that Christ may dwell in your hearts through faith, to the end that you, being rooted and grounded in love, 18 may be strengthened to comprehend with all the saints what is the width and length and height and depth, 19 and to know Christ's love which surpasses knowledge, that you may be filled with all the fullness of God.
20 Now to him who is able to do exceedingly abundantly above all that we ask or think, according to the power that works in us, 21 to him be the glory in the assembly and in Christ Jesus to all generations forever and ever. Amen.
Psalm 68:1-18
Let God's Enemies be Scattered
For the Chief Musician. A Psalm by David. A song.
1 Let God arise!
Let his enemies be scattered!
Let them who hate him also flee before him.
2 As smoke is driven away,
so drive them away.
As wax melts before the fire,
so let the wicked perish at the presence of God.
3 But let the righteous be glad.
Let them rejoice before God.
Yes, let them rejoice with gladness.
4 Sing to God! Sing praises to his name!
Exalt him who rides on the clouds:
His name is Yahweh!
Rejoice before him!
5 A father of the fatherless,
and a defender of the widows,
is God in his holy habitation.
6 God sets the lonely in families.
He brings out the prisoners with singing,
but the rebellious dwell in a sun-scorched land.
7 God, when you went out before your people,
when you marched through the wilderness,
Selah.
8 The earth trembled.
The sky also poured down rain
at the presence of the God of Sinai—
at the presence of God, the God of Israel.
9 You, God, sent a plentiful rain.
You confirmed your inheritance when it was weary.
10 Your congregation settled in it.
You, God, prepared your goodness for the poor.
11 The Lord announced the word.
The ones who proclaim it are a great company.
12 "Kings of armies flee! They flee!"
She who waits at home divides the plunder,
13 while you sleep among the camp fires,
the wings of a dove sheathed with silver,
her feathers with shining gold.
14 When the Almighty scattered kings in her,
it snowed on Zalmon.
15 The mountains of Bashan are majestic mountains.
The mountains of Bashan are rugged.
16 Why do you look in envy, you rugged mountains,
at the mountain where God chooses to reign?
Yes, the Lord will dwell there forever.
17 The chariots of God are tens of thousands and thousands of thousands.
The Lord is among them, from Sinai, in the sanctuary.
18 You have ascended on high.
You have led away captives.
You have received gifts among people,
yes, among the rebellious also,
that the Lord God might dwell there.
Proverbs 24:1-2
1 Do not be envious of evil men,
nor desire to be with them,
2 for their hearts plot violence
and their lips talk about mischief.
«       »