This I pray, that your love may abound yet more and more in knowledge and all discernment. Philippians 1:9
Isaiah 57-59
Isaiah 57
The Blessed Death of the Righteous
1 The righteous perish,
and no one takes it to heart.
Merciful men are taken away,
and no one considers
that the righteous one is taken away from evil.
2 He enters into peace.
They rest in their beds,
everyone who walks uprightly.
God Condemns Idolatry
3 "But come here, you sons of a sorceress,
you offspring of adulterers and prostitutes.
4 Whom do you mock?
Against whom do you make a face
and stick out your tongue?
Are you not children of rebels
and offspring of liars,
5 you who arouse yourselves with idols
among the oaks, under every green tree,
who sacrifice your children in the valleys,
under the clefts of the rocks?
6 Among the smooth stones of the valley,
that is your portion.
Yes, they are your lot.
You have even poured a drink offering to them.
You have offered up a grain offering.
Shall I be appeased with these things?
7 On a high and lofty mountain you have set your bed,
where you go to offer sacrifices to idols.
8 You have set up your memorial behind doors and posts.
Away from me, you have exposed yourself,
and have gone up, opened your bed,
and entered into an agreement with them.
You have loved their bed
and gazing on their nakedness.
9 You went to the king with oil,
adding to your perfumes,
sending your agents far off,
and degrading yourself to the depths of hell.
10 You wearied yourself with the depth of your ways,
yet you would never say, 'This is worthless.'
You found a way of reviving of your strength,
therefore you did not grow weak.
11 Whom did you so greatly fear,
that you lied and did not remember me or take it to heart?
Is it not because I have held my peace for such a long time,
that now you do not fear me?
12 I will declare your righteousness,
and as for your works, they will not benefit you.
13 When you cry,
let the idols you have gathered deliver you,
but the wind will take them away.
One breath will carry them all away,
but he who takes refuge in me will possess the land
and will inherit my holy mountain."
Healing for the Repentant
14 He says,
"Build up, build up, prepare the way!
Remove the obstacle out of the way of my people."
15 For the high and lofty One who inhabits eternity,
whose name is Holy, says:
"I dwell in the high and holy place,
with the humble and contrite in spirit,
to revive the spirit of the humble,
and to revive the heart of the contrite.
16 For I will not contend with you forever,
nor will I always be angry,
for their spirits would faint before me,
the creatures whom I have made.
17 For their sinful covetousness,
I was angry and punished them.
In my anger, I hid myself from them,
yet they went on backsliding
in the ways of their wicked hearts.
18 I have seen their ways and will heal them.
I will lead them also,
and restore comfort to them and to their mourners.
19 I create the fruit of the lips.
Peace, peace, to both him who is far off and to him who is near,"
says the Lord. "I will heal them."
20 But the wicked are like the troubled sea,
for it cannot rest and its waters stir up mire and mud.
21 "There is no peace", says my God, "for the wicked."
Isaiah 58
True Fasts and Sabbaths
1 "Cry out loud! Do not hold back!
Raise your voice like a trumpet!
Tell my people of their disobedience,
and to the house of Jacob, their sins.
2 Yet they seek me daily,
and appear to delight in knowing my ways,
as if they were a nation that practiced righteousness,
and did not forsake the ordinance of their God.
They ask for righteous judgments from me.
They delight in drawing near to God.
3 'Why have we fasted, they say, 'and you have not seen it?
Why have we humbled ourselves, and you do not notice?'
"On the day of your fast you do as you please,
and oppress all your laborers.
4 You fast for strife and contention,
and to strike with the fist of wickedness.
You shall not fast as you are doing this day,
to cause your voice to be heard on high.
5 Is this the kind of fast that I would choose:
A day for a man to humble himself
and bow his head down like a reed,
spreading sackcloth and ashes under himself?
Would you call this a fast,
and day pleasing to the Lord?
6 Is this not the fast that I have chosen:
Releasing the bonds of wickedness,
undoing the straps of the yoke,
letting the oppressed go free,
breaking every yoke?
7 Is it not for distributing your bread to the hungry,
and bringing the poor and rejected into your house?
When you see the naked, covering him,
not hiding yourself from your brother in need?
8 Then your light will dawn like the morning,
and your healing will soon come.
Your righteousness will go before you,
and the glory of the Lord will be your rear guard.
9 Then you will call, and the Lord will answer.
You will cry for help, and he will say, 'Here I am.'
If you would remove the yoke from among you,
the finger pointing and malicious talk,
10 and if you would extend yourself for the hungry,
and satisfy the troubled soul;
then your light would rise in the darkness,
and your darkness would be like the noonday,
11 and the Lord would always guide you,
and through the drought,
will satisfy your needs and give you strength.
You will be like a watered garden,
and like a spring of water whose waters never fail.
12 Your people will rebuild what lies in ruins.
You will raise up the foundations of many generations.
You will be called Repairer of the Breach,
Restorer of Paths and Homes.
13 If you turn your foot from breaking the Sabbath,
from doing your pleasure on my holy day,
and call the Sabbath a delight,
and the holy day of the Lord honorable,
and honor it, not going your own way,
nor finding your own pleasure,
nor speaking idle words,
14 then you will delight in the Lord,
and I will cause you to ride on the heights of the earth,
and I will feed you with the inheritance of Jacob your father;"
for the mouth of the Lord has spoken.
Isaiah 59
Sin Separates Us from God
1 Listen! The arm of the Lord is not too short that it cannot save,
nor his ear dull that it cannot hear.
2 But your sins have separated you and your God,
and your sins have hidden his face from you,
so that he will not hear.
3 For your hands are defiled with blood,
and your fingers with sin.
Your lips have spoken lies.
Your tongue utters perverse things.
4 No one sues for just causes,
and no one pleads for truth.
They trust in worthless pleas and speak lies.
They conceive trouble and give birth to sin.
5 They hatch vipers' eggs
and weave the spider's web.
He who eats of their eggs dies,
and he who crushes the egg, hatches a snake.
6 Their webs will not become garments.
Their works will not cover them.
Their works are works of sin,
and in their hands are acts of violence.
7 Their feet run to evil,
and they are quick to shed innocent blood.
Their thoughts are thoughts of sin.
Desolation and destruction are in their paths.
8 They do not know the way of peace,
and there is no justice in their ways.
They have made crooked paths for themselves,
and whoever goes in them will not know peace.
9 Therefore justice is far from us,
and righteousness does not reach us.
We look for light, but see darkness,
for brightness, but we walk in obscurity.
10 We grope for the wall like the blind.
Yes, we grope like those who have no eyes.
We stumble at noon as if it were twilight.
Among those who are strong, we are like dead men.
11 We all roar like bears
and moan bitterly like doves.
We look for justice, but there is none,
for salvation, but it is far from us.
12 For our transgressions are multiplied before you,
and our sins testify against us.
Our transgressions are with us,
and as for our iniquities, we know them:
13 transgressing and denying the Lord,
turning away from following our God,
speaking oppression and revolt,
conceiving and uttering from the heart, words of falsehood.
14 Justice is turned away,
and righteousness stands far away;
for truth has fallen in the street,
and uprightness cannot enter.
15 Yes, truth is lacking,
and he who departs from evil makes himself a prey.
The Lord saw,
and was displeased that there was no justice.
Salvation is Only of God
16 He saw and was amazed that there was no one,
not one to intercede.
Therefore his own arm brought him salvation,
and his own righteousness sustained him.
17 He put on righteousness like a breastplate,
and a helmet of salvation on his head.
He put on garments of vengeance for clothing,
and was clad with zeal like a mantle.
18 According to their deeds,
he will repay as appropriate,
wrath to his adversaries,
repayment to his enemies;
he will repay even the islands their due.
19 So from east to west they will fear the name of the Lord,
and his glory from the rising of the sun;
for he will come as a rushing stream,
driven by the breath of the Lord.
The Covenant of the Redeemer
20 "A Redeemer will come to Zion,
and to those who turn from disobedience in Jacob," says the Lord.
21 "As for me, this is my covenant with them," says the Lord. "My Spirit who is on you, and my words which I have put in your mouth shall not depart from you, nor from your offspring, nor from your offspring's offspring," says the Lord, "from now to forever."
Philippians 1
1 Paul and Timothy, servants of Jesus Christ;
To all the saints in Christ Jesus who are at Philippi, with the overseers and servants:
2 Grace to you, and peace from God our Father and the Lord Jesus Christ.
Thanksgiving and Prayer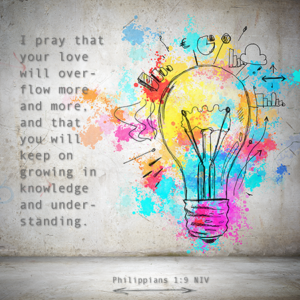 3 I thank my God whenever I remember you, 4 always in every request of mine on behalf of all of you, making my requests with joy, 5 for your partnership in furtherance of the Gospel from the first day until now. 6 I am confident of this, that he who began a good work in you will complete it until the day of Jesus Christ.
7 It is right for me to think this way on behalf of all of you, because I have you in my heart, because both in my bonds and in the defense and confirmation of the gospel, you all are partakers with me of grace. 8 For God is my witness, how I long after all of you in the tender mercies of Christ Jesus.
9 This I pray, that your love may abound yet more and more in knowledge and all discernment, 10 so that you may approve the things that are excellent, that you may be sincere and without offense to the day of Christ, 11 being filled with the fruits of righteousness, which are through Jesus Christ, to the glory and praise of God.
Paul's Chains Advance the Gospel
12 Now I desire to have you know, brothers, that the things which happened to me have turned out rather to the progress of the Gospel, 13 so that it became evident to the whole palace guard, and to all the rest, that my bonds are in Christ, 14 and that most of the brothers in the Lord, being confident through my bonds, are more abundantly bold to speak the word of God without fear.
15 Some indeed preach Christ out of envy and strife, and some also out of good will. 16 The former insincerely preach Christ from selfish ambition, thinking that they add affliction to my chains, 17 but the latter out of love, knowing that I am appointed for the defense of the gospel.
18 What does it matter? Only that in every way, whether in pretense or in truth, Christ is proclaimed. I rejoice in this, yes, I will rejoice. 19 For I know that this will turn out to my salvation, through your prayers and the supply of the Spirit of Jesus Christ, 20 according to my earnest expectation and hope. I will in no way be disappointed, but with all boldness, as always, now also Christ will be magnified in my body, whether by life or by death. 21 For me, to live is Christ, and to die is gain. 22 But if I live on in the flesh, this will bring fruit from my work, yet I do not know what I will choose. 23 But I am hard pressed between the two, having the desire to depart and be with Christ, which is far better. 24 Yet to remain in the flesh is more needful for your sake. 25 Having this confidence, I know that I will remain, yes, and will remain with you all for your progress and joy in the faith, 26 that your rejoicing may abound in Christ Jesus in me through my presence with you again.
Life Worthy of the Gospel
27 Only let your way of life be worthy of the gospel of Christ, that whether I come and see you or am absent, I may hear of your state, that you stand firm in one spirit, with one soul striving for the faith of the Gospel, 28 and in nothing frightened by the adversaries, which is for them proof of destruction, but to you of salvation, and that from God. 29 Because it has been granted to you on behalf of Christ, not only to believe in him, but also to suffer on his behalf, 30 having the same conflict which you saw in me and now hear is in me.
Psalm 71
Come Quickly to Help Me
1 In you, Lord, I take refuge.
Never let me be disgraced.
2 Deliver me in your righteousness, and rescue me.
Turn your ear to me, and save me.
3 Be my rock of refuge to which I may always go.
Give the command to save me,
for you are my rock and my fortress.
4 Rescue me, my God, from the hand of the wicked,
from the hand of the unrighteous and cruel man.
5 For you are my hope, Lord God,
my confidence from my youth.
6 I have relied on you from the womb.
You are he who took me out of my mother's womb.
I will always praise you.
7 I am a wonder to many,
but you are my strong refuge.
8 My mouth shall be filled with your praise,
with your honor all day long.
9 Do not reject me in my old age.
Do not forsake me when my strength fails.
10 For my enemies talk about me.
Those who watch for my soul conspire together,
11 saying, "God has forsaken him.
Pursue and take him, for no one will rescue him."
12 God, do not be far from me.
My God, hurry to help me.
13 Let my accusers be disappointed and consumed.
Let them be covered with disgrace and scorn who want to harm me.
14 But I will always hope,
and will add to all of your praise.
15 My mouth will tell about your righteousness,
and of your salvation all day,
though I do not know its full measure.
16 I will come with the mighty acts of the Lord God.
I will make mention of your righteousness, of yours alone.
17 God, you have taught me from my youth.
Until now, I have declared your wondrous works.
18 Yes, even when I am old and gray-haired, God, do not forsake me,
until I have declared your strength to the next generation,
your might to everyone who is to come.
19 Your righteousness also, God, reaches to the heavens.
You have done great things.
God, who is like you?
20 You, who have shown us many and bitter troubles,
you will let me live.
You will bring us back from the depths of the earth.
21 Increase my honor and comfort me again.
22 I will also praise you with the harp for your faithfulness, my God.
I sing praises to you with the lyre, Holy One of Israel.
23 My lips shall shout for joy!
My soul, which you have redeemed, sings praises to you!
24 My tongue will also talk about your righteousness all day long,
for they are disappointed, and they are confounded,
who want to harm me.
Proverbs 24:9-10
9 The schemes of folly are sin.
The mocker is detested by men.
10 If you falter in the time of trouble,
your strength is small.
«       »