They will call them "The Holy People,
The Redeemed of the Lord".
You will be called "Sought Out,
A City Not Forsaken".
Isaiah 62:12
Isaiah 60-62
Isaiah 60
Future Glory for Zion
1 "Arise! shine! For your light has come,
and the glory of the Lord is shining upon you.
2 For darkness will cover the earth
and thick darkness, the nations,
but the Lord will rise upon you,
and over you, his glory shall be seen.
3 Nations will come to your light,
and kings to the radiance of your dawn.
4 "Lift up your eyes all around and see:
they all gather together and come to you.
Your sons will come from far away,
and your daughters will be carried in arms.
5 Then you will see and be radiant,
and your heart will tremble with joy,
because the abundance of the sea will be brought to you.
The wealth of the nations will come to you.
6 A multitude of camels will cover you,
the dromedaries of Midian and Ephah.
All from Sheba will come.
They will bring gold and frankincense,
and will proclaim the praises of the Lord.
7 All the flocks of Kedar will be gathered together to you.
The rams of Nebaioth will serve you.
They will be accepted as offerings on my altar,
and I will beautify my glorious house.
8 "Who are these who fly like clouds,
like doves to their homes?
9 Surely the islands will wait for me,
and the ships of Tarshish will be first,
to bring your sons from afar,
their silver and their gold with them,
for the name of the Lord your God,
and for the Holy One of Israel,
because he has glorified you.
10 "Foreigners will build up your walls,
and their kings will serve you,
for in my anger I struck you,
but in my favor I have had mercy on you.
11 Your gates also shall be continually open. They shall not be shut day nor night, that men may bring to you the wealth of the nations, and their kings led captive.
12 For that nation and kingdom that will not serve you shall perish; those nations shall be utterly wasted.
13 "The glory of Lebanon shall come to you, the cypress tree, the pine, and the box tree together, to beautify the place of my sanctuary, and I will make the place of my feet glorious.
14 The sons of those who afflicted you will come bowing to you,
and all those who despised you will bow down at the soles of your feet.
They will call you the City of the Lord,
the Zion of the Holy One of Israel.
15 "Where you had been forsaken and hated,
so that no one would pass through you,
I will make you an eternal excellency,
a joy of many generations.
16 You will also drink the milk of the nations,
and will nurse from royal breasts.
Then you will know that I, the Lord, am your Savior,
your Redeemer, the Mighty One of Jacob.
17 For bronze I will bring gold.
For iron I will bring silver,
for wood, bronze, and for stones, iron.
I will also make peace your governor,
and righteousness your ruler.
18 Violence shall no more be heard in your land,
nor desolation or destruction within your borders;
but you will call your walls Salvation,
and your gates Praise.
19 The sun will no longer be your light by day,
nor will the brightness of the moon give light to you,
but the Lord will be your everlasting light,
and your God will be your glory.
20 Your sun will no longer go down,
nor will your moon withdraw itself;
for the Lord will be your everlasting light,
and the days of your mourning will end.
21 Then all your people will be righteous.
They will inherit the land forever,
the branch of my planting,
the work of my hands,
that I may be glorified.
22 The least will become a thousand,
and the smallest, a mighty nation.
In its time, I, the Lord, will accomplish this quickly."
Isaiah 61
The Year of the Lord's Favor
1 The Spirit of the Lord is on me;
because the Lord has anointed me
to preach good news to the humble.
He has sent me to bind up the brokenhearted,
to proclaim freedom to the captives,
and release to those who are bound;
2 to proclaim the year of the Lord's favor
and the day of vengeance of our God,
to comfort all who mourn,
3 to provide for those who mourn in Zion,
to give to them a crown of beauty for ashes,
the oil of joy for mourning,
the garment of praise for their heavy spirit,
that they may be called trees of righteousness,
a planting of the Lord to glorify him.
4 They will rebuild the ancient ruins.
They will restore the former desolate places.
They will repair the ruined cities
that have been devastated for many generations.
5 Strangers will stand and feed your flocks.
Foreigners will work your fields and your vineyards.
6 But you will be called the priests of the Lord.
Men will call you the servants of our God.
You will eat the wealth of the nations.
You will boast in their glory.
7 Instead of your shame you will have double.
Instead of dishonor, they will rejoice in their portion.
Therefore in their land they will possess double.
Everlasting joy will be theirs.
8 "For I, the Lord, love justice.
I hate robbery and iniquity.
I will give them their reward in truth,
and I will make an everlasting covenant with them.
9 Their offspring will be known among the nations,
and their offspring among the peoples.
All who see them will acknowledge them,
that they are the offspring which the Lord has blessed."
10 I will greatly rejoice in the Lord!
My soul rejoices in my God,
for he has clothed me with the garments of salvation.
He has covered me with the robe of righteousness,
as a bridegroom decks himself with a garland,
and as a bride adorns herself with her jewels.
11 For as the earth produces its bud,
and as the garden causes the things that are sown in it to spring up,
so the Lord God will cause righteousness and praise to spring up before all the nations.
Isaiah 62
Zion's Salvation and New Name
1 For Zion's sake I will not hold my peace,
and for Jerusalem's sake I will not rest,
until her righteousness shines out like the dawn,
and her salvation like the light of a lamp.
2 The nations will see your righteousness,
and all kings your glory.
You will be called by a new name,
a name bestowed from the mouth of the Lord.
3 You will also be a crown of beauty in the hand of the Lord,
and a royal diadem in your God's hand.
4 No longer will you be called Forsaken,
nor will your land be called Desolate;
but you will be called My Delight,
and your land Married
for the Lord delights in you,
and your land will be married.
5 For as a young man marries a young woman,
so your sons will marry you.
As a bridegroom rejoices over his bride,
so your God will rejoice over you.
6 I have set watchmen on your walls, Jerusalem.
They will never be silent day nor night.
You who call on the Lord, do not rest,
7 and give him no rest, until he establishes Jerusalem,
and until he makes Jerusalem the praise of the earth.
8 The Lord has sworn by his right hand,
and by his strong arm,
"Surely I will no longer give your grain as food for your enemies,
and foreigners will not drink your new wine, for which you have labored,
9 but those who have harvested it will eat it, and praise the Lord.
Those who have gathered it will drink it in the courts of my sanctuary."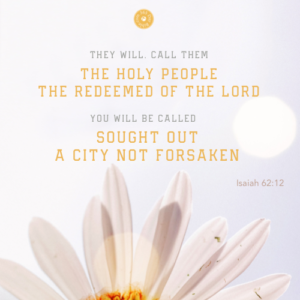 10 Go through, go through the gates!
Prepare the way of the people!
Build up, build up the highway!
Gather out the stones!
Lift up a banner for the nations.
11 The Lord has proclaimed to the ends of the earth,
"Say to the daughter of Zion,
'Your salvation comes!
His reward is with him,
and his reward is before him!' "
12 They will call them "The Holy People,
The Redeemed of the Lord".
You will be called "Sought Out,
A City Not Forsaken".
Philippians 2
Being One in Christ
1 If therefore there is any exhortation in Christ, if any consolation of love, if any fellowship of the Spirit, if any tender mercies and compassion, 2 make my joy full by being like-minded, having the same love, being of one accord, of one mind.
3 Do nothing through rivalry or through conceit, but in humility, each of you count others better than himself. 4 Each of you look, not only to his own interests, but each of you look also to the interests of others.
The Attitude of Christ
5 Have this in your mind, which was also in Christ Jesus, 6 who, existing in the form of God, did not consider equality with God something to be grasped, 7 but emptied himself, taking the form of a servant, being made in the likeness of men. 8 And being found in human form, he humbled himself, becoming obedient to the point of death, indeed, the death of the cross. 9 Therefore God also highly exalted him, and gave to him the name which is above every name, 10 that at the name of Jesus every knee should bow, of those in heaven, those on earth, and those under the earth, 11 and that every tongue should confess that Jesus Christ is Lord, to the glory of God the Father.
Shining Like Stars
12 So then, my beloved, just as you have always obeyed, not only in my presence, but now much more in my absence, work out your own salvation with fear and trembling. 13 For it is God who works in you both to will and to work, for his good pleasure. 14 Do all things without complaining and arguing, 15 that you may become blameless and harmless, children of God without defect in the midst of a crooked and perverse generation, among whom you are seen as lights in the world. 16 Hold up the word of life, that I may have something to boast in the day of Christ, that I did not run in vain nor labor in vain. 17 Yes, and if I am poured out on the sacrifice and service of your faith, I rejoice, and rejoice with all of you. 18 In the same way, you also rejoice, and rejoice with me.
Timothy and Epaphroditus
19 But I hope in the Lord Jesus to send Timothy to you soon, that I also may be cheered up when I know how you are doing. 20 For I have no one else like-minded, who will truly care about you. 21 For they all seek their own, not the things of Jesus Christ. 22 But you know the proof of him, that as a child serves a father, so he served with me in furtherance of the gospel. 23 Therefore I hope to send him at once, as soon as I see how it will go with me. 24 But I trust in the Lord that I myself also will come shortly.
Epaphroditus Commended
25 But I counted it necessary to send to you Epaphroditus, my brother, fellow worker, fellow soldier, and your apostle and minister of my needs, 26 since he longed for all of you, and was very troubled because you had heard that he was sick. 27 For indeed he was sick, nearly to death, but God had mercy on him, and not on him only, but on me also, that I might not have sorrow upon sorrow. 28 I have sent him therefore the more diligently, that when you see him again, you may rejoice, and that I may be the less sorrowful. 29 Receive him therefore in the Lord with all joy, and hold such people in honor, 30 because for the work of Christ he came near to death, risking his life to supply that which was lacking in your service toward me.
Psalm 72
By Solomon.
1 God, give your justice to the king,
and your righteousness to the royal son.
2 He will judge your people with righteousness,
and your poor with justice.
3 Let the mountains bring prosperity to the people,
and the hills, the fruit of righteousness.
4 He will judge the poor among the people.
He will save the children of the needy
and will break the oppressor in pieces.
5 They shall fear you while the sun endures,
and as long as the moon, throughout all generations.
6 He will come down like rain on the mowed grass,
as showers that water the earth.
7 In his days, the righteous shall flourish,
and abundance of peace, until the moon is no more.
8 He shall have dominion also from sea to sea,
from the River to the ends of the earth.
9 Those who dwell in the wilderness shall bow before him.
His enemies shall lick the dust.
10 The kings of Tarshish and of the islands will bring tribute.
The kings of Sheba and Seba shall offer gifts.
11 Yes, all kings shall fall down before him.
All nations shall serve him.
12 For he will deliver the needy when he cries,
the poor, who has no helper.
13 He will have pity on the poor and needy.
He will save the lives of the needy.
14 He will redeem them from oppression and violence.
Their blood will be precious in his sight.
15 They shall live, and to him shall be given of the gold of Sheba.
Men shall pray for him continually.
They shall bless him all day long.
16 Abundance of grain shall be throughout the land.
Its fruit sways like Lebanon.
Let it flourish, thriving like the grass of the field.
17 His name endures forever.
His name continues as long as the sun.
Men shall be blessed by him.
All nations will call him blessed.
18 Praise be to the Lord God, the God of Israel,
who alone does marvelous deeds.
19 Blessed be his glorious name forever!
Let the whole earth be filled with his glory!
Amen and amen.
20 This ends the prayers by David, the son of Jesse.
Proverbs 24:11-12
11 Rescue those who are being led away to death!
Indeed, hold back those who are staggering to the slaughter!
12 If you say, "We didn't know this,"
does he who weighs the hearts not consider it?
He who keeps your soul, does he not know it?
Shall he not render to every man according to his work?