I rejoice at your word, as one who finds great treasure. Psalm 119:162
2 Samuel 18
Absalom Killed
1 David counted the people who were with him and set captains of thousands and captains of hundreds over them. 2 David sent the people out, a third under the hand of Joab, a third under the hand of Abishai the son of Zeruiah, Joab's brother, and a third under the hand of Ittai the Gittite. The king said to the people, "I will also surely go out with you myself."
3 But the people said, "You shall not go out, for if we must flee, they will not care about us. Even if half of us die, they will not care about us. But you are worth 10,000 of us. Therefore now it is better that you are ready to help us from the city."
4 The king said to them, "I will do what seems best to you."
The king stood beside the gate, and all the people went out by hundreds and by thousands. 5 The king commanded Joab and Abishai and Ittai, saying, "Deal gently for my sake with the young man, Absalom." All the people heard when the king commanded all the captains concerning Absalom.
6 So the people went out into the field against Israel, and the battle was in the forest of Ephraim. 7 The people of Israel were struck there before David's servants, and there was a great slaughter there that day of 20,000 men. 8 The battle was spread over the face of the entire country, and the forest devoured more people that day than the sword devoured.
9 Absalom happened to meet David's servants. Absalom was riding on his mule, and the mule went under the thick boughs of a great oak. His head caught hold of the oak, and he was left hanging between the sky and earth, and the mule that was under him kept going. 10 A certain man saw it and told Joab and said, "I saw Absalom hanging in an oak."
11 Joab said to the man who told him, "You saw it, and why didn't you strike him there to the ground? I would have given you ten pieces of silver and a sash."
12 The man said to Joab, "Though I should receive a thousand pieces of silver in my hand, I still would not stretch out my hand against the king's son, for in our hearing the king commanded you and Abishai and Ittai, saying, 'Beware that no one touch the young man Absalom.' 13 Otherwise I would have dealt falsely against my own life, for there is no matter hidden from the king. Then you yourself would have set yourself against me."
14 Then Joab said, "I'm not going to wait like this with you." He took three spears in his hand and thrust them through the heart of Absalom while he was still alive in the middle of the oak. 15 Ten young men who bore Joab's armor surrounded and struck Absalom and killed him. 16 Joab blew the trumpet, and the people returned from pursuing after Israel, for Joab held the people back.
17 They took Absalom and cast him into a great pit in the forest and raised over him a very great heap of stones. Then all Israel fled, each to his own tent. 18 Now Absalom in his lifetime had taken and reared up for himself a pillar which is in the king's valley, for he said, "I have no son to keep my name in memory." He called the pillar after his own name. It is called Absalom's monument, to this day.
David Mourns for Absalom
19 Then Ahimaaz the son of Zadok said, "Let me now run and carry news to the king, how the Lord has avenged him of his enemies."
20 Joab said to him, "You must not be the bearer of news today, but you must carry news another day. But today you must carry no news, because the king's son is dead."
21 Then Joab said to the Cushite, "Go, tell the king what you have seen!" The Cushite bowed himself to Joab, and ran.
22 Then Ahimaaz the son of Zadok said yet again to Joab, "But come what may, please let me also run after the Cushite."
Joab said, "Why do you want to run, my son, since you will have no reward for the news?"
23 "But come what may," he said, "I will run."
He said to him, "Run!" Then Ahimaaz ran by the way of the Plain and outran the Cushite.
24 Now David was sitting between the two gates, and the watchman went up to the roof of the gate to the wall and looked up, and a man was running alone. 25 The watchman cried and told the king. The king said, "If he is alone, there is news in his mouth." He came closer and closer.
26 The watchman saw another man running, and the watchman called to the gatekeeper and said, "Look, there is another man running alone!"
The king said, "He also brings news."
27 The watchman said, "I think the way the first one runs looks like the way Ahimaaz the son of Zadok runs."
The king said, "He is a good man and comes with good news."
28 Ahimaaz called out to the king, "All is well." He bowed before the king with his face to the earth and said, "Blessed is the Lord your God, who has delivered up the men who lifted up their hand against my lord the king!"
29 The king said, "Is it well with the young man Absalom?"
Ahimaaz answered, "When Joab sent the king's servant, me your servant, I saw a great tumult, but I don't know what it was."
30 The king said, "Come and stand here." He came and stood still.
31 The Cushite came. The Cushite said, "News for my lord the king, for the Lord has avenged you today of all those who rose up against you."
32 The king said to the Cushite, "Is it well with the young man Absalom?"
The Cushite answered, "May the enemies of my lord the king and all who rise up against you to do you harm, be like that young man is."
33 The king was deeply moved and went up to the room over the gate and wept. As he went, he said, "My son Absalom! My son, my son Absalom! I wish I had died for you, Absalom, my son, my son!"
John 20
The Resurrection
1 Now on the first day of the week, Mary Magdalene went early, while it was still dark, to the tomb and saw the stone taken away from the tomb. 2 She ran and came to Simon Peter and to the other disciple whom Jesus loved and said to them, "They have taken away the Lord, out of the tomb, and we don't know where they have laid him!"
3 So Peter and the other disciple went out, and they went toward the tomb. 4 They both ran together. The other disciple outran Peter and came to the tomb first. 5 Stooping and looking in, he saw the linen cloths lying, yet he did not enter in. 6 Then Simon Peter came, following him, and entered into the tomb. He saw the linen cloths lying 7 and the cloth that had been on his head, not lying with the linen cloths, but rolled up in a place by itself. 8 So then the other disciple who came first to the tomb also entered in, and he saw and believed. 9 For as yet they did not know the Scripture, that he must rise from the dead.
Jesus Appears to Mary Magdealene
10 So the disciples went away again to their own homes.
11 But Mary was standing outside at the tomb weeping. So as she wept, she stooped and looked into the tomb, 12 and she saw two angels in white sitting, one at the head, and one at the feet, where the body of Jesus had lain. 13 They asked her, "Woman, why are you weeping?"
She said to them, "Because they have taken away my Lord, and I don't know where they have laid him." 14 When she had said this, she turned around and saw Jesus standing and did not know that it was Jesus.
15 Jesus said to her, "Woman, why are you weeping? Who are you looking for?"
Supposing him to be the gardener, she said to him, "Sir, if you have taken him away, tell me where you have laid him, and I will take him away."
16 Jesus said to her, "Mary."
She turned and said to him, "Rabboni!" which is to say, "Teacher!"
17 Jesus said to her, "Do not hold me, for I have not yet ascended to my Father, but go to my brothers and tell them, 'I am ascending to my Father and your Father, to my God and your God.' "
18 Mary Magdalene went and told the disciples that she had seen the Lord and that he had said these things to her.
Jesus Appears to the Disciples
19 When it was evening on that day, the first day of the week, and when the doors were locked where the disciples were assembled, for fear of the Jews, Jesus came and stood in the midst and said to them, "Peace be with you."
20 When he had said this, he showed them his hands and his side. The disciples rejoiced when they saw the Lord. 21 Jesus said to them again, "Peace be with you. As the Father has sent me, so I am sending you." 22 When he had said this, he breathed on them and said to them, "Receive the Holy Spirit! 23 If you forgive anyone's sins, they have been forgiven of them. If you retain anyone's sins, they have been retained."
Jesus Appears to Thomas
24 But Thomas, one of the twelve, called Didymus, was not with them when Jesus came. 25 The other disciples said to him, "We have seen the Lord!"
But he said to them, "Unless I see in his hands the print of the nails, put my finger into the print of the nails, and put my hand into his side, I will not believe."
26 After eight days, again his disciples were inside, and Thomas was with them. Jesus came, the doors being locked, and stood in their midst and said, "Peace be with you." 27 Then he said to Thomas, "Reach here your finger and see my hands. Reach here your hand and put it into my side. Do not be unbelieving, but believe."
28 Thomas answered him, "My Lord and my God!"
29 Jesus said to him, "Because you have seen me, you have believed. Blessed are those who have not seen and have believed."
The Purpose of John's Book
30 Jesus did many other signs in the presence of his disciples, which are not written in this book, 31 but these are written, that you may believe that Jesus is the Messiah, the Son of God, and that believing, you may have life in his name.
Psalm 119:153-176
RESH
153 Consider my affliction, and deliver me,
for I do not forget your law.
154 Plead my cause and redeem me!
Revive me according to your promise.
155 Salvation is far from the wicked,
for they do not seek your statutes.
156 Great are your tender mercies, O Lord.
Revive me according to your ordinances.
157 Many are my persecutors and my adversaries.
I have not turned from your testimonies.
158 I look at the faithless with loathing,
because they do not observe your word.
159 Consider how I love your precepts.
Revive me, O Lord, according to your loving kindness.
160 All of your words are truth.
Every one of your righteous ordinances endures forever.
SIN AND SHIN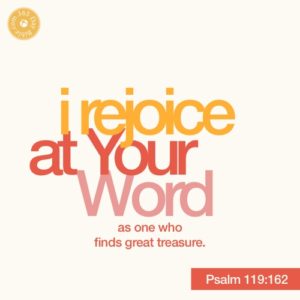 161 Princes have persecuted me without a cause,
but my heart stands in awe of your words.
162 I rejoice at your word,
as one who finds great treasure.
163 I hate and abhor falsehood.
I love your law.
164 Seven times a day, I praise you,
because of your righteous ordinances.
165 Those who love your law have great peace.
Nothing causes them to stumble.
166 I have hoped for your salvation, Lord.
I have done your commandments.
167 I have observed your testimonies.
I love them greatly.
168 I have obeyed your precepts and your testimonies,
for all my ways are before you.
TAV
169 Let my cry come before you, O Lord.
Give me understanding according to your word.
170 Let my supplication come before you.
Deliver me according to your word.
171 Let my lips utter praise,
for you teach me your statutes.
172 Let my tongue sing of your word,
for all your commandments are righteousness.
173 Let your hand be ready to help me,
for I have chosen your precepts.
174 I have longed for your salvation, O Lord.
Your law is my delight.
175 Let me live, that I may praise you.
Let your ordinances help me.
176 I have gone astray like a lost sheep.
Seek your servant, for I do not forget your commandments.
Proverbs 16:14-15
14 The king's wrath is a messenger of death,
but a wise man will pacify it.
15 In the light of the king's face is life.
His favor is like a cloud of the spring rain.
«      »