Have I not commanded you? Be strong and courageous. Do not be afraid. Do not be dismayed, for the Lord your God is with you wherever you go." Joshua 1:9
Joshua 1-2
God Commissions Joshua
1 Now after the death of Moses the servant of the Lord, the Lord spoke to Joshua the son of Nun, Moses' servant, saying, 2 "Moses my servant is dead. Now therefore get up and go across this Jordan, you and all these people, to the land which I am giving to the Israelites.
3 I have given you every place that the sole of your foot will tread on, as I told Moses. 4 From the wilderness and this Lebanon to the great river, the river Euphrates, all the land of the Hittites, and to the great sea toward the going down of the sun, shall be your border. 5 No man will be able to stand before you all the days of your life. As I was with Moses, so I will be with you. I will not fail you nor forsake you.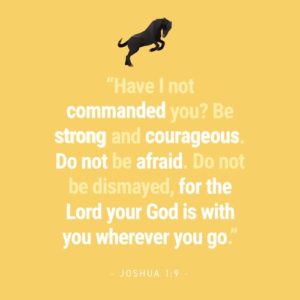 6 Be strong and courageous, for you shall cause this people to inherit the land which I swore to their fathers to give them. 7 Only be strong and very courageous. Be careful to do everything according to the entire law which Moses my servant commanded you. Do not turn from it to the right or to the left, that you may have good success wherever you go. 8 This book of the law shall not depart from your mouth, but you shall meditate on it day and night, that you may be careful to do everything according to all that is written in it, for then you shall make your way prosperous, and then you shall have good success.
9 Have I not commanded you? Be strong and courageous. Do not be afraid. Do not be dismayed, for the Lord your God is with you wherever you go."
Joshua Takes Charge
10 Then Joshua commanded the officers of the people, saying, 11 "Pass through the midst of the camp and command the people, saying, 'Prepare food, for within three days you are to pass over this Jordan, to go in to possess the land which the Lord your God is giving you to possess.' "
12 Joshua spoke to the Reubenites and to the Gadites and to the half-tribe of Manasseh, saying, 13 "Remember the word which Moses the servant of God commanded you, saying, 'The Lord your God gives you rest and will give you this land.'
14 Your wives, your little ones, and your livestock shall live in the land which Moses gave you beyond the Jordan, but you shall pass over before your brothers armed, all the mighty men of valor, and shall help them 15 until the Lord has given your brothers rest, as he has given you, and they have also possessed the land which the Lord your God is giving them. Then you shall return to the land of your possession and possess it, which Moses the servant of God gave you beyond the Jordan toward the sunrise.' "
16 They answered Joshua, saying, "All that you have commanded us we will do, and wherever you send us we will go. 17 Just as we listened to Moses in all things, so will we listen to you. Only may the Lord your God be with you, as he was with Moses. 18 Whoever rebels against your commandment and does not listen to your words in all that you command him shall himself be put to death. Only be strong and courageous."
Rahab Welcomes the Spies
1 Joshua the son of Nun secretly sent two men out of Shittim as spies, saying, "Go, view the land, including Jericho." They went and came into the house of a prostitute whose name was Rahab, and slept there.
2 The king of Jericho was told, "Men from the Israelites came in here tonight to spy out the land."
3 Jericho's king sent to Rahab, saying, "Bring out the men who have come to you, who have entered into your house; for they have come to spy out all the land."
4 The woman took the two men and hid them. Then she said, "Yes, the men came to me, but I didn't know where they came from. 5 About the time of the closing of the gate, when it was dark, the men went out. Where the men went, I don't know. Pursue them quickly. You may catch up with them." 6 But she had brought them up to the roof and hidden them under the stalks of flax which she had laid in order on the roof. 7 The men pursued them along the way to the fords of the Jordan River. As soon as those who pursued them had gone out, they shut the gate.
8 Before they had lain down, she came up to them on the roof. 9 She said to the men, "I know that the Lord has given you the land and that the fear of you has fallen upon us and that all the inhabitants of the land melt in fear before you. 10 For we have heard how the Lord dried up the water of the Red Sea before you, when you came out of Egypt, and what you did to the two kings of the Amorites, who were beyond the Jordan, to Sihon and to Og, whom you utterly destroyed.
11 As soon as we had heard it, our hearts melted, and there was no courage left in any man because of you, for the Lord your God, he is the Lord in heaven above, and on earth beneath. 12 Now therefore, please swear to me by the Lord, since I have dealt kindly with you, that you also will deal kindly with my father's house and give me a true sign, 13 and that you will spare the lives of my father, my mother, my brothers, and my sisters, and all that they have, and will deliver our lives from death."
14 The men said to her, "Our life for yours, if you do not talk about this business of ours, and it shall be, when the Lord gives us the land, that we will deal kindly and truly with you."
The Promise to Rahab
15 Then she let them down by a cord through the window, for her house was on the side of the wall, and she lived on the wall. 16 She said to them, "Go to the mountain, lest the pursuers find you. Hide yourselves there for three days, until the pursuers have returned. Afterward, you may go your way."
17 The men said to her, "We will be guiltless of this your oath which you have made us swear. 18 When we come into the land, tie this line of scarlet thread in the window which you used to let us down. Gather your father, your mother, your brothers, and all your father's household into the house. 19 It shall be that whoever goes out of the doors of your house into the street, his blood will be on his head, and we will be guiltless. Whoever is with you in the house, his blood shall be on our head, if any hand is on him. 20 But if you talk about this business of ours, then we shall be guiltless of your oath which you have made us swear."
21 She said, "Let it be as you have said." She sent them away, and they departed. Then she tied the scarlet line in the window.
22 They went out and came to the mountain and stayed there three days, until the pursuers had returned. The pursuers sought them all along the way, but did not find them. 23 Then the two men returned, descended from the mountain, crossed the river, and came to Joshua the son of Nun. They told him all that had happened to them. 24 They said to Joshua, "Truly the Lord has delivered the entire land into our hands. Moreover, all the inhabitants of the land melt in fear before us."
Luke 13:22-14:6
The Narrow Gate
22 Jesus went on his way through cities and villages, teaching, and traveling on to Jerusalem. 23 One said to him, "Lord, are they few who are saved?"
He said to them, 24 "Strive to enter in by the narrow door, for many, I tell you, will seek to enter in and will not be able. 25 When once the master of the house has risen up and has shut the door, and you begin to stand outside and to knock at the door, saying, 'Lord, Lord, open to us!' then he will answer and tell you, 'I do not know you or where you come from.'
26 Then you will begin to say, 'We ate and drank in your presence, and you taught in our streets.' 27 He will say, 'I tell you, I do not know where you come from. Depart from me, all you workers of iniquity.'
28 There will be weeping and gnashing of teeth when you see Abraham, Isaac, Jacob, and all the prophets in the Kingdom of God, and yourselves being thrown outside. 29 They will come from the east, west, north, and south, and will sit down in the Kingdom of God. 30 There are some who are last who will be first, and there are some who are first who will be last."
Lament over Jerusalem
31 On that same day, some Pharisees came, saying to him, "Get out of here and go away, for Herod wants to kill you."
32 He said to them, "Go and tell that fox, 'I am casting out demons and performing cures today and tomorrow, and on the third day I will complete my mission. 33 Nevertheless I must go on my way today and tomorrow and the next day, for it cannot be that a prophet would perish outside of Jerusalem.'
34 "Jerusalem, Jerusalem, you who kills the prophets and stones those who are sent to her! How often I wanted to gather your children together, like a hen gathers her own brood under her wings, and you refused! 35 Your house is left to you desolate. I tell you, you will not see me until you say, 'Blessed is he who comes in the name of the Lord!' "
Jesus Heals a Man with Dropsy
1 When Jesus went into the house of one of the rulers of the Pharisees on a Sabbath to eat bread, they were watching him. 2 A certain man who had dropsy was in front of him. 3 Jesus, answering, spoke to the lawyers and Pharisees, saying, "Is it lawful to heal on the Sabbath?" 4 But they were silent. He took him and healed him and let him go. 5 He answered them, "Which of you, if your son or an ox fell into a well, would not immediately pull him out on a Sabbath day?"
6 They could not answer him regarding these things.
A Prayer for Deliverance
A Psalm by Asaph.
1 Foreigners, O God, have invaded your inheritance.
They have defiled your holy temple.
They have laid Jerusalem in heaps.
2 They have given the dead bodies of your servants
to be food for the birds of the sky,
the flesh of your saints to the animals of the earth.
3 They have shed their blood like water around Jerusalem.
There was no one to bury them.
4 We have become an object of reproach to our neighbors,
a mockery and derision to those who are around us.
5 How long, Lord?
Will you be angry forever?
Will your jealousy burn like fire?
6 Pour out your wrath on the nations that do not know you,
on the kingdoms that do not call on your name,
7 for they have devoured Jacob,
and destroyed his homeland.
8 Do not hold the iniquities of our forefathers against us.
Let your tender mercies speedily meet us,
for we are in desperate need.
9 Help us, God of our salvation, for the glory of your name.
Deliver us, and forgive our sins, for your name's sake.
10 Why should the nations say, "Where is their God?"
Let it be known among the nations, before our eyes,
that vengeance for your servants' blood is being poured out.
11 Let the sighing of the prisoner come before you.
According to the greatness of your power,
preserve those who are sentenced to death.
12 Pay back to our neighbors seven times into their bosom
the reproach with which they have reproached you, Lord.
13 So we, your people and sheep of your pasture,
will give you thanks forever.
We will praise you forever, to all generations.
Proverbs 12:26
26 A righteous person is cautious in friendship,
but the way of the wicked leads them astray.
«     »