By this everyone will know that you are my disciples: if you have love for one another. John 13:35
2 Samuel 4-6
2 Samuel 4
The Murder of Ishbosheth
1 When Saul's son, Ishbosheth, heard that Abner was dead in Hebron, his hands became feeble, and all the Israelites were troubled. 2 Saul's son had two men who were captains of raiding bands. The name of one was Baanah, and the name of the other Rechab, the sons of Rimmon the Beerothite, of the Benjaminites (for Beeroth also is considered a part of Benjamin, 3 and the Beerothites fled to Gittaim and have lived as foreigners there until today).
4 Now Jonathan, Saul's son, had a son who was lame in his feet. He was five years old when the news from Jezreel came about Saul and Jonathan, and his nurse picked him up and fled. As she hurried to flee, he fell and became crippled. His name was Mephibosheth.
5 The sons of Rimmon the Beerothite, Rechab and Baanah, set out for the house of Ishbosheth and arrived at about the heat of the day as he took his rest at noon. 6 They came there into the midst of the house, as if they were fetching wheat, and they stabbed him in the stomach, and Rechab and Baanah his brother escaped. 7 Now when they came into the house, as he lay on his bed in his bedroom, they stabbed him, killed him, beheaded him, and took his head, and went by the way of the Arabah all night. 8 They brought the head of Ishbosheth to David to Hebron, and said to the king, "Here is the head of Ishbosheth, the son of Saul, your enemy, who sought your life! The Lord has avenged my lord the king today of Saul, and of his offspring."
David Executes the Murderers
9 David answered Rechab and Baanah his brother, the sons of Rimmon the Beerothite, and said to them, "As the Lord lives, who has redeemed my soul from all adversity, 10 when someone told me, 'Saul is dead,' thinking that he brought good news, I seized him and killed him in Ziklag, which was the reward I gave him for his news. 11 How much more, when wicked men have slain a righteous person in his own house on his bed, should I not now require his blood from your hand, and rid the earth of you?" 12 David commanded his young men, and they killed them, cut off their hands and their feet, and hanged them up beside the pool in Hebron. But they took the head of Ishbosheth, and buried it in Abner's grave in Hebron.
2 Samuel 5
David Anointed King over Israel
1 Then all the tribes of Israel came to David at Hebron and spoke, saying, "We are your flesh and blood. 2 In times past, when Saul was king over us, it was you who led Israel out and in. The Lord said to you, 'You will be shepherd of my people Israel, and you will be ruler over Israel.' " 3 So all the elders of Israel came to the king to Hebron, and king David made a covenant with them in Hebron before the Lord, and they anointed David king over Israel.
4 David was 30 years old when he began to reign, and he reigned 40 years. 5 In Hebron he reigned over Judah seven years and six months, and in Jerusalem he reigned 33 years over all Israel and Judah. 6 The king and his men went to Jerusalem against the Jebusites, the inhabitants of the land, who spoke to David, saying, "The blind and the lame will keep you out of here;" thinking, "David can't come in here." 7 Nevertheless David took the stronghold of Zion. This is the city of David. 8 David said on that day, "Whoever strikes the Jebusites, let him go up to the watercourse and strike those lame and blind, who are hated by David." Therefore they say, "The blind and the lame cannot come into the house."
9 David lived in the stronghold and called it the city of David. David built around from Millo and inward. 10 David grew greater and greater, for the Lord, the God of Hosts, was with him.
11 Hiram king of Tyre sent messengers to David, with cedar trees, carpenters, and masons; and they built David a house.
David's Family Grows
12 David perceived that the Lord had established him king over Israel and that he had exalted his kingdom for his people Israel's sake.
13 David took more concubines and wives for himself out of Jerusalem after he had come from Hebron, and more sons and daughters were born to David. 14 These are the names of those who were born to him in Jerusalem: Shammua, Shobab, Nathan, Solomon, 15 Ibhar, Elishua, Nepheg, Japhia, 16 Elishama, Eliada, and Eliphelet.
David Defeats the Philistines
17 When the Philistines heard that they had anointed David king over Israel, all the Philistines went up to seek David, but David heard about it and went down to the stronghold. 18 Now the Philistines had come and spread themselves in the valley of Rephaim. 19 David inquired of the Lord, saying, "Shall I go up against the Philistines? Will you deliver them into my hand?"
The Lord said to David, "Go up, for I will certainly deliver the Philistines into your hand."
20 David came to Baal Perazim, and David struck them there. Then he said, "The Lord has broken my enemies before me, like the breach of waters." Therefore he called that place Baal Perazim. 21 They left their images there, and David and his men took them away.
22 The Philistines came up yet again, and spread themselves in the valley of Rephaim. 23 When David inquired of the Lord, he said, "You shall not go up. Circle around behind them and attack them in front of the mulberry trees. 24 When you hear the sound of marching in the tops of the mulberry trees, then stir yourself up, for then the Lord has gone out before you to strike the army of the Philistines."
25 David did so, as the Lord commanded him and struck the Philistines all the way from Geba to Gezer.
2 Samuel 6
David Moves the Ark
1 David again gathered together all the chosen men of Israel, 30,000. 2 David arose and went with all the people who were with him, from Baale Judah, to bring up from there the Ark of God, which is called by the Name, the name of the Lord of Hosts who sits above the cherubim. 3 They set the Ark of God on a new cart and brought it out of Abinadab's house that was on the hill, and Uzzah and Ahio, the sons of Abinadab, drove the new cart. 4 They brought it out with the Ark of God from Abinadab's house, which was in the hill, and Ahio went before the ark.
Uzzah and the Ark
5 David and all the house of Israel played before the Lord with all kinds of instruments made of cypress wood, with harps, with stringed instruments, with tambourines, with castanets, and with cymbals.
6 When they came to the threshing floor of Nacon, Uzzah reached for the Ark of God and took hold of it, for the cattle stumbled. 7 The Lord's anger burned against Uzzah, and the Lord struck him there for his error, and he died there by the Ark of God.
8 David was displeased, because the Lord had broken out against Uzzah. and he called that place Perez Uzzah, to this day. 9 David was afraid of the Lord that day, and he said, "How could the Ark of the Lord come to me?" 10 So David would not move the Ark of the Lord to be with him in the city of David, but David carried it aside into Obed-Edom the Gittite's house. 11 The Ark of God remained in Obed-Edom the Gittite's house three months, and the Lord blessed Obed-Edom and all his house.
The Ark Brought to Jerusalem
12 King David was told, "The Lord has blessed the house of Obed-Edom, and all that belongs to him, because of the Ark of God."
So David went and brought up the Ark of God from the house of Obed-Edom into the city of David, with joy. 13 When those who bore the Ark of God had gone six paces, he sacrificed an ox and a fattened calf. 14 David danced before the Lord with all his might, and David was clothed in a linen ephod. 15 So David and all the house of Israel brought up the Ark of the Lord with shouting and with the sound of the trumpet.
Michal's Contempt for David
16 As the Ark of the Lord came into the city of David, Michal the daughter of Saul looked out through the window and saw king David leaping and dancing before the Lord, and she despised him in her heart.
17 They brought in the Ark of the Lord and set it in its place, in the middle of the tent that David had pitched for it, and David offered burnt offerings and peace offerings before the Lord. 18 When David had finished offering the burnt offering and the peace offerings, he blessed the people in the name of the Lord of Hosts. 19 He gave to all the people, among the whole multitude of Israel, both to men and women, to everyone, a portion of bread, dates, and raisins. So all the people departed, each to his own house.
20 Then David returned to bless his household. Michal the daughter of Saul came out to meet David and said, "How glorious the king of Israel was today, who uncovered himself today in the eyes of the maids of his servants, like one of the vulgar people shamelessly uncovers himself!"
21 David said to Michal, "It was before the Lord, who chose me above your father, and above all his house, to appoint me ruler over the Lord's people, over Israel. Therefore I will celebrate before the Lord. 22 I will be yet more vile than this and will be worthless in my own sight. But the maids of whom you have spoken will honor me."
23 Michal the daughter of Saul had no child to the day of her death.
John 13:31-14:14
A New Commandment I Give You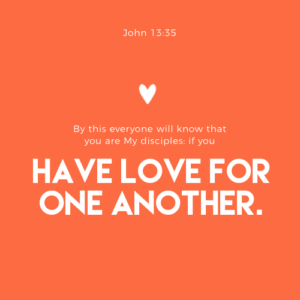 31 When Jesus had gone out, he said, "Now the Son of Man has been glorified, and God has been glorified in him. 32 If God has been glorified in him, God will also glorify him in himself and glorify him immediately. 33 Little children, I will be with you a little while longer. You will seek me, and as I said to the Jews, 'Where I am going, you cannot come,' so now I tell you. 34 A new commandment I give to you, that you love one another. Just as I have loved you, you also love one another. 35 By this everyone will know that you are my disciples: if you have love for one another."
Jesus Predicts Peter's Denial
36 Simon Peter said to him, "Lord, where are you going?"
Jesus answered, "Where I am going, you cannot follow now, but you will follow afterwards."
37 Peter said to him, "Lord, why can't I follow you now? I will lay down my life for you."
38 Jesus answered him, "Will you lay down your life for me? Most certainly I tell you, the rooster will not crow until you have denied me three times.
John 14
Jesus Comforts the Disciples
1  "Do not let your heart be troubled. Believe in God. Believe also in me. 2 In my Father's house are many homes. If this were not so, would I have told you that I am going to prepare a place for you? 3 If I go and prepare a place for you, I will come back and will receive you to myself, that where I am, you may be there also. 4 You know where I am going, and you know the way."
The Way, the Truth, and the Life
5 Thomas said to him, "Lord, we don't know where you are going. How can we know the way?"
6 Jesus said to him, "I am the way, the truth, and the life. No one comes to the Father, except through me. 7 If you had known me, you would have known my Father also. From now on, you know him and have seen him."
8 Philip said to him, "Lord, show us the Father, and that will be enough for us."
9 Jesus said to him, "Have I been with you such a long time, and you do not know me, Philip? He who has seen me has seen the Father. How can you say, 'Show us the Father?' 10 Do you not believe that I am in the Father, and the Father in me? The words that I tell you, I speak not from myself, but the Father who lives in me does his works. 11 Believe me that I am in the Father, and the Father in me, or else believe me because of the works. 12 Most certainly I tell you, he who believes in me, the works that I do, he will do also, and he will do greater works than these because I am going to my Father. 13 Whatever you will ask in my name, I will do it, that the Father may be glorified in the Son. 14 If you will ask anything in my name, I will do it.
Jesus Promises the Holy Spirit
15 If you love me, keep my commandments.
16 I will pray to the Father, and he will give you another Counselor, that he may be with you forever: 17 the Spirit of truth, whom the world cannot receive, for it does not see him and does not know him. You know him, for he lives with you, and will be in you.
18 I will not leave you orphans. I will come to you. 19 Yet a little while and the world will see me no more, but you will see me. Because I live, you will live also. 20 On that day you will know that I am in my Father, and you in me, and I in you. 21 One who has my commandments and keeps them, that person is one who loves me. One who loves me will be loved by my Father, and I will love him, and will reveal myself to him."
Psalm 119:17-32
GIMEL
17 Do good to your servant.
I will live and I will obey your word.
18 Open my eyes that I may see
wondrous things from your law.
19 I am a stranger on the earth.
Do not hide your commandments from me.
20 My soul is consumed with longing
for your ordinances at all times.
21 You have rebuked the proud who are cursed,
who wander from your commandments.
22 Take reproach and contempt away from me,
for I have kept your statutes.
23 Though princes sit and slander me,
your servant will meditate on your statutes.
24 Indeed your statutes are my delight,
and my counselors.
DALED
25 My soul is laid low in the dust.
Revive me according to your word!
26 I declared my ways, and you answered me.
Teach me your statutes.
27 Let me understand the teaching of your precepts!
Then I will meditate on your wondrous works.
28 My soul is weary with sorrow.
Strengthen me according to your word.
29 Keep me from the way of deceit.
Grant me your law graciously!
30 I have chosen the way of truth.
I have set your ordinances before me.
31 I cling to your statutes, Lord.
Do not let me be disappointed.
32 I run in the path of your commandments,
for you have set my heart free.
Proverbs 15:31-32
31 The ear that listens to reproof lives,
and will be at home among the wise.
32 He who refuses correction despises his own soul,
but he who listens to reproof gets understanding.
«      »