For I know the plans that I have for you," says the Lord, "plans to prosper you, and not to harm you, to give you hope and a future. Jeremiah 29:11
Jeremiah 28-29
Jeremiah 28
Hananiah's False Prophecy
1 That same year, at the beginning of Zedekiah, king of Judah's reign, in the fifth month of the fourth year, Hananiah the son of Azzur, the prophet, who was of Gibeon, spoke to me in the house of the Lord, in the presence of the priests and of all the people, saying, 2 "The Lord of Hosts, the God of Israel, says, 'I have broken the yoke of the king of Babylon. 3 Within two full years I will bring back into this place all the vessels of the house of the Lord, that Nebuchadnezzar king of Babylon took from here, and carried to Babylon. 4 I will bring back Jeconiah the son of Jehoiakim, king of Judah, with all the captives of Judah, who went to Babylon,' says the Lord, 'for I will break the yoke of the king of Babylon.' "
5 Then the prophet Jeremiah said to the prophet Hananiah in the presence of the priests and in the presence of all the people who stood in the house of the Lord, 6 the prophet Jeremiah said, "Amen! May the Lord do this. May the Lord fulfill the words which you have prophesied, to bring back the articles of house of the Lord and all those who are captives, from Babylon to this place. 7 Nevertheless listen now to this word that I am speaking to you and to all the people. 8 The prophets of old, who have been before me and before you, prophesied against many countries and against great kingdoms, of war, of disaster, and of pestilence. 9 The prophet who prophesies of peace, when the word of the prophet happens, then the prophet will be known, that the Lord has truly sent him."
10 Then Hananiah the prophet took the bar from off the prophet Jeremiah's neck and broke it. 11 Hananiah spoke in the presence of all the people, saying, "The Lord says, 'So I will break the yoke of Nebuchadnezzar king of Babylon from off the neck of all the nations within two full years.' "
Then the prophet Jeremiah went his way.
12 Then the word of the Lord came to Jeremiah, after Hananiah the prophet had broken the bar from off the neck of the prophet Jeremiah, saying, 13 "Go, and tell Hananiah, saying, 'The Lord says, "You have broken the bars of wood, but you have made in their place, bars of iron." 14 For The Lord of Hosts, the God of Israel says, "I have put a yoke of iron on the neck of all these nations, that they may serve Nebuchadnezzar king of Babylon, and they will serve him. I have also given him the animals of the field." ' "
15 Then the prophet Jeremiah said to Hananiah the prophet, "Listen, Hananiah! The Lord has not sent you, but you make this people trust in a lie. 16 Therefore the Lord says, 'I will cast you off the face of the earth. This year you will die because you have spoken rebellion against the Lord.' "
17 So Hananiah the prophet died the same year in the seventh month.
Jeremiah 29
Jeremiah's Letter to the Exiles
1 Now these are the words of the letter that Jeremiah the prophet sent from Jerusalem to the remnant of the elders from the captivity, and to the priests, to the prophets, and to all the people whom Nebuchadnezzar had taken captive from Jerusalem to Babylon, 2 (after Jeconiah the king, the queen mother, the eunuchs, the leaders of Judah and Jerusalem, the craftsmen, and the smiths, had departed from Jerusalem), 3 by the hand of Elasah the son of Shaphan, and Gemariah the son of Hilkiah, (whom Zedekiah king of Judah sent to Babylon to Nebuchadnezzar king of Babylon). It said:
4 The Lord of Hosts, the God of Israel, says to all the captives whom I have caused to be taken captive from Jerusalem to Babylon: 5 "Build houses and dwell in them. Plant gardens and eat their fruit. 6 Take wives and father sons and daughters. Take wives for your sons and give your daughters to husbands, that they may bear sons and daughters. Multiply there and do not be diminished.
7 Seek the peace of the city where I have caused you to be taken captive and pray to the Lord for it, for in its peace you will have peace."
8 For the Lord of Hosts, the God of Israel says: "Do not let your prophets who are among you and your diviners deceive you. Do not listen to the dreams which they dream. 9 For they prophesy falsely to you in my name. I have not sent them," says the Lord.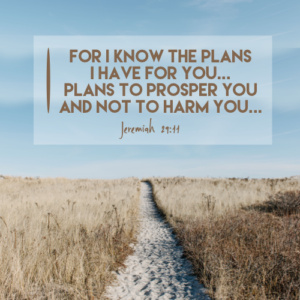 10 For the Lord says, "After 70 years are completed for Babylon, I will visit you and perform my good word toward you, in causing you to return to this place. 11 For I know the plans that I have for you," says the Lord, "plans to prosper you and not to harm you, to give you hope and a future. 12 You shall call on me, and you shall go and pray to me, and I will listen to you. 13 You shall seek me and find me, when you search for me with all your heart. 14 I will be found by you," says the Lord, "and I will return you from captivity, and I will gather you from all the nations and from all the places where I have driven you, says the Lord. I will bring you back to the place from where I caused you to be taken captive."
15 Because you have said, "The Lord has raised up prophets for us in Babylon," 16 The Lord says concerning the king who sits on the throne of David, and concerning all the people who dwell in this city, your brothers who have not gone with you into captivity, 17 the Lord of Hosts says: "I will send on them the sword, the famine, and the pestilence and will make them like rotten figs that cannot be eaten, they are so bad. 18 I will pursue them with the sword, with the famine, and with pestilence, and will deliver them to be tossed back and forth among all the kingdoms of the earth, to be an object of horror, an astonishment, a ridicule, and a reproach among all the nations where I have driven them, 19 because they have not listened to my words," says the Lord, "which I sent to them through my servants the prophets, rising up early and sending them, but you would not hear," says the Lord.
20 Hear therefore the word of the Lord, all you captives, whom I have sent away from Jerusalem to Babylon. 21 The Lord of Hosts, the God of Israel, says concerning Ahab the son of Kolaiah, and concerning Zedekiah the son of Maaseiah, who prophesy a lie to you in my name, "I will deliver them into the hand of Nebuchadnezzar king of Babylon, and he will kill them before your eyes.
22 A curse will be taken up about them by all the captives of Judah who are in Babylon, saying, 'The Lord make you like Zedekiah and like Ahab, whom the king of Babylon roasted in the fire,' 23 because they have done foolish things in Israel, and have committed adultery with their neighbors' wives and have spoken words in my name falsely, which I did not command them. I am he who knows and am witness," says the Lord.
Shemaiah's Letter against Jeremiah
24 Concerning Shemaiah the Nehelamite you shall speak, saying, 25 "The Lord of Hosts, the God of Israel, says, 'Because you have sent letters in your own name to all the people who are in Jerusalem, and to Zephaniah the son of Maaseiah, the priest, and to all the priests, saying, 26 "The Lord has made you priest in the place of Jehoiada the priest, that there may be officers in the house of the Lord, for every crazy man who calls himself a prophet, that you should put him in the stocks and in shackles. 27 Now therefore, why have you not rebuked Jeremiah of Anathoth, who calls himself your prophet, 28 because he has sent to us in Babylon, saying, The captivity is long. Build houses, and dwell in them. Plant gardens, and eat their fruit?" ' "
29 Zephaniah the priest read this letter in the hearing of Jeremiah the prophet. 30 Then the word of the Lord came to Jeremiah, saying, 31 "Send to all of the captives, saying, 'The Lord says concerning Shemaiah the Nehelamite: "Because Shemaiah has prophesied to you, and I did not send him, and he has caused you to trust in a lie," 32 therefore the Lord says, "I will punish Shemaiah the Nehelamite and his offspring. He will not have one descendant dwelling among these people. He will not see the good that I will do to my people," says the Lord, "because he has spoken rebellion against the Lord." ' "
1 Timothy 1
Paul's Greeting to Timothy
1 Paul, an apostle of Jesus Christ according to the commandment of God our Savior and the Lord Jesus Christ our hope,
2 To Timothy, my true child in faith:
Grace, mercy, and peace, from God our Father and Christ Jesus our Lord.
Warning against False Teaching
3 As I urged you when I was going into Macedonia, stay at Ephesus that you might command certain men not to teach a different doctrine, 4 and not to pay attention to myths and endless genealogies which cause disputes, rather than God's stewardship, which is in faith.
5 The goal of this command, however, is love, out of a pure heart and a good conscience and sincere faith. 6 Some people, having strayed from this goal, have turned away to useless chatter, 7 desiring to be teachers of the law, though they understand neither what they say, nor what they strongly affirm.
8 We know, however, that the law is good, if a person uses it lawfully, 9 as knowing this, that law is not made for a righteous person, but for the lawless and insubordinate, for the ungodly and sinners, for the unholy and profane, for murderers; for murderers of fathers and murderers of mothers, 10 for the sexually immoral, for homosexuals, for slave-traders, for liars, for perjurers, and for any other thing contrary to the sound doctrine, 11 according to the glorious Gospel of the blessed God, which was committed to my trust.
God's Grace to Paul
12 I thank him who enabled me, Christ Jesus our Lord, because he counted me faithful, appointing me to service; 13 although I used to be a blasphemer, a persecutor, and insolent. However, I obtained mercy, because I did it ignorantly in unbelief. 14 The grace of our Lord abounded exceedingly with faith and love which is in Christ Jesus.
15 This saying is faithful and worthy of all acceptance, that Christ Jesus came into the world to save sinners, of whom I am chief. 16 However, for this reason I obtained mercy, that in me first, Jesus Christ might display all his patience for an example of those who were going to believe in him for eternal life. 17 Now to the King eternal, immortal, invisible, to God who alone is wise, be honor and glory forever and ever. Amen.
18 I commit this instruction to you, my child Timothy, according to the prophecies which were given to you before, that by them you may wage the good warfare, 19 holding faith and a good conscience, which some having thrust away made a shipwreck concerning the faith, 20 of whom are Hymenaeus and Alexander, whom I delivered to Satan, that they might be taught not to blaspheme.
Psalm 86
Tried but Trusting
A Prayer of David.
1 Hear, Lord, and answer me,
for I am poor and needy.
2 Preserve my soul, for I am godly.
You are my God, save your servant who trusts in you.
3 Be merciful to me, Lord,
for I call to you all day long.
4 Bring joy to the soul of your servant,
for to you, Lord, do I lift up my soul.
5 For you, Lord, are good, and ready to forgive,
abundant in loving kindness to all those who call on you.
6 Hear, Lord, my prayer.
Listen to the voice of my petitions.
7 In the day of my trouble I will call on you,
for you will answer me.
8 There is no one like you among the gods, Lord,
nor any deeds like your deeds.
9 All nations you have made will come and worship before you, Lord.
They shall glorify your name.
10 For you are great, and do wondrous things.
You alone are God.
11 Teach me your way, Lord.
I will walk in your truth.
Make my heart undivided to fear your name.
12 I will praise you, Lord my God, with my whole heart.
I will glorify your name forever more.
13 For your loving kindness is great toward me.
You have delivered my soul from the lowest Sheol.
14 God, the proud have risen up against me.
A company of violent men have sought after my soul,
and they don't hold regard for you before them.
15 But you, Lord, are a merciful and gracious God,
slow to anger, and abundant in loving kindness and truth.
16 Turn to me, and have mercy on me!
Give your strength to your servant.
Save the son of your servant.
17 Show me a sign of your goodness,
that those who hate me may see it, and be shamed,
because you, Lord, have helped me, and comforted me.
Proverbs 25:17
17 Let your foot be seldom in your neighbor's house,
lest he be weary of you, and hate you.
«       »