I will be careful to live a blameless life. When will you come to me? Psalm 101:2
Lamentations 1-2
How Lonely Lies the City
1 How the city sits solitary,
that was full of people!
She has become as a widow,
who was great among the nations!
She who was a princess among the provinces
has become a slave!
2 She weeps bitterly in the night.
Her tears are on her cheeks.
Among all her lovers
she has no one to comfort her.
All her friends have dealt treacherously with her.
They have become her enemies.
3 Judah has gone into captivity because of affliction,
and because of harsh slavery.
She lives among the nations,
but finds no resting place.
All her persecutors overtook her
in the midst of her distress.
4 The roads to Zion mourn,
because no one comes to the appointed feasts.
All her gates are desolate.
Her priests groan.
Her young women are grieved,
and she is bitter.
5 Her adversaries have become the head.
Her enemies prosper,
for the Lord has afflicted her
for the multitude of her transgressions.
Her young children have gone into captivity
before the adversary.
6 All majesty has departed
from the daughter of Zion.
Her princes have become like deer
that find no pasture.
They have gone without strength
before the pursuer.
7 In the days of her affliction and miseries
Jerusalem remembers all her precious things
from the days of old,
when her people fell into the hand of the adversary,
and no one helped her.
The adversaries saw her.
They mocked her desolation.
8 Jerusalem has grievously sinned.
Therefore she has become unclean.
All who honored her despise her,
because they have seen her nakedness.
Yes, she groans and turns away.
9 Her filthiness was in her skirts.
She gave no thought to her future.
Therefore she has come down astoundingly.
She has no comforter.
Look, O Lord on my affliction,
for the enemy has triumphed!
10 The adversary has spread his hands
over all her precious things,
for she has seen the nations
entering into her sanctuary,
concerning those whom you had forbidden
from entering into your assembly.
11 All her people groan.
They seek bread.
They have given their precious things
for food to refresh their soul.
Look, O Lord and see,
for I have become despised.
12 Is it nothing to you, all you who pass by?
Look and see if there is any sorrow like my sorrow,
which has been brought on me,
with which Lord has afflicted me
in the day of his fierce anger.
13 From on high has he sent fire into my bones,
and it prevails against them.
He has spread a net for my feet.
He has turned me back.
He has made me desolate,
and I faint all day long.
14 The yoke of my transgressions
is bound by his hand.
They are knit together.
They have come up on my neck.
He made my strength fail.
The Lord has delivered me into their hands,
against whom I am not able to stand.
15 The Lord has trampled underfoot
all my mighty men in the midst of me.
He has called a solemn assembly against me
to crush my young men.
The Lord has trodden the virgin daughter of Judah
as in a wine press.
16 For these things I weep.
My eye, my eye runs down with water,
because the comforter,
who should refresh my soul,
is far from me.
My children are desolate,
because the enemy has prevailed.
17 Zion spreads out her hands.
There is no one to comfort her.
The Lord has commanded concerning Jacob,
that those who are around him should be his adversaries.
Jerusalem is among them as an unclean thing.
18 The Lord is righteous,
for I have rebelled against his commandment.
Please hear all you peoples,
and see my sorrow.
My young women and my young men
have gone into captivity.
19 I called for my lovers,
but they deceived me.
My priests and my elders
gave up the spirit in the city,
while they sought food for themselves
to refresh their souls.
20 Look, Lord, for I am in distress.
My heart is troubled.
My heart turns over within me,
for I have grievously rebelled.
Abroad, the sword bereaves.
At home, it is like death.
21 They have heard that I groan.
There is no one to comfort me.
All my enemies have heard of my trouble.
They are glad that you have done it.
You will bring the day that you have proclaimed,
and they will be like me.
22 Let all their wickedness come before you.
Do to them as you have done to me
for all my transgressions.
For my groans are many,
and my heart is faint.
Lamentations 2
God's Anger over Jerusalem
1 How the Lord has covered the daughter of Zion
with a cloud in his anger!
He has cast the beauty of Israel down
from heaven to the earth,
and has not remembered his footstool
in the day of his anger.
2 The Lord has swallowed up, without pity,
all the dwellings of Jacob.
He has thrown down, in his wrath,
the strongholds of the daughter of Judah.
He has brought them down to the ground.
He has profaned the kingdom and its princes.
3 He has cut off the horn of Israel in fierce anger.
He has drawn back his right hand from before the enemy.
He has burned up Jacob like a flaming fire,
which devours all around.
4 He has bent his bow like an enemy.
He has stood with his right hand as an adversary.
He has killed all that was pleasant to the eye.
In the tent of the daughter of Zion,
he has poured out his wrath like fire.
5 The Lord has become like an enemy.
He has swallowed up Israel.
He has swallowed up all her palaces.
He has destroyed his strongholds.
He has multiplied mourning and lamentation
in the daughter of Judah.
6 He has violently taken away his tabernacle,
as if it were a garden.
He has destroyed his place of assembly.
The Lord has caused appointed feasts and Sabbaths
to be forgotten in Zion.
In the indignation of his anger,
he has despised the king and the priest.
7 The Lord has cast off his altar.
He has abhorred his sanctuary.
He has given the walls of her palaces
into the hand of the enemy.
They have made a noise in the house of the Lord,
as in the day of an appointed feast.
8 The Lord has planned to destroy the wall
of the daughter of Zion.
He has stretched out the line.
He has not withdrawn his hand from destroying.
He has made the rampart and wall lament.
They languish together.
9 Her gates have sunk into the ground.
He has destroyed and broken her bars.
Her king and her princes are among the nations
where the law is not.
Yes, her prophets find no vision from the Lord.
10 The elders of the daughter of Zion
sit on the ground in silence.
They have cast up dust on their heads.
They have clothed themselves with sackcloth.
The young women of Jerusalem
hang their heads down to the ground.
11 My eyes fail with tears.
My heart is troubled.
My heart is poured out on the ground,
because of the destruction
of the daughter of my people,
because the young children and the infants
faint in the streets of the city.
12 They ask their mothers,
"Where is grain and wine?"
when they faint like the wounded
in the streets of the city,
when their heart is poured out
into their mothers' bosom.
13 What shall I testify to you?
What shall I liken to you, daughter of Jerusalem?
What shall I compare to you,
that I may comfort you, virgin daughter of Zion?
For your breach is as big as the sea.
Who can heal you?
14 Your prophets have seen false and foolish visions for you.
They have not uncovered your iniquity,
to reverse your captivity,
but have seen for you,
false revelations and misleading oracles.
15 All that pass by clap their hands at you.
They scoff and shake their head
at the daughter of Jerusalem, saying,
"Is this the city that men called
'The perfection of beauty,
the joy of the whole earth'?"
16 All your enemies
have opened their mouth wide against you.
They scoff and gnash their teeth.
They say, "We have swallowed her up.
Certainly this is the day that we looked for.
We have found it.
We have seen it."
17 The Lord has done that which he planned.
He has fulfilled his word
that he commanded in the days of old.
He has thrown down,
and has not pitied.
He has caused the enemy to rejoice over you.
He has exalted the horn of your adversaries.
18 Their heart cried to the Lord.
O wall of the daughter of Zion,
let tears run down like a river day and night.
Give yourself no relief.
Do not let the your eyes rest.
19 Arise, cry out in the night,
at the beginning of the watches!
Pour out your heart like water
before the face of the Lord.
Lift up your hands toward him
for the life of your young children,
who faint for hunger
at the head of every street.
20 Look, Lord, and see
to whom you have done this!
Should the women eat their offspring,
the children that they held and bounced on their knees?
Should the priest and the prophet be killed
in the sanctuary of the Lord?
21 The youth and the old man
lie on the ground in the streets.
My young women and my young men
have fallen by the sword.
You have killed them in the day of your anger.
You have slaughtered and not pitied.
22 You have called for my attackers,
as in the day of an appointed feast,
terrors on every side.
There was no one that escaped or remained
in the day of the Lord's anger.
My enemy has consumed
those whom I have cared for and brought up.
Philemon 1
Greetings from Paul and Timothy
1 Paul, a prisoner of Christ Jesus, and Timothy our brother, to Philemon, our beloved fellow worker, 2 to the beloved Apphia, to Archippus our fellow soldier, and to the assembly in your house:
3 Grace to you and peace from God our Father and the Lord Jesus Christ.
Philemon's Faith and Love
4 I thank my God always, making mention of you in my prayers, 5 hearing of your love and of the faith which you have toward the Lord Jesus, and toward all the saints, 6 that the fellowship of your faith may become effective in the knowledge of every good thing which is in us in Christ Jesus. 7 For we have much joy and comfort in your love, because the hearts of the saints have been refreshed through you, brother.
Paul's Appeal for Onesimus
8 Therefore, though I have the boldness in Christ to command you that which is appropriate, 9 yet for love's sake I rather beg, being such a one as Paul, the aged, but also a prisoner of Jesus Christ.
10 I beg you for my child, whom I have become the father of in my chains, Onesimus,  11 who once was useless to you, but now is useful to you and to me. 12 I am sending him back. Therefore receive him. He is my own heart, 13 whom I desired to keep with me, so that on your behalf he might serve me in my chains for the Gospel.
14 But I was willing to do nothing without your consent, that your goodness would not be as of necessity, but of free will. 15 For perhaps he was therefore separated from you for a while, that you would have him forever, 16 no longer as a slave, but more than a slave, a beloved brother, especially to me, but how much rather to you, both in the flesh and in the Lord.
17 If then you count me a partner, receive him as you would receive me. 18 But if he has wronged you at all or owes you anything, put that to my account. 19 I, Paul, write this with my own hand: I will repay it (not to mention to you that you owe to me your very self besides). 20 Yes, brother, let me have joy from you in the Lord. Refresh my heart in the Lord.
21 Having confidence in your obedience, I write to you, knowing that you will do even beyond what I say.
22 Also, prepare a guest room for me, for I hope that through your prayers I will be restored to you.
Additional Greetings
23 Epaphras, my fellow prisoner in Christ Jesus, greets you, 24 as do Mark, Aristarchus, Demas, and Luke, my fellow workers.
25 The grace of our Lord Jesus Christ be with your spirit. Amen.
Psalm 101
I Will Sing of Loving Kindness and Justice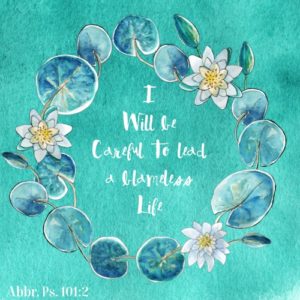 A Psalm by David.
1 I will sing of loving kindness and justice.
To you, Lord, I will sing praises.
2 I will be careful to live a blameless life.
When will you come to me?
I will walk within my house with a blameless heart.
3 I will set no vile thing before my eyes.
I hate the deeds of faithless men.
They will not cling to me.
4 A perverse heart will be far from me.
I will have nothing to do with evil.
5 I will silence whoever secretly slanders his neighbor.
I will not tolerate one who is arrogant and conceited.
6 My eyes will be on the faithful of the land,
that they may dwell with me.
He who walks in a perfect way,
he will serve me.
7 He who practices deceit will not dwell within my house.
He who speaks falsehood will not be established before my eyes.
8 Morning by morning, I will destroy all the wicked of the land,
to cut off all the workers of iniquity from the city of God.
Proverbs 26:20
20 For lack of wood a fire goes out.
Without gossip, a quarrel dies down.
«       »