He has said to me, "My grace is sufficient for you, for my power is made perfect in weakness." Most gladly therefore I will rather glory in my weaknesses, that the power of Christ may rest on me. 2 Corinthians 12:9
Isaiah 8-9
Isaiah 8
Assyrian Invasion Prophesied
1 The Lord said to me, "Take a large scroll and write on it with a man's pen, 'For Maher Shalal Hash Baz', 2 and I will take for myself faithful witnesses to testify: Uriah the priest and Zechariah the son of Jeberechiah."
3 I went to the prophetess, and she conceived and bore a son. Then the Lord said to me, "Name him 'Maher Shalal Hash Baz.' 4 For before the child knows how to say, 'My father' and 'My mother' the riches of Damascus and the plunder of Samaria will be carried off by the king of Assyria."
5 The Lord spoke to me yet again saying,
6 "Because this people has rejected
the softly flowing waters of Shiloah,
and rejoice in Rezin
and the son of Remaliah,
7 now therefore, the Lord is bringing upon them
the mighty flood waters of the River:
the king of Assyria and all his glory.
It will come up over all its channels,
and go over all its banks.
8 It will sweep onward into Judah.
It will overflow and pass through.
It will reach up to the neck.
The spreading of its wings
will fill the width of your land, O Immanuel.
9 Band together, you peoples, and be shattered!
Listen, all you from far countries:
prepare for battle, and be shattered!
Prepare for battle, and be shattered!
10 Take counsel together, and it will be brought to nothing.
Speak the word, and it will not stand, for God is with us."
A Call to Fear God
11 For the Lord spoke this to me in a powerful way and instructed me not to walk in the way of this people, saying,
12 "Do not say, 'A conspiracy!'
concerning everything about which
this people say, 'A conspiracy!'
nor fear their threats,
nor be terrorized.
13 The Lord of Hosts is who
you must respect as holy.
He is the one you must fear.
He is the one you must dread.
14 He will be a sanctuary,
but for both houses of Israel,
he will be a stumbling stone
and a rock that makes them fall.
For the people of Jerusalem,
he will be a trap and a snare.
15 Many will stumble over it,
fall, be broken, be snared, and be captured."
16 Bind the covenant.
Seal the testimony among my disciples.
17 I will wait for the Lord,
who hides his face from the house of Jacob,
and I will look for him.
18 Here I am and the children whom the Lord has given me as signs and wonders in Israel from the Lord of Hosts, who dwells in Mount Zion.
Afflictions to Idolaters
19 When they tell you, "Consult with spirits of the dead and with the wizards, who chirp and who mutter," should a people not consult with their God? Should they consult the dead on behalf of the living? 20 Turn to the law and to the covenant! If they do not speak according to this word, surely it is because there is no light in them.
21 They will pass through it, very distressed and hungry. It will happen that when they are hungry, they will worry, and will curse their king and their God. They will turn their faces upward 22 and look to the earth and see distress, darkness, and the gloom of anguish. They will be driven into thick darkness.
Isaiah 9
Unto Us a Child is Born
1 Nevertheless there shall be no more gloom for those in distress. In former times, he humbled the land of Zebulun and the land of Naphtali, but in the future he will make it glorious, by the way of the sea, beyond the Jordan, Galilee of the nations.
2 The people walking in darkness
have seen a great light.
A light has dawned
on those who lived in the land of the shadow of death.
3 You have multiplied the nation.
You have increased their joy.
They rejoice before you
according to the joy in harvest,
as men rejoice when they divide the plunder.
4 For the yoke of his burden
and the staff of his shoulder,
the rod of his oppressor,
you have broken as in the day of Midian.
5 For all the armor of the armed man in the noisy battle
and the garments rolled in blood
will be for burning, fuel for the fire.
6 For unto us a child is born.
Unto us a son is given,
and the government will be upon his shoulders.
His name will be called
Wonderful, Counselor, Mighty God,
Everlasting Father, Prince of Peace.
7 Of the increase of his government and of peace,
there shall be no end.
His dominion and its peace will be vast,
upon David's throne and over his kingdom,
to establish it and to uphold it
with justice and with righteousness
from that time on, forever.
The zeal of the Lord of Hosts will perform this.
Judgment against Israel's Pride
8 The Lord sent a word against Jacob,
and it falls on Israel.
9 All the people will know,
including Ephraim and the inhabitants of Samaria,
who say in pride and in arrogance of heart,
10 "The bricks have fallen,
but we will build with cut stone.
The sycamore fig trees have been cut down,
but we will put cedars in their place."
11 Therefore the Lord will set up the adversaries of Rezin against him,
and will stir up his enemies;
12 the Syrians in front,
and the Philistines behind;
and they will devour Israel with open mouth.
For all this, his anger is not turned away,
but his hand is stretched out still.
Judgment against Israel's Hypocrisy
13 Yet the people have not turned to him who struck them,
nor have they sought the Lord of Hosts.
14 Therefore the Lord will cut off from Israel,
head and tail, palm branch and reed, in one day.
15 The elder and the honorable man is the head,
and the prophet who teaches lies is the tail.
16 For those who lead this people lead them astray,
and those who are led by them are destroyed.
17 Therefore the Lord will not rejoice over their young men,
nor will he have compassion on their fatherless and widows,
for everyone is profane and an evildoer,
and every mouth speaks folly.
For all this his anger is not turned away,
but his hand is stretched out still.
Judgment against Israel's Unrepentance
18 For wickedness burns like a fire.
It devours the briers and thorns,
yes, it kindles in the thickets of the forest,
and they roll upward in a column of smoke.
19 The land is burned up
through the wrath of the Lord of Hosts,
and the people are the fuel for the fire.
No one spares his brother.
20 One will devour on the right hand,
and will be hungry,
and he will eat on the left hand,
and they will not be satisfied.
Everyone will eat the flesh of his own arm.
21 Manasseh devours Ephraim,
and Ephraim, Manasseh,
and they together shall be against Judah.
For all this his anger is not turned away,
but his hand is stretched out still.
2 Corinthians 12:1-9
Paul's Revelation
1 It is doubtless not profitable for me to boast. For I will come to visions and revelations of the Lord. 2 I know a man in Christ, fourteen years ago (whether in the body, I don't know, or whether out of the body, I don't know–God knows) who was caught up into the third heaven. 3 I know such a man (whether in the body, or outside of the body, I don't know–God knows), 4 how he was caught up into Paradise and heard unspeakable words, which it is not lawful for a man to utter. 5 On behalf of such a one I will boast, but on my own behalf I will not boast, except in my weaknesses. 6 For if I would desire to boast, I will not be foolish, for I will be speaking the truth. But I refrain, so that no man may think more of me than that which he sees in me or hears from me.
Paul's Thorn and God's Grace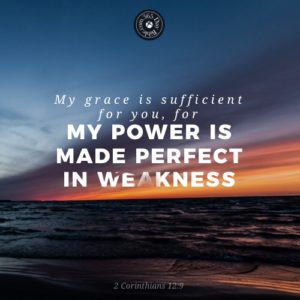 7 Because of the exceeding greatness of the revelations, that I should not be exalted excessively, a thorn in the flesh was given to me: a messenger of Satan to torment me, that I should not be exalted excessively.
8 Concerning this thing, I begged the Lord three times that it might depart from me. 9 He has said to me, "My grace is sufficient for you, for my power is made perfect in weakness." Most gladly therefore I will rather glory in my weaknesses, that the power of Christ may rest on me.
Psalm 55
Cast Your Cares on the Lord
For the Chief Musician. On stringed instruments. A contemplation by David.
1 Listen to my prayer, O God.
Do not hide yourself from my supplication.
2 Attend to me and answer me.
I am restless in my complaint
and moan 3 because of the voice of the enemy,
because of the oppression of the wicked.
For they bring suffering on me.
In anger they hold a grudge against me.
4 My heart is severely pained within me.
The terrors of death have fallen on me.
5 Fearfulness and trembling have come on me.
Horror has overwhelmed me.
6 I said, "Oh that I had wings like a dove!
Then I would fly away and be at rest.
7 Then I would wander far off.
I would lodge in the wilderness."
Selah.
8 "I would hurry to a shelter from the raging wind and storm."
9 Confuse them, Lord, and confound their language,
for I have seen violence and strife in the city.
10 Day and night they prowl around on its walls.
Malice and abuse are also within her.
11 Destructive forces are within her.
Threats and lies do not depart from her streets.
12 For it was not an enemy who insulted me,
then I could have endured it.
Nor was it he who hated me who raised himself up against me,
then I would have hidden myself from him.
13 But it was you, a man like me,
my companion and my close friend.
14 We took sweet fellowship together.
We walked with the crowds into the house of the Lord.
15 Let death come suddenly on them.
Let them go down alive into the grave.
For wickedness is among them, in their dwelling.
16 As for me, I will call on God.
The Lord will save me.
17 Evening, morning, and at noon, I will cry out in distress.
He will hear my voice.
18 He has redeemed my soul in peace
from the battle that was against me,
although there are many who oppose me.
19 God, who is enthroned forever,
will hear and answer them.
Selah.
They never change,
who do not fear the Lord.
20 He raises his hands against his friends.
He has violated his covenant.
21 His mouth was smooth as butter,
but his heart was war.
His words were softer than oil,
yet they were drawn swords.
22 Cast your burden on the Lord, and he will sustain you.
He will never allow the righteous to be moved.
23 But you, O God, will bring them down into the pit of destruction.
Bloodthirsty and deceitful men shall not live out half their days,
but I will trust in you.
Proverbs 23:4-5
4 Do not weary yourself to be rich.
In your wisdom, show restraint.
5 Why do you set your eyes on that which is not?
For it certainly sprouts wings like an eagle and flies in the sky.
«       »